Choosing the perfect chalk font can sometimes feel like looking for a needle in a haystack. With so many different types and styles available online, it can be overwhelming.
I've look through tens of chalkboard fonts to find the best ones for you.
The first part of this article focuses on Canva. Even if you're not a Canva user, you'll still find this section helpful. Most of these fonts are free and can be downloaded from various font websites.
The second part of this article takes you to Creative Market. This is my preferred marketplace for unique fonts and graphics. Here, we'll explore a range of paid chalk fonts, each with its own distinctive appeal.
You might also like these new articles:
Fonts that Look Like Chalk in Canva
Here's a list of 10 chalkboard fonts available on Canva. But don't worry if you're not a Canva user, these fonts aren't exclusive to the platform, so you can download them from other sources as well.
Six Hands Chalk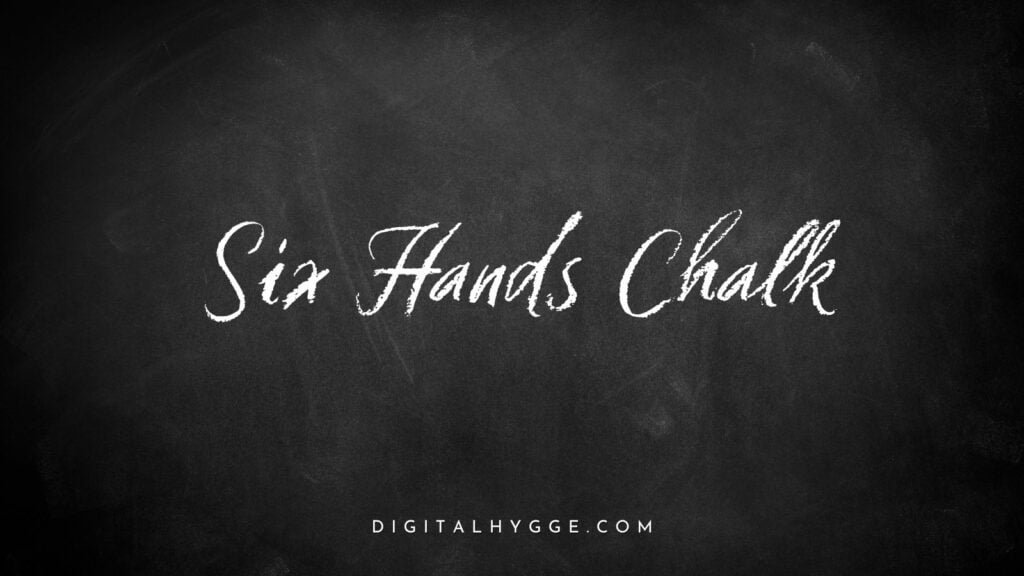 Six Hands Chalk is a unique and striking font that is available for free on Canva. What sets this font apart is its exceptional similarity to real chalk handwriting. While other fonts on the platform may bear a resemblance to chalk, Six Hands Chalk is the only one that captures the authentic look of chalk to perfection. It embodies the casual charm and irregularities of handwriting, lending a touch of whimsy and authenticity to your designs.
This adorable font is not only visually appealing but also impressively versatile. It supports the Cyrillic alphabet and comes with an extended Latin script, making it suitable for all European languages. This broad language support makes it a versatile choice for international projects.
Six Hands Chalk is more than just a font; it's a way to bring a delightful, hand-crafted touch to your Canva designs. Whether you're creating a classroom-themed design, a casual invitation, or a charming social media post, this font adds an element of charm that is hard to resist.
Font designer: ParaType
Berton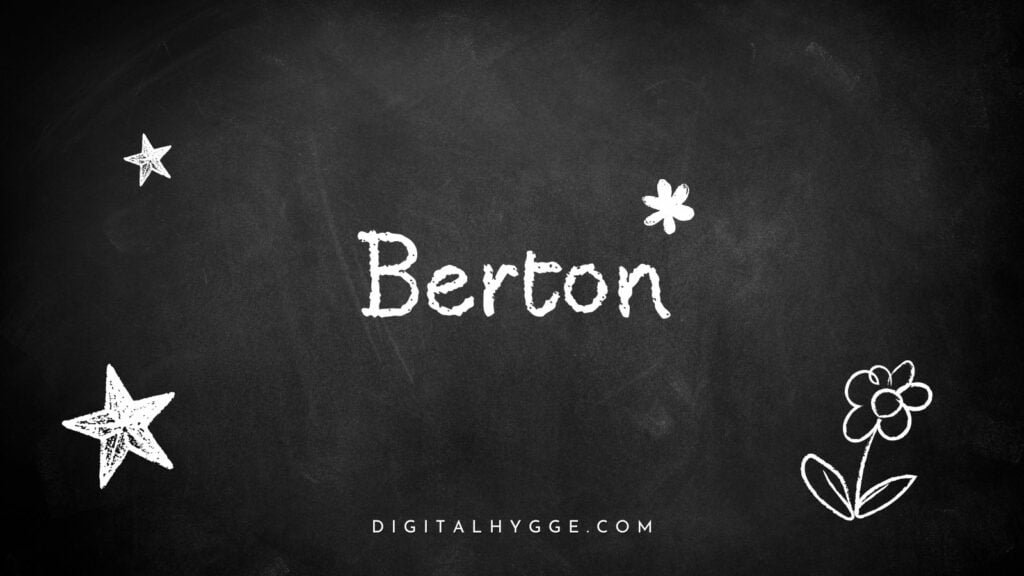 Berton is a charming, free font you can find on Canva. While it wasn't specifically made to look like chalk, it does! This is especially true when you use it on a chalkboard background. Its hand-drawn style gives it a warm and genuine feel.
Here's a fun fact: this font was created by an Italian illustrator named Matteo Berton. He made it for a graphic novel called "Voyage au Centre de la Terre," which is a beautifully drawn retelling of a classic Jules Verne story.
One of the great things about Berton Roman is that it's really versatile. It can handle over 70 languages that use the Latin alphabet, and it's got basic Russian covered too with its Cyrillic glyphs.
This font is a top choice for small text. It's got a consistent, handmade look with a slightly rough, chalky finish. So, whether you need to add captions, small texts, or make written notes look both realistic and fancy, Berton Roman is a reliable pick. It's all about making your text easy to read, while keeping things stylish and natural.
Font designer: Matteo Berton. Published by Zetafonts
Homemade Apple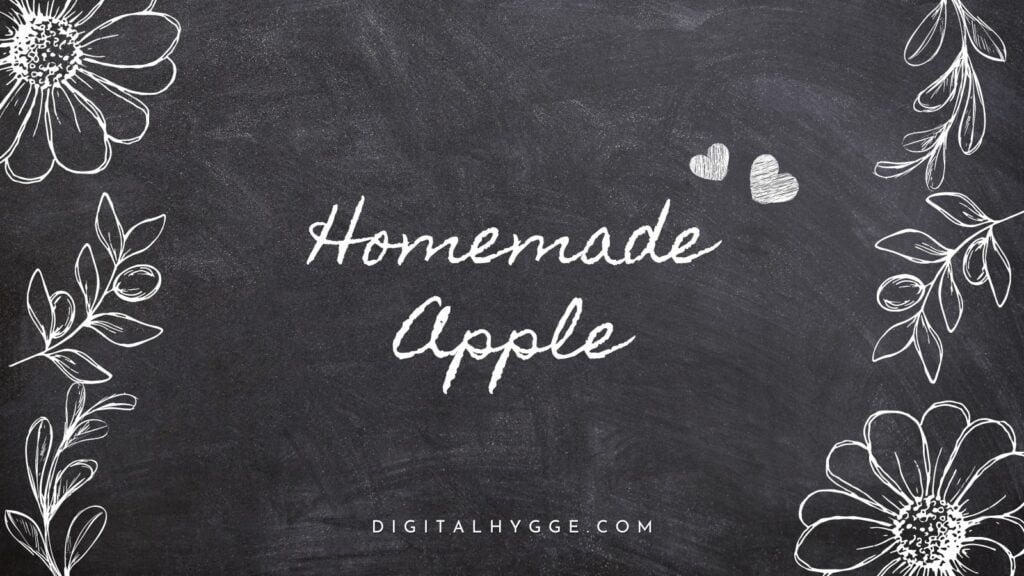 Homemade Apple is a super fun and free font you can find on Canva. It's not technically a chalk font, but guess what? It looks a lot like one, especially if you use it on a chalkboard-style background. It's a handwriting script font, so it really gives your designs that personal, handcrafted touch.
What's cool about Homemade Apple is that it's a bit messy – in a good way! It's like someone's been writing with chalk on a blackboard. With its slightly smudged lines and scratchy texture, it's got a really casual and playful feel. Plus, the letter shapes are a bit like a child's handwriting, which adds a lovely touch of innocence and happiness.
So, if you're working on something for kids, or maybe a homemade project, or even educational stuff, Homemade Apple is a brilliant choice. It's also great for weddings if you're going for a fun and quirky vibe. Whether it's for headlines, signs, or packaging, Homemade Apple brings a heartwarming, nostalgic feel to your work.
Font designer: Font Diner. Published by Google Fonts
Louisville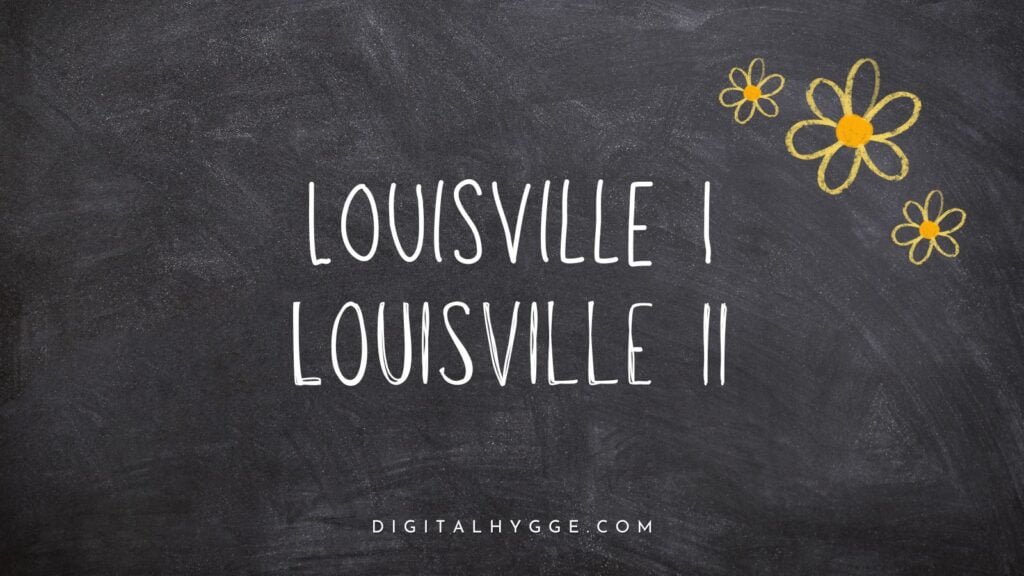 Louisville is a sophisticated font that offers two distinct styles on Canva. They are premium fonts, so you can use them for free only if you have a Canva Pro subscription. While not exactly chalk-like, they carry a subtle hint of that style and stand out beautifully against a chalkboard-type background.
Louisville is a tastefully designed hand-written sans serif font. It presents two unique weights for you to choose from, adding to its adaptability. I recommend to alternate the fonts to give a more dynamic look to your design.
Louisville is a versatile choice, fitting a range of uses. Whether it's typography layouts, invitations, weddings, logos, or any creative project, Louisville adds a touch of elegance.
Font designer: Jen Wagner Co
Loading Preview…
Powered by Creative Market
Schoolbell
Schoolbell is a charming, free font that's available on Canva. With its rough, sketchy letters, it looks just like it's been written with chalk on a chalkboard. This font brings a playful and imperfect style to your designs, adding a touch of authenticity and character.
What's especially delightful about Schoolbell is its playful handwriting style. It's as if the finest lettering artist from the 2nd Grade put their heart and soul into creating this font. Schoolbell is not only fun, but it also carries a nostalgic touch, reminding us of the joy and innocence of our school days. This font is ideal for any project where you want to evoke a sense of whimsy and nostalgia.
Font designer: Font Diner. Published by Google Fonts
Cabin Sketch
Cabin Sketch is a free font you can use on Canva. It draws inspiration from the typefaces of Edward Johnston and Eric Gill, and weaves together elements of traditional humanist styles with a hint of modernism.
What sets Cabin Sketch apart is its texture, reminiscent of a casual teenage doodle. This gives the font a relaxed and playful touch, making it an excellent choice for designs that aim for a touch of youthfulness and creativity.
Font designer: Impallari Type. Published by Google Fonts
Londrina Sketch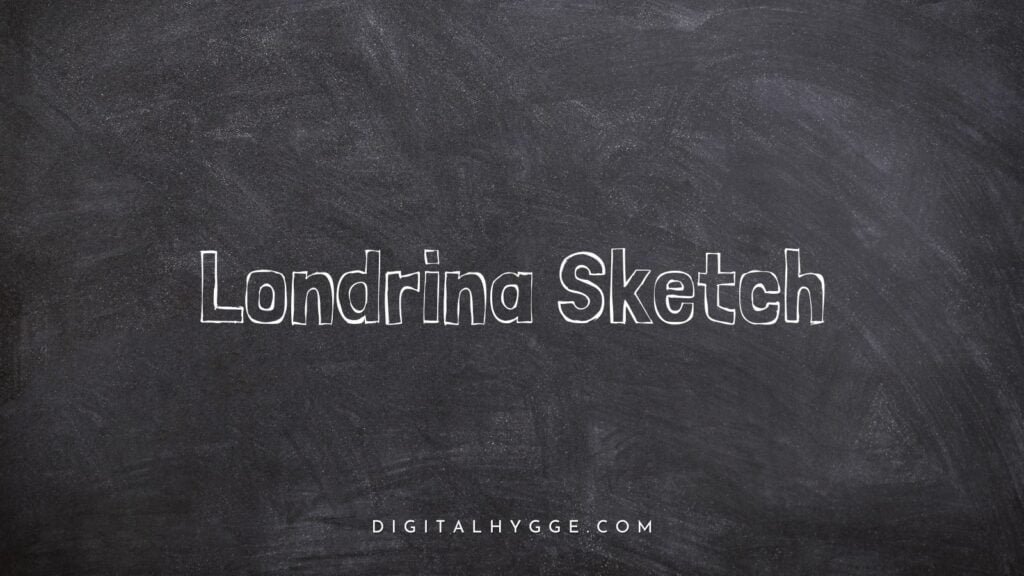 The Londrina font family is free on Canva and comes in four unique styles (you can see only one of the on the image above). Even though it's not a chalk font, it looks quite good on a chalkboard background, so it's definitely worth a mention.
When it comes to style, Londrina is similar to the Cabin Sketch font. Both of them have a fun and relaxed feel, just like hand-drawn doodles.
A great thing about Londrina fonts is that you can easily mix and match them. They work well together and will give your design a varied, yet balanced look. It's a flexible option for all sorts of design projects.
Font designer: Marcelo Magalhães. Published by Google Fonts
Amatic SC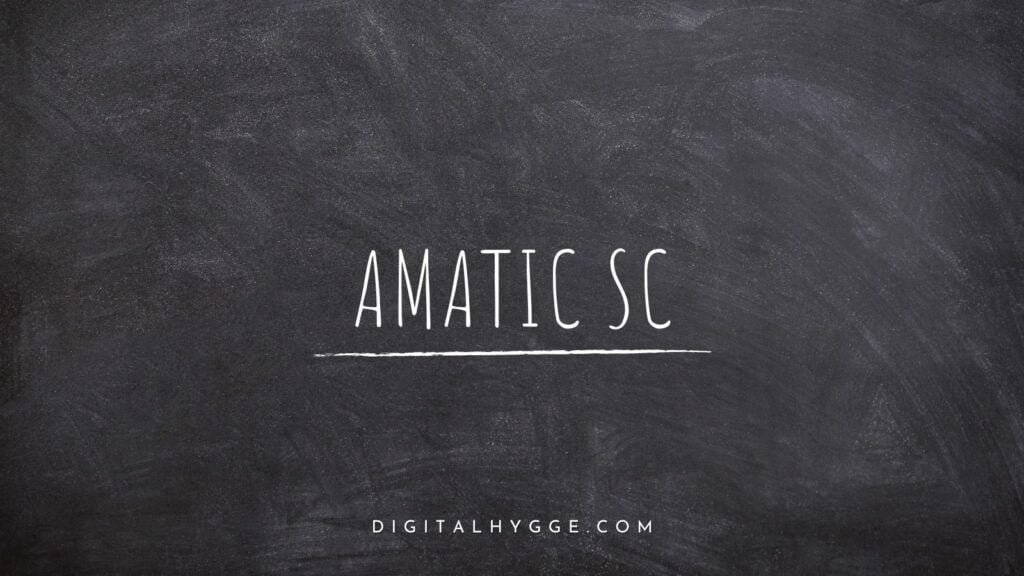 Amatic SC is another free font on Canva you might love! It has thin lines that give it a light, delicate feel.
Imagine casual cursive writing with a bit of a twist. That's what Amatic SC is like. Its lines are uneven and a bit rough, just like chalk writing. This cute and quirky style is ideal for relaxed, fun designs.
Despite being a hand-drawn font, Amatic SC works wonderfully for titles and short snippets of text. If you're seeking a font that's straightforward, playful, and just a little unique, Amatic SC might be exactly what you're looking for!
Font designer: Vernon Adams. Published by Google Fonts
Abys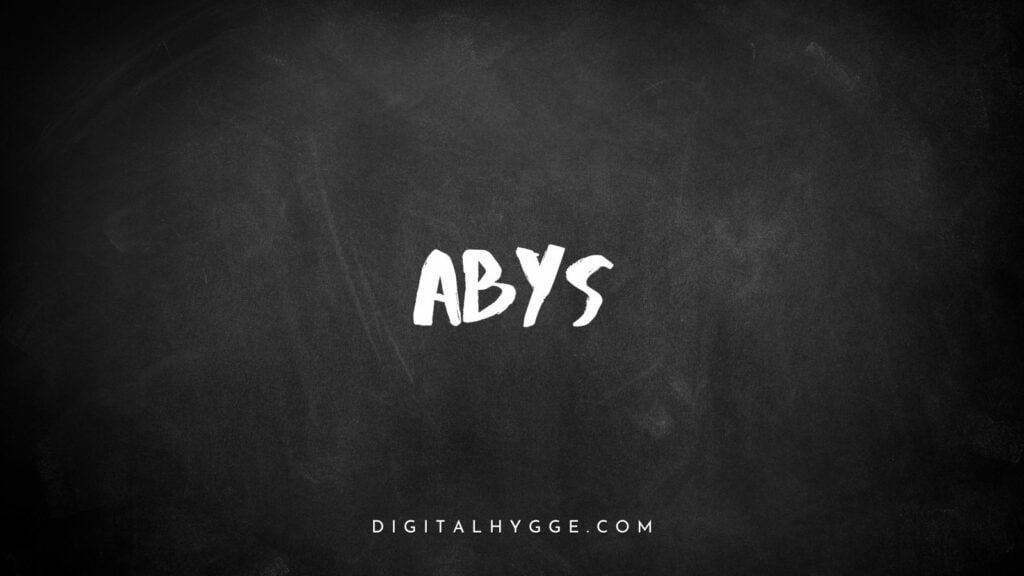 Abys is a free font on Canva that you might find interesting. Its lines are thick and brush-like, giving it a graffiti-style look. Even though it seems a bit careless, it's still easy to read. It's perfect for parts of text where you want to grab attention, especially for titles.
Abys has a cool vibe that works really well with black or grey chalkboard backgrounds. So, if you're looking for a font that's bold and a bit edgy, but still clear, Abys could be the right pick for you!
Permanent Marker
Permanent Marker is a cool, free font on Canva that you might enjoy using. It's got thick lines, just like when you write with a marker. Even though it's not a chalk font, it still has a fun, school-like feel to it.
It might not be what you'd first think of for a chalk font, but guess what? It looks really good on a chalkboard background, no matter what color the background is. So, if you're after that school-style look, Permanent Marker could be a great choice for your design.
Font designer: Font Diner. Published by Google Fonts
Best Premium Chalk Fonts
Still on the hunt for that perfect chalk font? No worries, I've got you covered! I've picked out four unique fonts that offer a bit more flair than the ones you've seen on Canva. Each of these gems is waiting for you on Creative Market (links included), a treasure chest full of unique fonts.
Creative Market boasts an impressive array of chalk fonts. There's just too many to cover them all here, so why not explore them yourself? Here's the link to all chalk fonts they have.
Now, are you ready to meet the four fonts I've selected just for you? Each one brings something special to the table, offering a unique twist that sets it apart from the Canva options I have already covered. Ready to dive in? Let's go!
3-in-1 Chalk Fonts Bundle
The 3 IN 1 Chalk Fonts Bundle, available on Creative Market, is a value-packed offering with three distinct chalk fonts. It offers an excellent variety, featuring BiteChalk Typeface, VanderChalk Typeface, and LaChalk Typeface, making it versatile for an array of projects.
Distinctive Features:
Includes three unique chalk fonts in one bundle, offering great value for the price.
BiteChalk Typeface comes in four weights and includes extras.
VanderChalk Typeface also includes bonus elements.
LaChalk Typeface features two styles and additional extras.
Versatile and adaptable for various projects, including menu boards, wedding photo booths, t-shirts, posters, and more.
Comes with a themed vector pack with dessert elements, offering further design flexibility.
Loading Preview…
Powered by Creative Market
Dolce Caffè Chalk
Dolce Caffè Chalk is a revamped version of the popular Dolce Caffe font, redesigned with a realistic chalk texture. It features a charming handwritten style that pairs well with various designs, particularly those requiring a touch of chalky allure.
Distinctive Features:
Comes in four unique styles: Dolce Caffè Chalk (regular), Dolce Caffè Chalk Extras (presented as a font), Dolce Caffè Chalk Italic, and Dolce Caffè Chalk Script.
Set of Caps also available in Italic.
Dolce Caffè Script showcases a beautiful English copperplate style.
Includes an "Extras" set with strokes, drawings, and swashes for an added artistic flair.
Ideal for various design projects such as menus, posters, wedding invitations or boards, enhancing them with its chalky charm.
Loading Preview…
Powered by Creative Market
BrideChalk Typeface
BrideChalk is a versatile font that draws its inspiration from diverse chalk lettering styles often seen in wedding backdrops and invitations. Created especially for weddings with a chalk theme, this adaptable font not only adds a touch of elegance and style to any wedding-related project, but its charm also extends to other uses such as menus, quotes, posters, and more. With BrideChalk, you can bring a unique and stylish touch to a wide array of design projects.
I have a separate article about wedding fonts on Canva, so check it out if this is what you are looking for.
Distinctive Features:
Comprises three unique styles: BrideChalk Sans, BrideChalk Serif, and BrideChalk Script.
BrideChalk Sans, with its slender lines and all-caps lettering, is excellent for adding variation to your text.
BrideChalk Serif features thick lines, ideal for titles and emphasized text.
BrideChalk Script displays beautiful upper and lowercase letters, resembling handwritten text.
Perfect for a variety of projects including lettering, logos, posters, and more, particularly for weddings with a chalk-inspired concept.
Loading Preview…
Powered by Creative Market
Tuck Shop
The Tuck Shop font is a beautifully textured, handcrafted font, offering a real chalk feel. With its playful, kid-like charm and a slightly messy, rough texture, it stands out, reminding us of school days and chalkboard signs outside our favorite local spots.
Distinctive Features:
Three distinct styles: regular chalk, outline, and decoration.
Handmade using real chalk on a natural slate chalkboard, adding authentic detail and texture.
Brings a vintage, handwritten store sign look, perfect for coffee shops, restaurants, and pubs.
Ideal for a range of projects, from children's books and bullet journals to packaging and posters.
The decoration style includes 77 unique ornaments, including stars, speech bubbles, arrows, and dashed underlines.
Loading Preview…
Powered by Creative Market
---
And there we have it – our journey through the world of chalk fonts came to an end! With so many unique and charming options, I truly hope you've discovered the perfect font that speaks to your style and meets your needs.
I'd love to hear from you! Do you have a favorite chalk font from the ones we've explored today? Or perhaps you've come across another font that you think would be a good addition to this list? Please share your thoughts and suggestions in the comments below. After all, the beauty of design lies in its endless possibilities and the creative conversations it sparks.
Thank you for reading my post! ☺️