Looking for that special something to give your designs a lift? Well, you're in luck! Canva has a collection of fonts featuring hearts, which are just perfect for infusing a pinch of cuteness or romance into your projects. Whether you're crafting a Valentine's Day card, a wedding invitation, or simply looking to sweeten your social media posts, these heart-filled fonts are sure to leave a lasting impression.
I've had some readers reach out to me with queries about the charming heart fonts they've seen in Canva designs. They were asking, "What are those fonts called in Canva, so we could use them in our designs?" Well, as someone who uses Canva nearly every day, I was more than happy to dive in and do a little research.
Most people tend to stick with one particular heart font (which I'll get into a bit later), but I decided to dig a little deeper. So, I sifted through an astounding 4000+ fonts (yeah, you read it right! There are so many fonts on Canva!). While searching I stumbled upon three more heart fonts that seem to be flying under the radar.
Ready to take a deep dive into these four heart-themed fonts? Let's go!
Heartfelt Fonts in Canva: The Inside Scoop
Now, Canva boasts thousands of free and premium fonts. But among this vast sea, there are a few gems – fonts that incorporate heart symbols into their letterforms. The way these hearts are incorporated can vary; some fonts may have a heart taking the place of a dot on an 'i' or 'j', or even on punctuation marks like '!' and '?'. Intriguing, isn't it?
Let's dive into which fonts have these lovely heart features. And just so you know, even if you're not a Canva user, you can still get these fonts from websites that distribute them. No, they aren't exclusive to Canva, just in case you were wondering.
One important thing to note is that all four heart fonts available in Canva are premium. That means you'll need a Canva Pro account to use them. But trust me, signing up for Canva Pro is totally worth it. Canva offers such excellent value for money, it's a steal, really.
Fonts With Hearts
TAN Songbird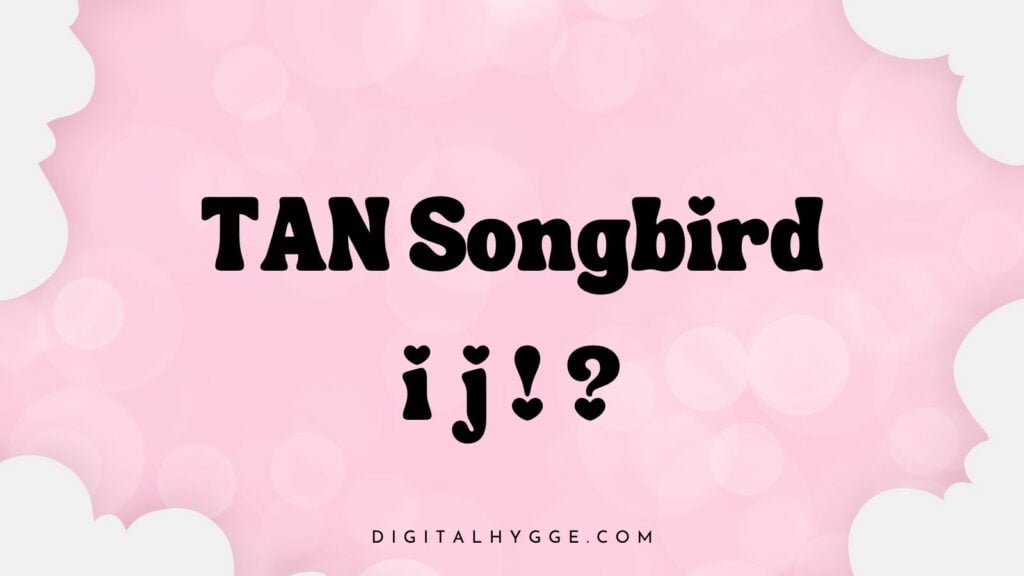 I've mentioned TAN Songbird before, in my article on groovy fonts. It's probably the most used Canva font with hearts, as I've noticed it popping up in numerous templates.
It's playful and cute, with large letters and thick lines. The heart design is incorporated into letters 'i' and 'j', as well as into '!' and '?'. It's perfectly legible, making it an excellent choice for highlighted text and titles. If you're looking to add a dash of sweetness to your Valentine's Day cards or social media graphics, or designing something baby-related, this font is perfect.
Marsh Mallow Pop Heart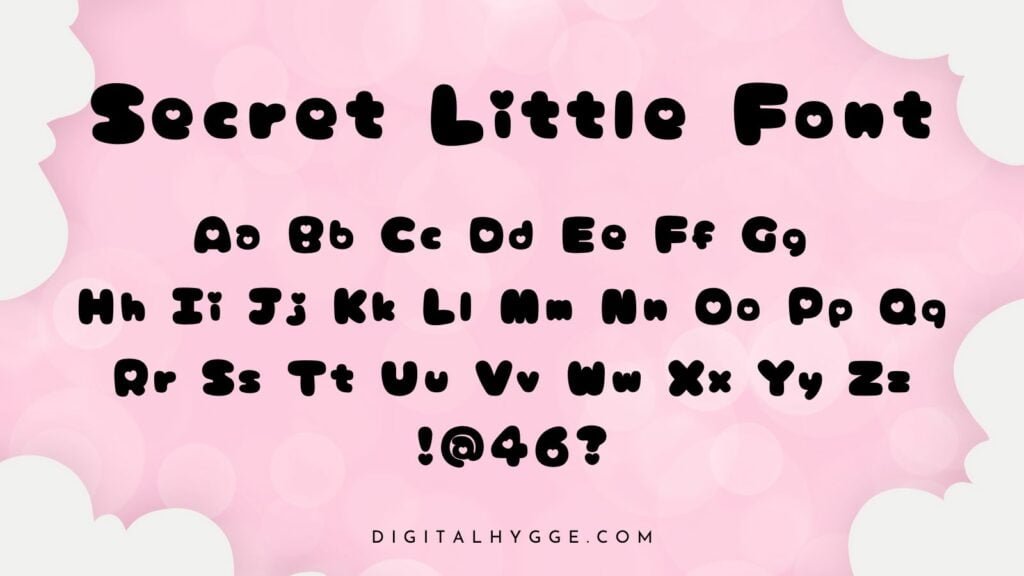 Here's a unique one: Marsh Mallow Pop Heart. This incredibly cute, kawaii font is a bit of a hidden gem on Canva, especially if you don't speak Japanese. Its original name is "ましゅまろポップ ハート" (translated as Marshmallow Pop Heart). It stands out from other heart fonts on Canva due to its extensive use of hearts in so many letters and other symbols. So, if you're looking to pepper someone's name with hearts, this font might be your best bet.
Here's a quick tip! To use this font in Canva, simply copy the text below and paste it into the font search bar. It's the only way to find it. 😅
ましゅまろポップ ハート
Font designer: Norio Kanisawa
Heavenfield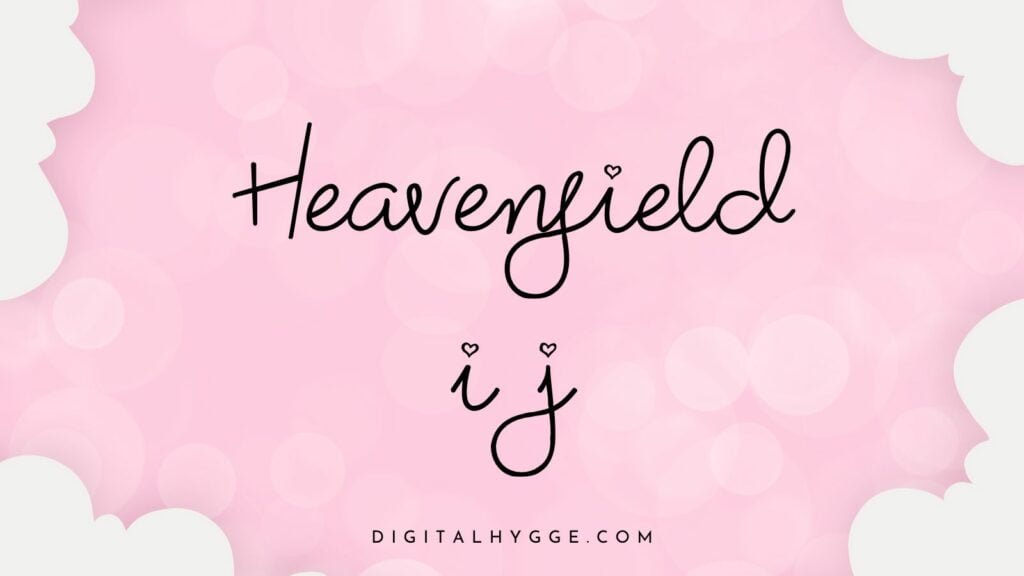 Heavenfield is a delightful, romantic script that has been a personal favorite for wedding stationery, love-filled cards, and even some DIY projects or scrapbooking I've dabbled in. This handwritten, flowing script font is a dream to read, sporting subtle hearts over the lowercase 'i' and 'j'.
A little tip from me to you? Pair Heavenfield with any typewritten font (I often opt for 'Special Elite' or 'True Typewriter'—both free on Canva) to bring a dash of vintage romance to your designs.
Credit for this charming font goes to the talented Joanne Hewitt.
Rosita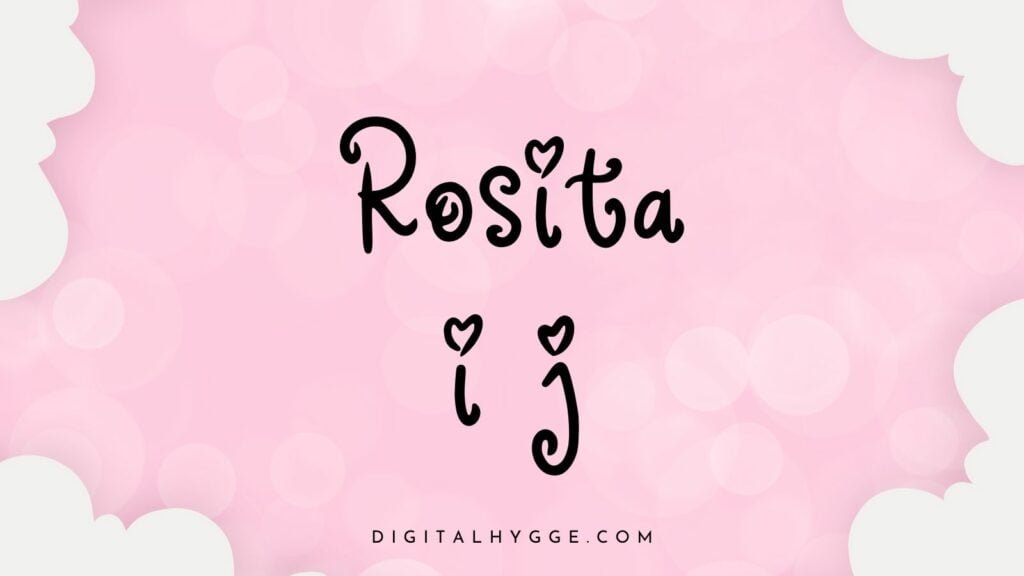 Next up, we have Rosita.
Rosita is a step up in sophistication among script fonts. This playful font, with its fun squiggles and hearts over the lowercase 'i' and 'j', brings a fairy-like whimsy to any design.
I've found it to be a perfect fit for projects requiring a touch of cuteness. Think wedding invitations, heartwarming quotes, baby shower announcements, nursery posters, and more. It's also a solid choice for designs aimed at younger audiences or those that call for a more lighthearted feel.
Craving for More Fonts with Hearts?
If the heart fonts in Canva's current selection aren't quite hitting the mark for you, don't worry—I've got you covered! There are some more fabulous heart fonts waiting to be discovered on Creative Market. To make things easier, I've prepared a link to the search term "Heart fonts" that will lead you straight to the trove of fonts on the marketplace.
Lovedays
Lovedays is an irresistibly cool retro font with playful chunky letters. If you're aiming to infuse some groovy vibes into your project, this unique font could be just what you're looking for.
From my experience, if you're in the business of creating Canva templates for sale, or if you run an Etsy shop selling adorable cards, posters, mugs, or t-shirts, Lovedays is practically a necessity. It opens up a world of creativity for cute designs. Lowercase letters come as regular letters, while uppercase letters are adorned with charming hearts and cutouts. You even get some extra cute elements like hearts with arrows, broken hearts, and more to play around with.
Loading Preview…
Powered by Creative Market
Wild Heart
Wild Heart is an elegantly hand-written font that boasts both upper- and lowercase letters, numbers, and punctuation. What sets Wild Heart apart is its unique swash that charmingly connects two words together with a heart.
In my experience, Wild Heart shines brightly in applications like wedding invitations, stationery, monograms, love letters, and quotes, as well as in creating elegant logos. Its romantic flair adds a touch of love to any design.
For those of you into DIY projects, Wild Heart could be your new best friend. Its letters are quite thick, which makes it suitable for all types of printing techniques. Even if you're using Cricut or Silhouette, this font won't let you down. Trust me, it's a real game-changer.
Loading Preview…
Powered by Creative Market
The Impact of Heart Fonts in Your Designs
You see, fonts are far more than just letters on a page. They carry visual appeal, sure, but they also play a key role in conveying your message effectively. So, what's so special about heart fonts, and why should you consider using them in your designs?
Tug at Heartstrings
Heart fonts have a knack for stirring up emotions. Often associated with feelings of love and affection, they're an excellent choice for designs that aim to be romantic or sentimental. Over the years, I've found that heart fonts can infuse a warm, inviting vibe into your design, making it resonate more with your intended audience.
Infuse Personality
Another benefit of heart fonts lies in their ability to add a personal touch to your designs. They can effectively encapsulate your brand's personality or communicate a message that holds a special place in your heart. When you use heart fonts, you're paving the way for a design that's not only unique but also leaves a lasting impression.
Stand Out
Now, let's talk about standing out. Heart fonts are somewhat of a rarity compared to other font styles, making them a secret weapon to ensure your design is distinctive and eye-catching. Through my experience, I've noticed that incorporating heart fonts can result in visually appealing and memorable designs.
---
In a nutshell, heart fonts are a valuable asset to any designer's toolkit. They help you craft designs that strike a chord, infuse a personal touch, and stand out from the crowd. So, the next time you're working on a design, why not give heart fonts a whirl? Trust me, you won't regret it!
Latest Posts: