People love pizza. It's an undisputed fact. Since its invention centuries ago, the poor man's dish has become the classiest fast food in the world. Therefore, it is no surprise that ever year, we celebrate both National Pizza Day, National Pizza Week and, yes, even National Pizza Month. These fun food holidays take place throughout the year, meaning that pizza lovers have constantly something to look forward to 🍕
Fun fact: In 2017, the art of being a Neapolitan "Pizzaiuolo", making a real Italian pizza baked in a wood-burning oven, is granted an "Intangible Cultural Heritage of Humanity" status by UNESCO.
National Pizza Holidays 2023
February 9 – World Pizza Day / National Pizza Day
It is believed that the first pizza was baked in Naples in the early 1500s. It used to be popular among the poor. Why? Well, for one thing tomatoes were considered poisonous back then. Difficult to believe now, isn't it? Five centuries later, pizza has become one of the favorite foods in the world. In USA alone, 350 slices of pizza are eaten EVERY SINGLE SECOND. Imagine that!
So it is no surprise that there's a national pizza day. And not only that actually, because if you read the whole article you will see that there are numerous national pizza holidays to celebrate throughout the year ☺️
National Pizza Day started in USA in 2000. Even though the origin of the holiday is unknown, it is widely celebrated across social media – and pizzerias. The hashtag #nationalpizzaday has been used over 290,000 times on Instagram alone. The more recent, international version of the holiday – World Pizza Day – is also growing: the hashtag #worldpizzaday has been used almost 13,000 times on Instagram.
April 5 – National Deep Dish Pizza Day
Deep dish pizza is made with a thick, deep crust that looks more like a pie than a traditional, thin pizza. It is usually baked in an iron skillet or a round steel pan. This cheesy delicacy is especially popular in Chicago but also in Turin, where the locals call it Pizza al tegamino.
We don't know who invented the deep-dish pizza but one thing is for sure: it is a real treat worth celebrating!
May 19 – National Pizza Party Day – third Friday in May
If you 1. love pizza and 2. like to party, I have some good news for you: there's a day created exactly for you! On the third Friday in May people can gather to share a unique, once-in-a-year celebration where friendship and tasty pizzas share the spotlight.
June 11 – Pizza Margherita Day
The Margherita pizza is a classic Neapolitan pizza made with tomatoes, mozzarella cheese, fresh basil and extra-virgin olive oil.
Pizza Margherita has a story that goes back to June 1889 when Raffaele Esposito, an owner of a pizzeria in Napoli, invented a new dish to serve the Queen and the king of Italy – Margherita and Umberto I of Savoy. The pizza was made with tomatoes, fresh basil and mozzarella to honor the colors of the Italian flag. The queen was so impressed by the taste of the new dish that she personally complimented the cook in a letter. Since then Pizza Margherita has become one of the most popular dishes not only in Italy but in the whole world.
September 5 – National Cheese Pizza Day
What's your favorite pizza cheese? Mozzarella, cheddar or maybe gorgonzola? There are numerous excellent cheeses that make any pizza so tasty that no other toppings are even needed. On September 5, people are encouraged to focus on the single most important ingredient in any pizza: the cheese.
September 20 – National Pepperoni Pizza Day
Pepperoni pizza became popular in 1950s when immigrants from Italy started combining authentic Italian pizza ingredients with American ones to suit the taste of their customers. Today, spicy pepperoni is the most popular pizza topping in the US.
It might sound like pepperoni pizza is authentically Italian but it is not. Pepperoni is entirely an American invention and represents essentially a version of salami. In other words, if you go to Italy you will never find pepperoni pizza on the menu. Surprising, isn't it?
October 9 – International Beer and Pizza Day
Some people think pizza and wine is the way to go. But have they ever tried quenching their pizza-induced thirst with a beer? Probably not. What we're saying is that the pizza-beer combo absolutely deserves its yearly spotlight on October 9. Cheers!
October 11 – National Sausage Pizza Day
On October 11th we celebrate National Sausage Pizza Day.
Did you know that sausage is the second most popular pizza toping in USA (after the previously mentioned spicy pepperoni)? In simplicity lies goodness. Sausage pizzas can be hot, mild or without spices all together, making it popular among children.
November 1 – National Calzone Day
If you are one of those who likes their pizzas folded, November 1 is probably a day that holds special significance to you – after all, it's National Calzone Day. Presumably invented in order to make the pizza even easier to eat on the go, a good calzone can even make you forget where you were heading in the first place.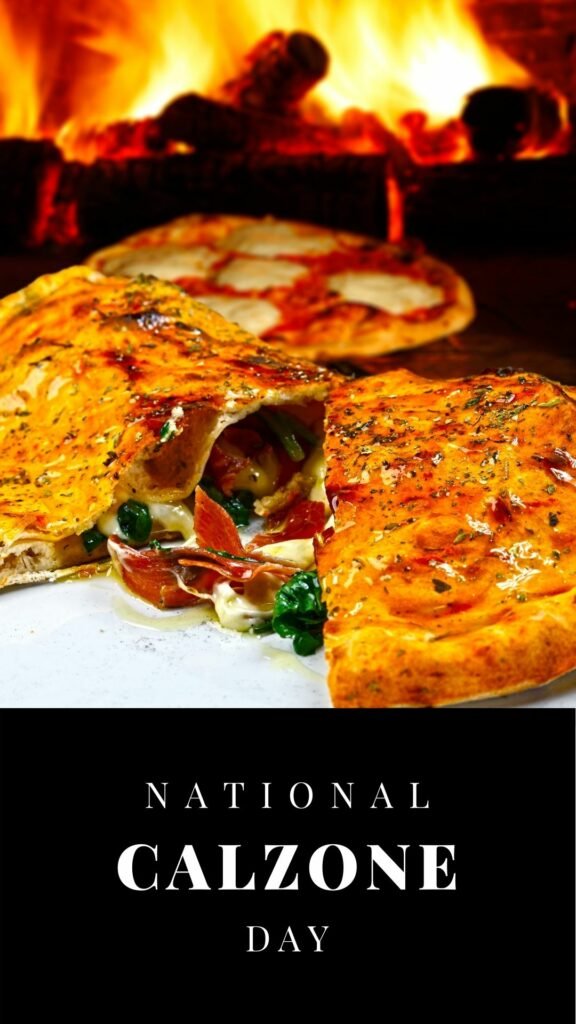 November 12 – National Pizza With The Works (Except Anchovies)
Do you ever get the feeling that the pizzas served just don't have enough toppings on them? Like, not even close to being enough? National Pizza With the Works (Except Anchovies) is admittedly one of the more bizarre pizza holidays out there, but if you just look past the (perhaps) somewhat clumsy name you will see a holiday that really just wants you to enjoy life for once. YOLO, you know? Get those extra toppings you've always dreamed of but never dared to order. On November 12, you have a perfectly good excuse for that. Just no anchovies, OK?
Pizza Weeks 2023
National Pizza Week starts second Sunday in January
Pizza is so popular that it has not not only a dedicated national day but also a whole week and even a month (see below).
Great American Pizza Bake – Second week in February
In the second week of February you are encouraged to become your own pizza maker, pizzaiolo. During this week-long holiday you can experiment with ingredients and come up with something totally unique. Maybe you could make your own deep-dish pizza? Or just a classic Margherita? Be sure to share it on social media using the hashtag #GreatAmericanPizzaBake to participate.
Pizza Months 2023
National Pizza Month – October
The American actor Kevin James once said: "There's no better feeling in the world than a warm pizza box on your lap". If you feel the same way, then October must be your favorite month of the year: it's National Pizza Month! You can celebrate this cheesy observance by going to pizzerias you have never visited before, ordering different pizzas everyday or making your own pizza at home. By the way, some pizzerias might have special deals or exclusive pizzas available only during this time. So keep your eyes open and slice, slice, baby 🍕
National Pizza Day 2023 Quotes & Captions
Are you posting about one of the national pizza days but don't know what to write? Need some fun and engaging post ideas? Say goodbye to writer's block with these funny quotes and captions 🙂
A pizza slice a day keeps the sadness away. – Jet Paacal
But magic is like pizza: even when it's bad, it's pretty good. – Neil Patrick Harris
Seven days without pizza makes one weak.
Yesterday I really wanted pizza. 😍 Today I'm eating pizza. 🍕Follow your dreams! 😃
Anyone who says that money cannot buy happiness has clearly never spent their money on pizza. – Andrew W.K.
The difference between pizza and your opinion is that I actually asked for pizza.
Ideas are like pizza dough, made to be tossed around. – Anna Quindlen
You cannot make everyone happy, you are not pizza.
I want to live in a world where the need for pizza belittles that for war. – Jason Barnett
Best friends are like pizza and coke. Just incomplete without each other.
Pizza is good medicine for disappointment. – Katherine Howe
Pizza is the only love triangle I want 🍕
Unless you are a pizza, the answer is yes, I can live without you. – Bill Murray
Keep your friends close and your pizza closer.
There's very little in my world that a foot massage and a thin-crust, everything-on-it pizza won't set right. – G. A. McKevett
---
Before You Go:
If you liked this article and want to find out about all social media holidays there are in 2023, go to our complete social media holiday calendar.
You might also like: