Planning a wedding can feel like a mammoth task, especially when it comes to crafting the perfect stationery. But don't worry – Canva is here to save the day!
Say goodbye to design headaches and hello to creativity and fun. With Canva's vast array of templates, easy customization, and green printing options, you can design stunning invites that will wow your guests without breaking the bank.
And the best part? No design experience necessary!
So, let's take a deep breath and start this joyous journey together. With Canva by your side, creating your wedding stationery will be a breeze.
5 Reasons to Use Canva for Your Wedding Stationery
Graphic design isn't just for the pros anymore. With Canva's simple, intuitive interface, even if you couldn't draw a stick figure with your hand, you can drag-and-drop your way to a stunning design!
So, why should you use Canva for designing your wedding stationery?
#1 Design Freedom at Your Fingertips
You're not just any bride; you're unique, your love story is one-of-a-kind, and your wedding should reflect that. With Canva, personalization is key.
As of today, Canva offers an astounding collection of 11,088 wedding invitation templates and 707 wedding menu templates, each a masterpiece waiting to be transformed with your unique touch.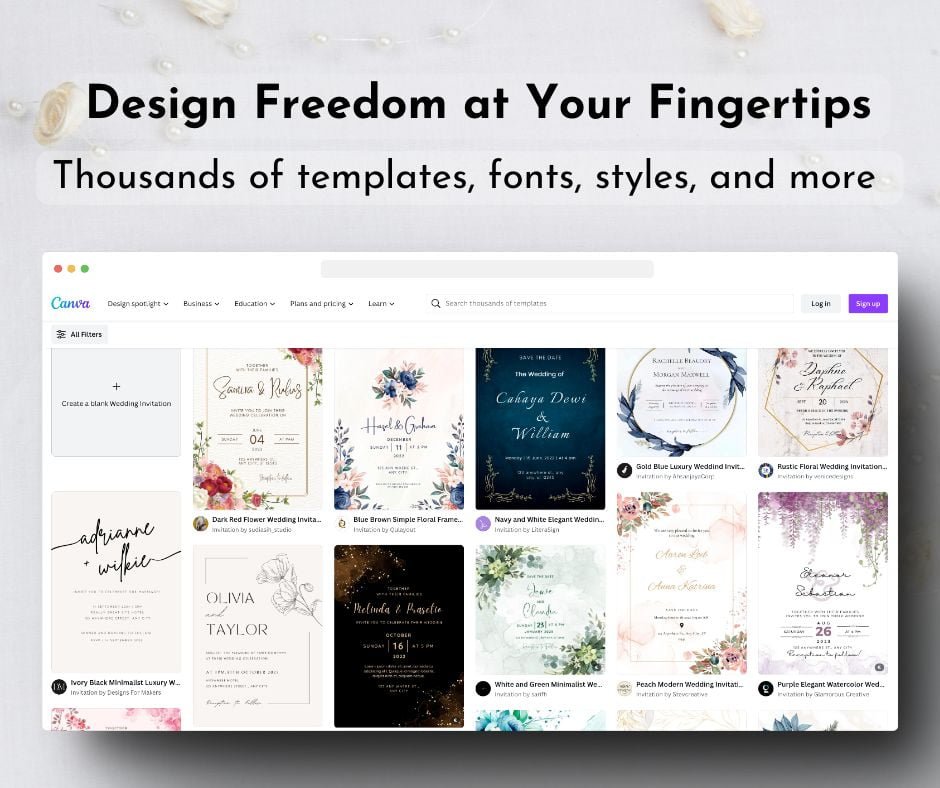 The journey doesn't end there. With thousands of fonts on offer, the power to dictate the atmosphere of your stationery lies in your hands. Looking for a graceful script that exudes elegance, or perhaps a chic typeface that whispers modern sophistication? Or, are you a fan of whimsical prints that echo your playful spirit? Whatever your style, Canva's extensive font library has your back.
Have you by the way seen my handpicked list of wedding fonts yet?
#2 Luxury Meets Affordability
Gone are the days when creating a high-end, polished look meant burning a hole in your pocket with expensive designer services. With Canva you can create spectacular designs that will leave your guests awestruck, and your wallet breathing a sigh of relief.
Although many templates and fonts in Canva are free, I wholeheartedly recommend you a subscription to Canva Pro PRO. Whether it's for a month or however long you need to get your wedding stationery just right, it's worth every cent. With the Pro subscription, everything you see in Canva—templates, fonts, photos, pro features, and more—is included at no additional cost.
Considering the incredible value Canva offers, it's astonishing that it's as affordable as it is—at just $12/month!
#3 Design on the Go
I know that wedding planning already has you juggling enough tasks. The great thing is that Canva is there for you, wherever you are, whenever inspiration strikes. Access your designs at any time, from any place, making last-minute changes a breeze, not a hassle.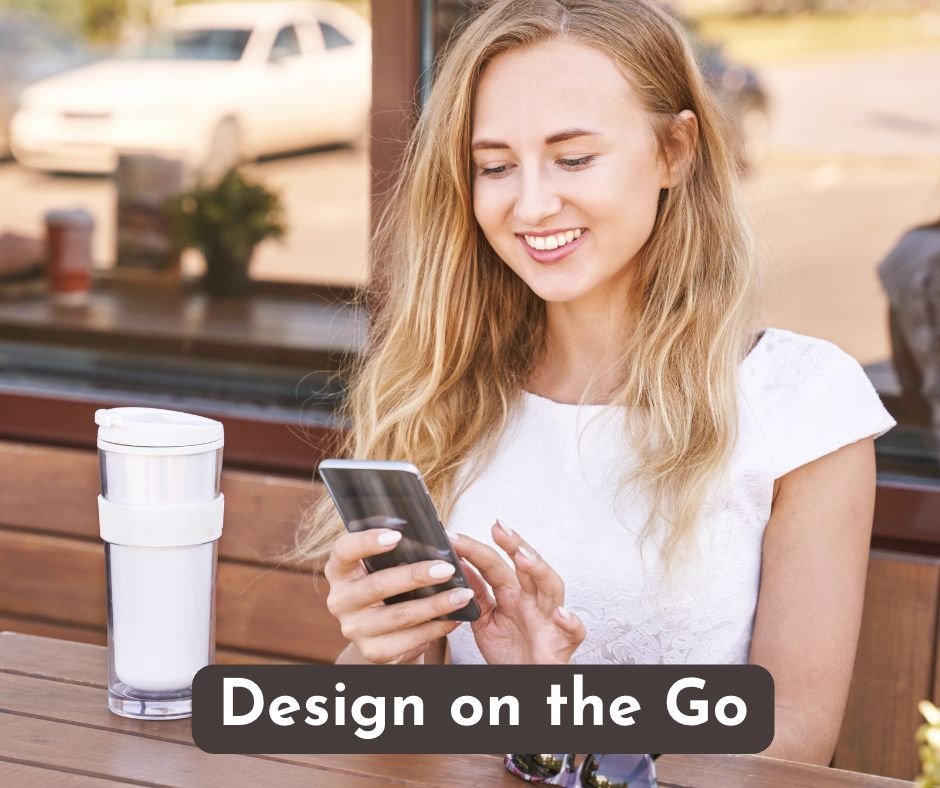 Although designing on a larger screen is typically easier and highly recommended, Canva's mobile app offers a convenient alternative for on-the-go modifications.
Use it for browsing templates or making small changes during those fleeting free minutes in your day. For instance, you could adjust the color scheme while waiting in line for your coffee, or tweak the font size during your lunch break. It's all about turning those fleeting moments into productive design time, with Canva.
#4 Paper or Digital – The Choice is Yours
In the golden age of options, Canva caters to every bride's unique preferences. Do you find yourself drawn towards the timeless appeal of printed invitations, feeling the thrill in the rustle of high-quality paper and the elegance of hand-delivered notes? Or perhaps you resonate more with the modern, eco-conscious trend of digital invites, appreciating their efficiency and minimal environmental impact.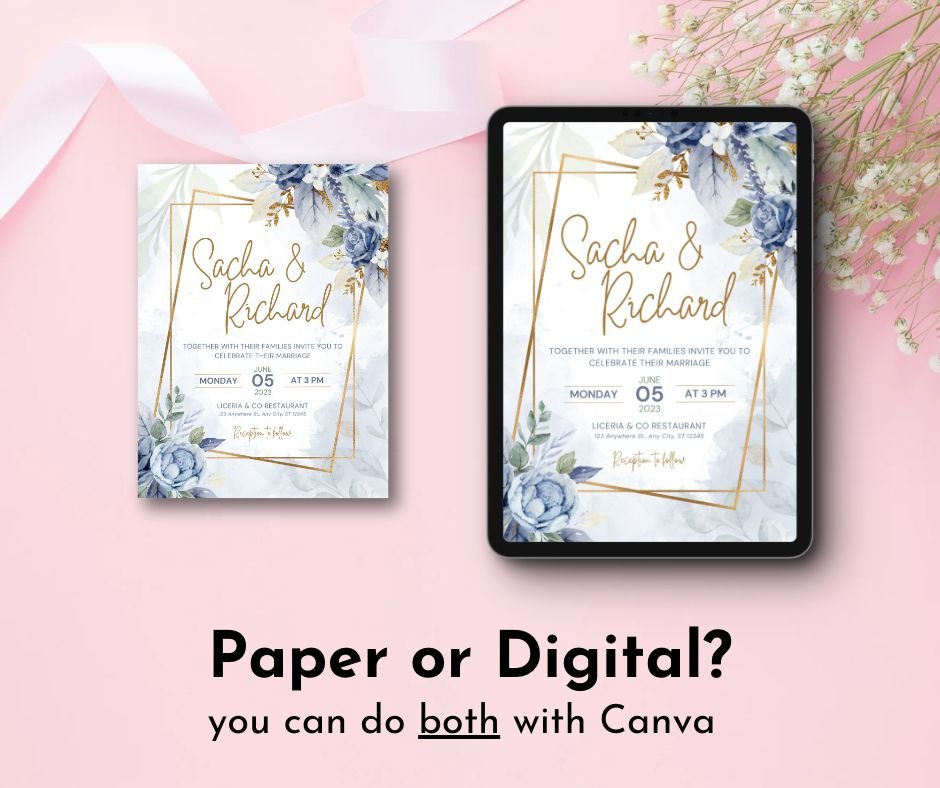 Whether you're a traditionalist at heart or a tech-savvy contemporary, Canva is there to serve you.
For the lovers of the classic, Canva's designs are print-ready. You can have them professionally printed or print at home, providing that tangible connection for your guests to your special day.
On the other hand, if you're looking to go digital, Canva's seamless sharing options make the process a breeze. With just a few clicks, your personalized e-invites can be on their way to your guests' inboxes, or posted on your social media platforms.
The beauty of Canva is its adaptability—it's here to accommodate your style, not dictate it. This is your wedding, and you should do what feels right for you and your guests. Embrace your style, express your love, and let Canva bring it all to life.
#5 Eco-Friendly Printing and Convenient Delivery – Canva's Added Perks
Should you prefer the tangible elegance of printed invitations, Canva supports you with their eco-conscious approach. They work with printers that prioritize sustainably sourced paper, ensuring your design choices align with environmental responsibility. Remarkably, with every print order you place, a tree gets planted as a nod to our planet's wellbeing.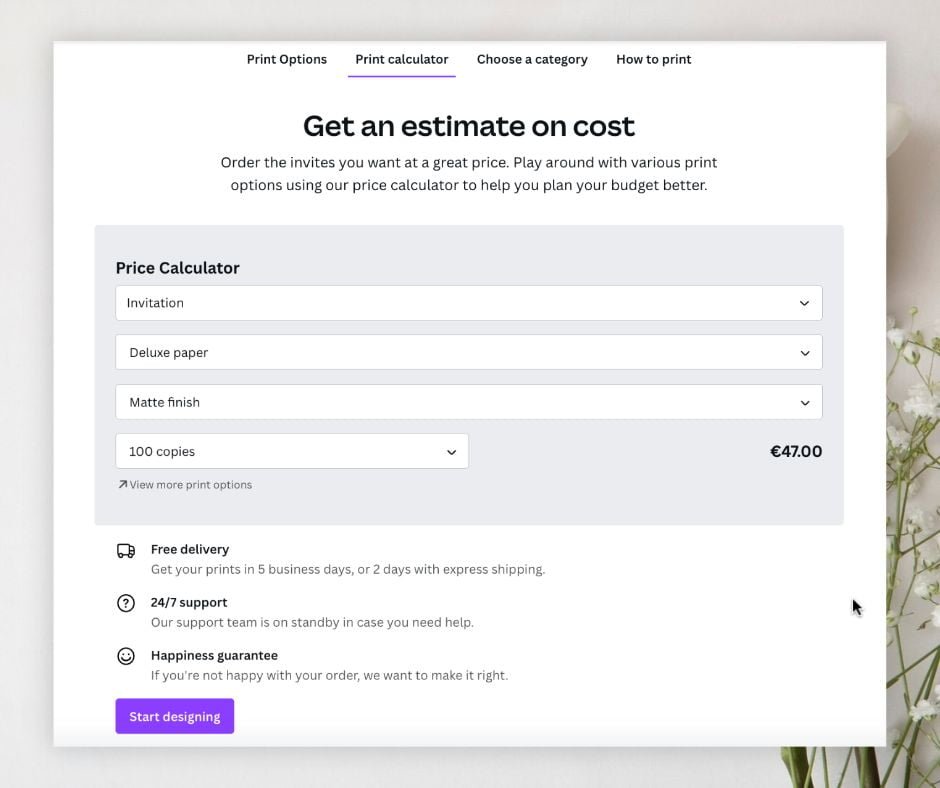 As you plan your budget and design, Canva offers various paper qualities and finishes to suit your needs. Choices range from premium to deluxe paper and finishes such as matte, gloss, or uncoated.
Check Canva's Print price calculator, if you want to get an idea about the cost.
Once your design is ready to be brought to life, the convenience continues. No need for complicated shipping arrangements or added fees – Canva handles delivery, sending your printed invitations right to your doorstep at no additional cost. This way, you can focus more on your big day and less on logistics.
---
Remember, planning your wedding doesn't have to be a stressful experience. With Canva, you can save time, save money, and most importantly, have fun while creating beautiful memories that start from the very first invitation.