Looking for the ideal aesthetic font to enhance your Canva project? Navigating through Canva's abundant font options can feel like a daunting pearl-hunt in an expansive ocean. Over the past few years, Canva's library has grown by thousands, making the perfect font harder to pinpoint.
Aesthetic fonts, a popular design choice for years, show no signs of losing their appeal. I define aesthetic fonts as sleek, modern typefaces reminiscent of glossy fashion magazines and polished design books. These chic, eye-catching fonts are more than just letters – they're a statement.
Canva boasts hundreds of aesthetic fonts, and it's easy to feel overwhelmed. That's why I've sifted through the their whole collection, handpicking the crème de la crème of aesthetic fonts for you. My curated list offers a wide range of options, ensuring you find the perfect fit for your unique project.
So, let's dive in and discover your ideal aesthetic font!
Best Aesthetic Fonts in Canva 2023
I've compiled a list of the finest aesthetic fonts available on Canva for your convenience. This selection includes a mix of free fonts (the majority) and some premium options. To make your decision easier, each font is presented with a visual sample, allowing you to see its unique style at a glance.
TAN Pearl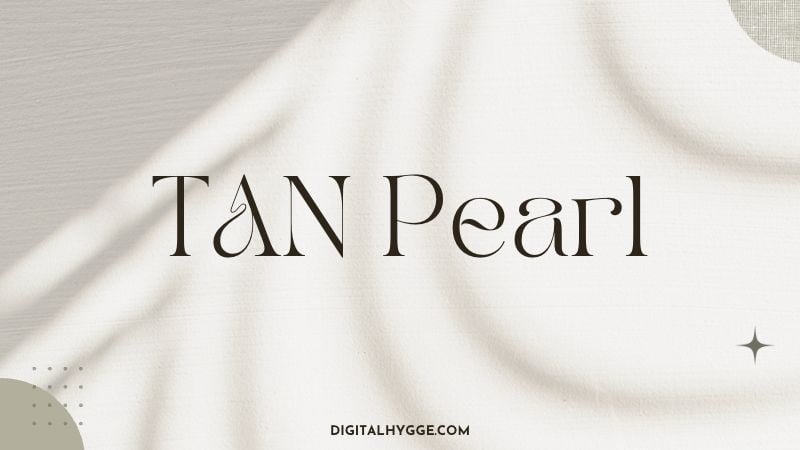 TAN Pearl is a unique and captivating serif font that seamlessly combines playfulness with elegance. Its distinctive curves catch the eye, adding a touch of whimsy to your designs without compromising on sophistication. The classy composure of TAN Pearl makes it a versatile choice for a wide range of projects, from branding and logos to headlines and social media graphics.
The font's charming design elements set it apart from traditional serifs, allowing you to create memorable and impactful visuals. Its well-balanced letterforms ensure readability while maintaining a delightful aesthetic, making TAN Pearl the ideal font for those seeking a fresh and stylish take on classic typography.
TIP: If you like TAN Pearl, you can find more fonts from the same designer. Many of them would fall into aesthetic category, so give it a shot. Simply search for "TAN" to find them in the font list.
Font author: TanType
Loading Preview…
Powered by Creative Market
Safira March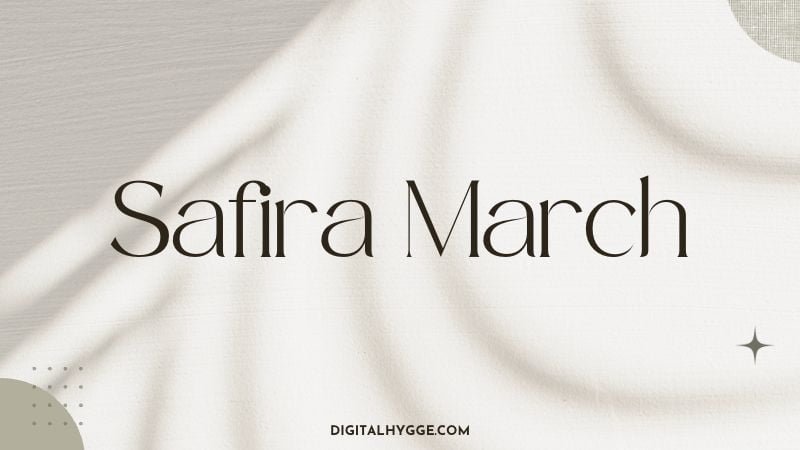 Safira March is a stunning serif font that effortlessly captures the attention of your audience with its engaging design. This exquisite typeface breathes life into your branding and adds a contemporary touch, making your projects stand out with sophistication and flair. Safira March is perfect for a wide range of applications, including eye-catching headings, memorable logos, professional business cards, and impactful printed quotes.
Canva provides only the regular style for the Safari March font. If you're looking for more versatility in your designs, consider purchasing the paid Safari March font license. It includes 8 extra styles (Thin, Extra Light, Light, Medium, Semi Bold, Bold, Extra Bold, and Black), along with standard ligatures and stylistic sets to give your creations a unique touch.
Font author: din-studio.com
Loading Preview…
Powered by Creative Market
Brown Sugar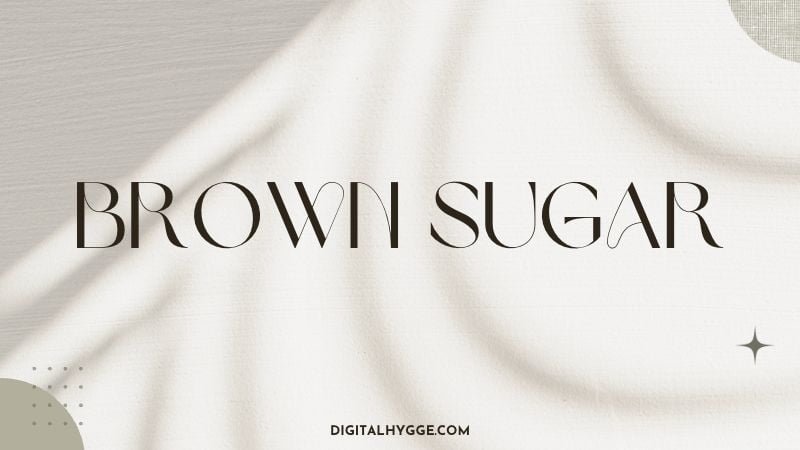 Brown Sugar is a charming serif font that combines modern style with a friendly, approachable touch. Its well-crafted uppercase letters, numerals, and extensive range of punctuation make it an adaptable choice for various design projects. The stylish character of Brown Sugar lends itself perfectly to poster designs, web layouts, branding elements, illustrations, badges, and more.
With its clean lines and easy-to-read letterforms, Brown Sugar adds a touch of warmth and personality to your creative endeavors.
Font author: Muntab_Art
Loading Preview…
Powered by Creative Market
The Seasons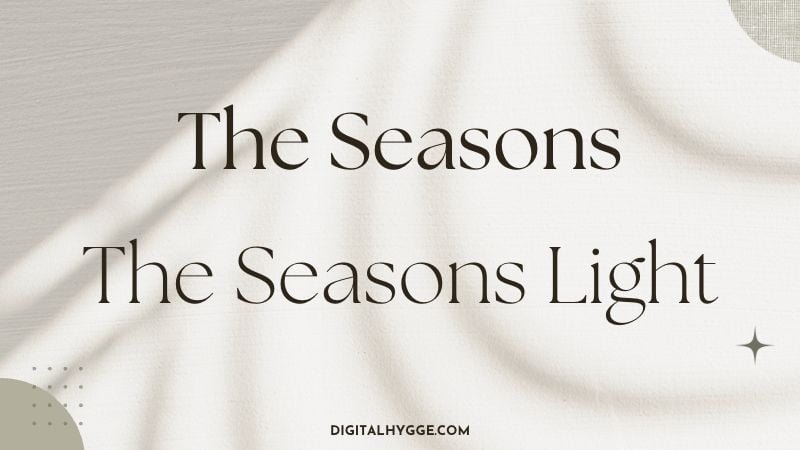 The Seasons is a beautifully crafted classic serif font family, offering a perfect blend of elegance and vintage charm. Boasting high contrast serif fonts, this collection embodies a chic aesthetic, with accompanying calligraphic cursive italics inspired by various humanistic italic scripts. Expertly penned using a Pilot Parallel Pen, the font family exudes finesse and sophistication.
Available in two styles, normal and light, The Seasons provides versatility to suit a range of design needs. Whether you're working on high-end branding, logo designs, magazines, product packaging, or invitations, The Seasons font is an exquisite choice that elevates your project's visual appeal and leaves a lasting impression.
Want more flexibility? With the paid Seasons font license, you'll get extra styles like Italic, Light Italic, and Bold. Give your designs a fresh twist by upgrading today!
Font author: MyCreativeLand
Loading Preview…
Powered by Creative Market
Abiah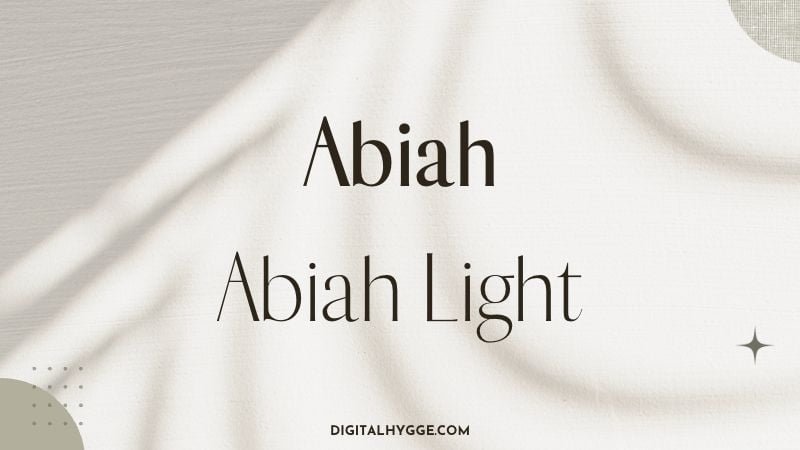 Abiah & Abiah Light Fonts are available for Canva Pro users
Abiah Sans Serif Typeface is a sleek and minimal font that boasts a modern and sophisticated aesthetic. Available in two distinct weights (Regular and Light), this typeface is perfect for a wide range of design applications. Its unique sans serif appearance lends itself well to stunning logos, eye-catching titles, professional web layouts, and cohesive branding.
For a touch of elegance, try using Abiah in all caps with wide-set spacing to achieve a refined and classy look. Alternatively, the timeless beauty of this font can be showcased by combining capital and lowercase letters, making it an excellent choice for various design projects that require both style and versatility.
Looking for more variety? Think about getting a paid Abiah font license, and you'll unlock 3 extra font styles: Thin, Bold, and Distorted. Add more flair to your designs with these cool options!
Font author: Creativetacos
Loading Preview…
Powered by Creative Market
Quiche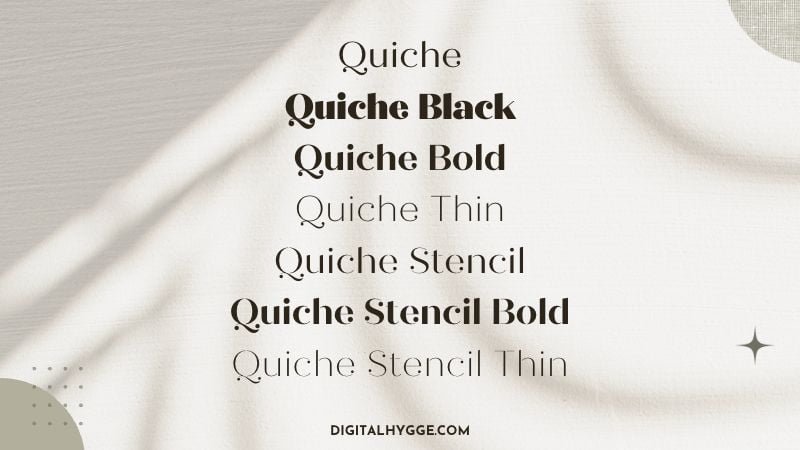 Quiche is an elegant, high-contrast sans serif font that combines modern style with classic influences. Available in two subfamilies—Display and Stencil—this versatile typeface suits various design needs such as print, web, branding, advertising, and more.
Inspired by the refined didone genre, Quiche features sophisticated thick/thin contrasts and unique ball terminals for a friendly touch. Ideal for headlines and titles, the Display and Stencil styles truly shine in large type settings, showcasing Quiche's charm and beauty.
If you want to enhance your designs with the versatile Quiche font, consider purchasing the Quiche font family license. This package includes 52 OpenType fonts across 4 unique styles:
Quiche Display family (14 fonts)
Quiche Fine family (14 fonts)
Quiche Stencil family (14 fonts)
Quiche Text family (10 fonts)
Font author: Adam Ladd
Loading Preview…
Powered by Creative Market
Noto Serif Display
Noto Serif Display is a super versatile and classic font that brings a touch of class to your designs. With its stylish serifs and well-balanced letters, this font is perfect for easy reading and a polished look. It's great for eye-catching headlines, cool titles, and beautiful branding. Noto Serif Display makes your designs memorable and timeless. Plus, it's probably one of the most flexible fonts on Canva, thanks to its multiple weights and support for many languages.
Font author: Steve Matteson. Commissioned by Google Fonts.
Stolen Love
Stolen Love is a chic and imaginative typeface that exudes elegance and style. This versatile font family comes with four distinct styles – Regular, Black, Light, and Rough – offering a myriad of creative possibilities for your designs. With support for Cyrillic and special characters, Stolen Love takes versatility a step further, making it an ideal choice for projects that require multilingual compatibility. The typeface's unique and captivating charm shines through in each style, allowing you to create designs that are both visually stunning and engaging.
Need more? Think about getting a paid Stolen Love font license. It includes extra styles like Bold, Extra Bold, Italic Light, and Extra Bold, plus alternate and ligature glyphs. You'll also get 52 swashes in 3 sizes, 26 ornaments, and support for 95 languages.
Font author: VPcreativeshop
Loading Preview…
Powered by Creative Market
Afrah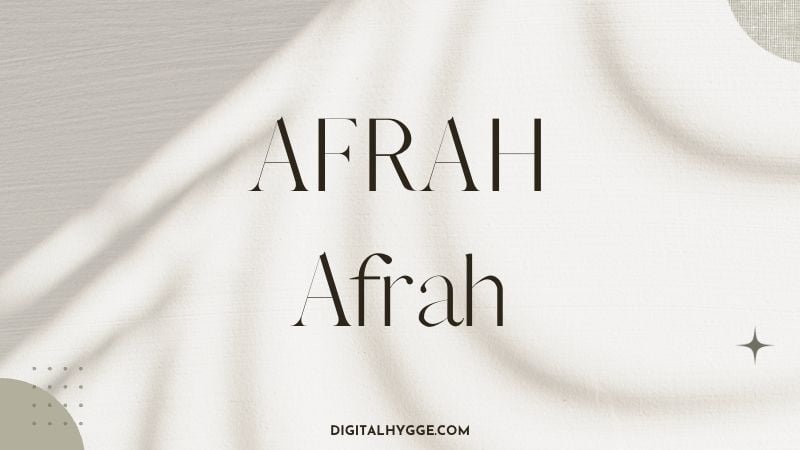 Afrah & Afrah Light Fonts are available for Canva Pro users
Afrah is an exquisite and versatile typeface that features two distinct styles—Regular and Light. Afrah includes a full range of basic glyphs, as well as Non-English characters, ensuring its adaptability across languages and regions.
Ideal for crafting eye-catching headlines, captivating posters, polished branding materials, and impactful packaging, Afrah also excels in enhancing presentations, logos, quotes, titles, and magazine headings. Its adaptability makes it a perfect fit for web layouts, advertising, invitations, and book designs, ensuring that Afrah is your go-to font for any creative endeavor that demands both elegance and flexibility.
If you're considering using the Afrah font in many of your designs, it's worth checking out the paid Afrah font license. It includes three extra weights (Thin, Round, and Bold), giving you even more versatility for your projects.
Font author: Creativetacos
Loading Preview…
Powered by Creative Market
Calgary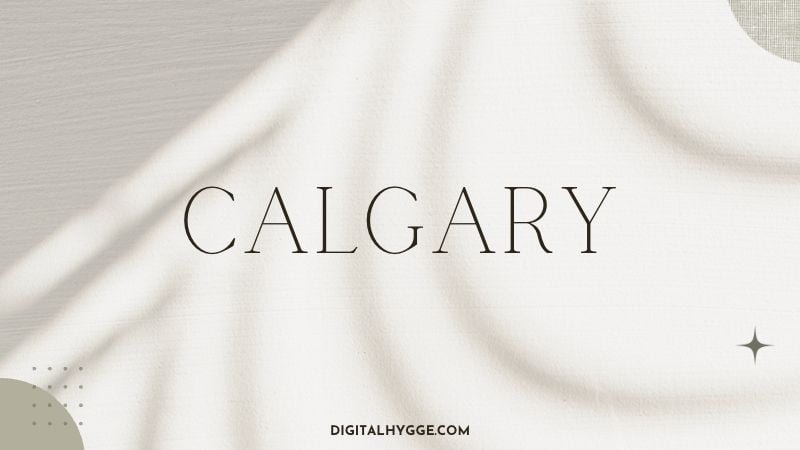 Available for Canva Pro Users
Calgary is a delicate and classy serif typeface that combines clean serifs with a narrow profile. This all-caps font is the ideal choice for creating stunning logos, eye-catching titles, elegant invitations, and more. The versatile design of Calgary allows it to pair seamlessly with a variety of other fonts, such as Oxford, San Clemente, and Sydney, making it an essential addition to your design toolkit.
The Calgary on Canva include:
Uppercase letters for a consistent and sophisticated look
Numbers and punctuation to support a wide range of content needs
Non-English characters to accommodate diverse language requirements
If you're love this font and want to use it for your brand, consider purchasing a Calgary font license from Creative Market. With a paid license, you'll also receive the lowercase letters, giving you even more design possibilities!
Font author: Jen Wagner Co
Loading Preview…
Powered by Creative Market
I hope this list of aesthetic Canva fonts has inspired you to experiment with your designs. I'd love to hear from you – feel free to suggest any fonts that you think should be included in this list or share your personal favorites in the comments.
Before you go. Check out these new articles: