I love lists. To do lists. Checklists. Any kind of lists, really. I probably have a dozen of different lists where I jot down everything I would like to achieve in future weeks, months and years.
My obsession with lists is what brought me to designing multiple habit trackers to keep my goals in sight and help me work on developing useful and healthy habits. Before this, I tried quite a few habit tracking apps but those didn't really work for me. To be honest, I just love physically checking things off my list. Putting a tick in the app just doesn't give me the same amount of satisfaction 🙂
In this post, I am sharing three completely free weekly habit tracker printables with you. So, if you are looking for a printable weekly habit tracker to help you log your progress and stay motivated, you've come to the right place.
Download My Free Printable Weekly Habit Tracker
In this post I'd like to share with you three designs of my weekly habit trackers.
Main features:
Minimalist and aesthetic design
Printer-friendly so you can easily print them at home and they will look just great
Different sizes: A4, A5, Letter and Half Letter
Some are editable/fillable
I once sold these trackers in my Etsy shop. However, I took a few years off from actively working and blogging as I had the joy of raising two beautiful children. Now that they've grown a bit and I find myself with more time, I've begun to write on this blog again and am creating new products. In preparation for this new phase, I'm clearing out the shop to make room for fresh offerings. Rather than simply deleting some of my older listings, which I personally believe are quite good, I've decided to share them. It would be a pity to see them go to waste.
Weekly Habit Trackers with Circles or Squares
I've organized the habit trackers into two categories: squares and circles, for easy differentiation. Despite the visual distinction, these trackers are very similar and are included in the same PDF file.
This habit tracker is similar to the above, but it utilizes circles for marking completion, as opposed to squares.
Weekly Habit Tracker with 'Notes' Section
The third habit tracker is somewhat unique because it features a half-page dedicated to a large notes section. This format is perfect if you're interested in tracking just a few habits or tasks.
The "Notes" section provides ample space for any additional information related to your habits or goals. You can also use this area for taking notes, setting reminders, or jotting down anything else pertinent to your tracking.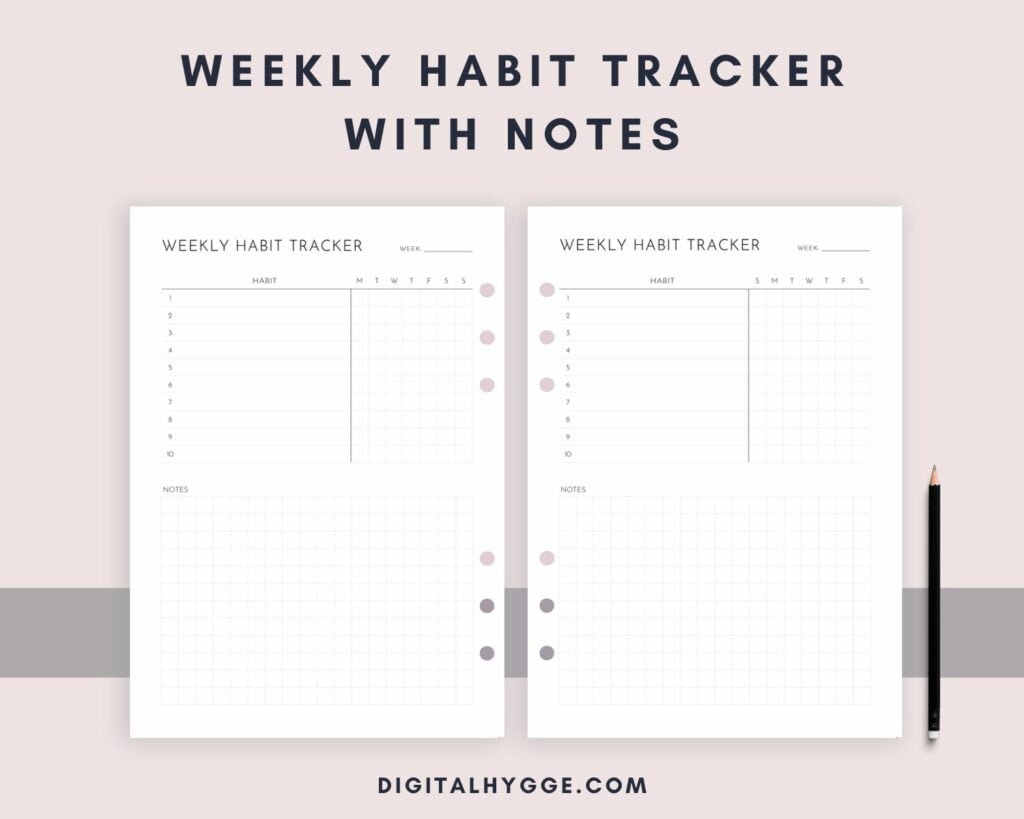 These three printable PDFs can be all downloaded by clicking the "Download" button at the bottom of this page. You will be directed to Dropbox, where you can download the trackers without logging in – just download and close the window when ready. If you want to download my weekly habit trackers now, you can scroll down to the bottom of this article. If you wish to learn how to use the habit trackers, just continue reading.
How to Use The Free Weekly Habit Trackers
If you love tracking several goals simultaneously, the habit trackers with circles or squares will suit you best. They allow logging up to 24 goals per page. Choose goals that you want to track and check the circles/squares when you have finished an action, say, gone for a walk or practiced an instrument.
However, if you find long lists overwhelming, the habit tracker with 'Notes' is what you probably need. You can track up to 10 goals with it on one page. You can use the 'Notes' space to write down additional information related to your goals or anything else, really. Quotes, plans, reminders. It's up to you 🙂
What Daily Habits Could I Track?
There are probably thousands or even millions of habits one could track on the daily basis. Which ones you should track is up to you. Sometimes it's best to just start with something and make changes later, since it can be difficult to know beforehand what will work for you and what won't.
Below is a short list of some daily habits people log in their habit trackers:
go for a walk
read at least 1 page of a book
go to sleep by [x] o'clock
meditate/do yoga/stretch [x] minutes
make a plan for tomorrow
call parents
eat healthy
For more ideas, go to my article 15 Habit Tracker Ideas.
When choosing habits to track, it is important to remember that it is OK not to be perfect and even to fail. You won't always reach the goals. It happens to us all, trust me.
When it comes to developing new habits, it is the process that is important. Habits don't have deadlines. There is no ideal amount of times you should complete the habit. Every time you complete a task is a small win.
More Downloadable Habit Tracker Printables
In this post I am focusing only on weekly habit trackers. However, there are many other habit trackers on Digital Hygge just waiting to be downloaded.
Here are some of the most popular ones:
File Descriptions
These habit trackers are available in four distinct sizes: A4, A5, Letter, and Half Letter.
Editable files are also provided for A4, A5, and Letter sizes.
Options for both Sunday and Monday starts are included.
Each tracker has been meticulously crafted using professional design software, ensuring the highest quality in the form of 300 dpi PDFs. These files are intended for personal use only. I have put significant effort into creating high-quality printables, so I kindly request that you refrain from distributing the files. If you wish to share these trackers, please share the link to this post instead. I greatly appreciate your understanding and cooperation.
---
If you like my designs, you might enjoy some of the products I'm selling on Etsy.
I hope you will enjoy my weekly habit trackers – happy tracking! ☺️