If you are looking for a totally free (no strings attached!) monthly habit tracker that looks amazing, you have come to the right place. With this monthly habit tracker you will successfully keep track of all your monthly goals.
This tracker is available in multiple sizes: A4, A5, US Letter & Half Letter. Each PDF comes with left and right side pages so it is easy for you to punch the template and use it in your planner.
This habit tracker is perfect for people who want to track several habits simultaneously. You can track up to 20 goals in one monthly tracker. For inspiration, here are some creative habit tracker ideas:
daily exercise
daily stretching
yoga
menstrutation
10 000 steps
take medicine
get enough sleep
be grateful
read a book
learn something new
tell your loved ones that you love them
call a friend/family
spread joy
home-cooked food
water the plants
wake up before 6/7/8pm
no snacks
no fast food
no swearing
no alcohol
no smoking
What Is In The Monthly Habit Tracker?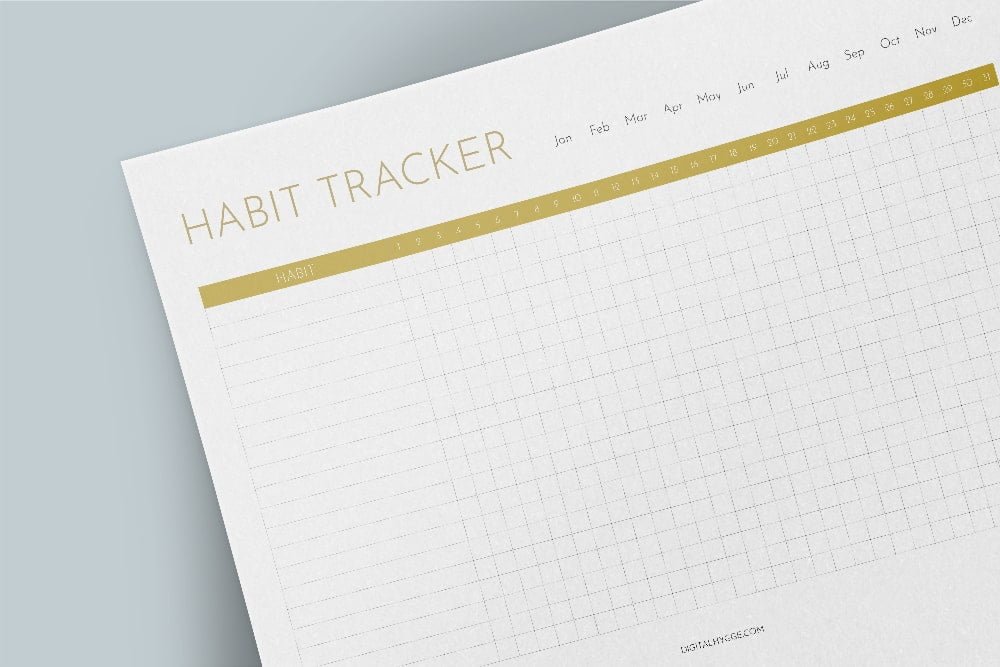 My Habit Tracker With Gold Accent is an elegant habit tracker created with Adobe InDesign. The gold accent and sophisticated fonts make this tracker stand out from the crowd.
Main features:
Multiple sizes available: A4, A5, US Letter & Half-size
Margins for punching holes
Template suitable for printing on both sides
High resolution PDF 300dpi – perfect for printing at home or in a print shop
This template is totally FREE, no e-mail subscription is needed. Just click the button, download and print out immediately.
Many websites claim to offer free templates or free printables, but render the free versions useless by hiding part of the design or adding text on top of the design. Unlike these websites, the free printables on Digital Hygge are beautifully designed and meant to be enjoyed. These are high-quality products made with love.
I hope you will enjoy using my monthly habit tracker. I'd be happy if you leave a comment or share the post with your friends.
Happy planning!
PS If you enjoy using my tracker and would like to get other trackers I designed, check out my habit tracker bundle on Etsy. This bundle includes printable weekly, monthly and yearly trackers.