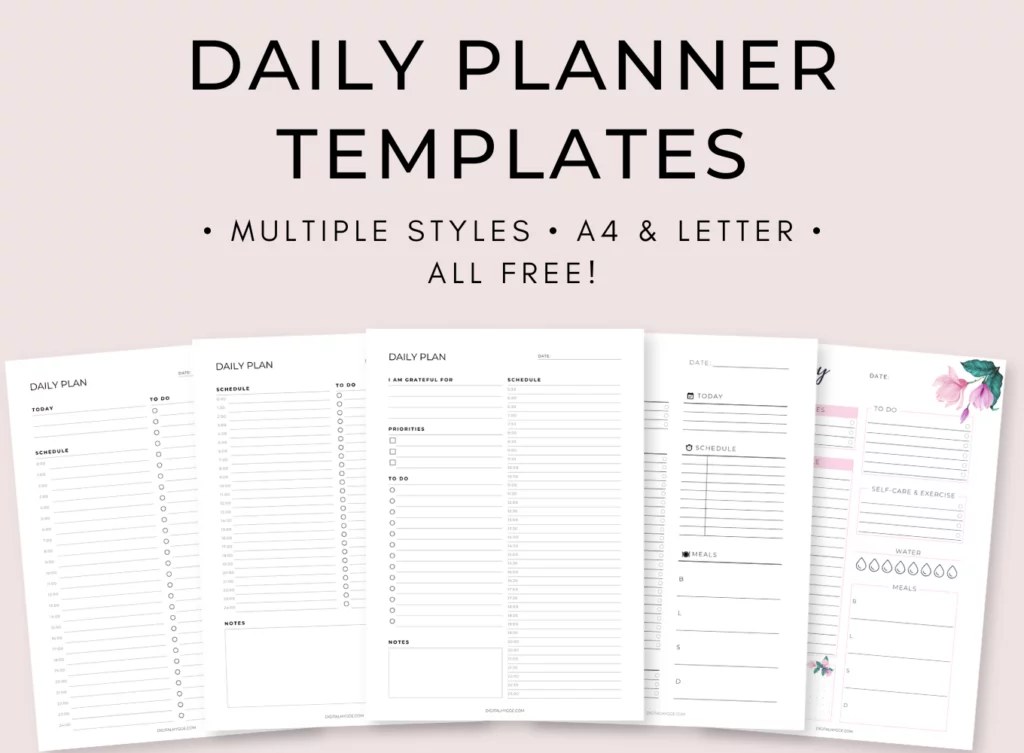 Daily planner pages are an effective tool for consolidating tasks, appointments, and goals. They break down your day, spotlighting priorities and ensuring consistent productivity.
I've been using Canva to create printables and graphics for a decade. Over this time, I have amassed hundreds of printables and templates. In this post, I'd like to share some of the daily planners I'm particularly fond of.
Most of my designs lean towards minimalism, which I find incredibly adaptable. They're ready to use if you like the minimal style. If you fancy a pop of color, you can always embellish them with highlighters, brush markers, colorful pens, stickers, or anything else your creative heart desires.
Select your preferred daily planner template from the options below. Just click on the image to open it, then save it to your computer for printing.
Browse my printable collection to see more high-quality printable planners and trackers. I recently added weekly planner templates that you can use alongside these daily planner pages or independently.
Daily Planner with Schedule from 5:30 AM to 11 PM
This daily planner helps you infuse organization, priority setting, and mindfulness into your everyday routine.
Available in Two Time Formats: Choose the AM/PM format (Letter) or the 24-hour system (A4) to suit your scheduling preference.
Sections:
Daily Gratitude: Begin your day with a moment of reflection by jotting down something you're grateful for.
Top-3 Priorities: Narrow down your focus by listing the three most crucial tasks for the day.
To-Do List: Organize your day-to-day tasks and check them off as you accomplish them.
Notes: A versatile space for any additional information, reminders, or spontaneous ideas.
Schedule: A structured timetable for you to allocate your activities and appointments, ensuring a balanced and productive day.
Minimal 7-Day Planner
This sleek, clutter-free layout spanning across 7 individual pages, one for each day of the week, guiding you with intention and focus.
Sections:
Top-3 Priorities: Each day starts by pinpointing your three major goals, maintaining consistent focus and direction throughout the week.
To-Do List: Detail your tasks for the day, ensuring a streamlined workflow and that nothing goes unnoticed.
Self Care: Dedicate space daily for personal rituals, relaxation techniques, or activities that rejuvenate you.
Today Section: A flexible section ideal for highlighting special events, holidays, or even for jotting down an affirmation, quote, or reflection.
Blank Schedule: A free-form area for you to sketch out the day's agenda, giving you complete freedom without the limitations of pre-set time slots.
Meal Planner: Organize your meals for the day, encompassing breakfast, lunch, snack, and dinner, assisting in health-conscious choices and preparation.
Floral 7-Day Planner with Pink Accents
Elegance meets functionality in this 7-page daily planner with a page dedicated to a day of the week. Adorned with soft pink accents and delicate floral elements, it's the ideal choice for those who prefer pretty planners.
Sections:
Top-3 Priorities: Begin each day by setting your three main goals, creating a clear vision for your day ahead.
Schedule: Detailed hourly slots from 6 AM to 12 AM ensure you have a structured plan for every moment.
Notes Field: A versatile space for any musings, reminders, or additional details.
To-Do List: A designated area to list and tick off daily tasks.
Self Care & Exercise Section: Set aside moments for personal rejuvenation and fitness, cultivating a holistic daily routine.
Meal Planner: Chart out your culinary journey for the day, encompassing breakfast, lunch, snack, and dinner.
24-Hour Detailed Daily Planner
This detailed planner is tailored for those who demand precision and detail in their day-to-day. It will keep you on point, regardless of when your day starts or ends.
Sections:
24-Hour Schedule: A comprehensive timetable running through the entire day, accommodating even those working night shifts.
Day's Main Focus: Use the two dedicated lines at the top of the page to note down the most important events or priorities of the day. Be it a birthday, a holiday celebration, or a critical task, keep it front and center.
Extensive To-Do List: A long list with space for 28 items, this section ensures that even on your busiest days, every task has a spot. Stay organized, efficient, and on track with a checklist that can handle it all.
24-Hour Daily Planner with To Do List and Notes
This planner page, similar to the previous design, efficiently balances a full-day schedule, a comprehensive to-do list, and a dedicated space for notes. The tighter line spacing optimizes every inch of the page without sacrificing the functionality of this printable planner.
Sections:
24-Hour Schedule: Running continuously through day and night, this timetable caters to everyone, from day workers to those pulling night shifts.
To-Do List: Organize your day effectively with a list designed to accommodate 24 items.
Notes Space: A blank section at the bottom of the planner allows you the flexibility to jot down any spontaneous thoughts, reminders, or additional information. This section is perfect for those moments of inspiration or last-minute details that don't quite fit elsewhere.
Browse my printable collection if you would like to see more high quality printable planners and trackers. Let me know if you are looking for some specific printables or printing sizes.