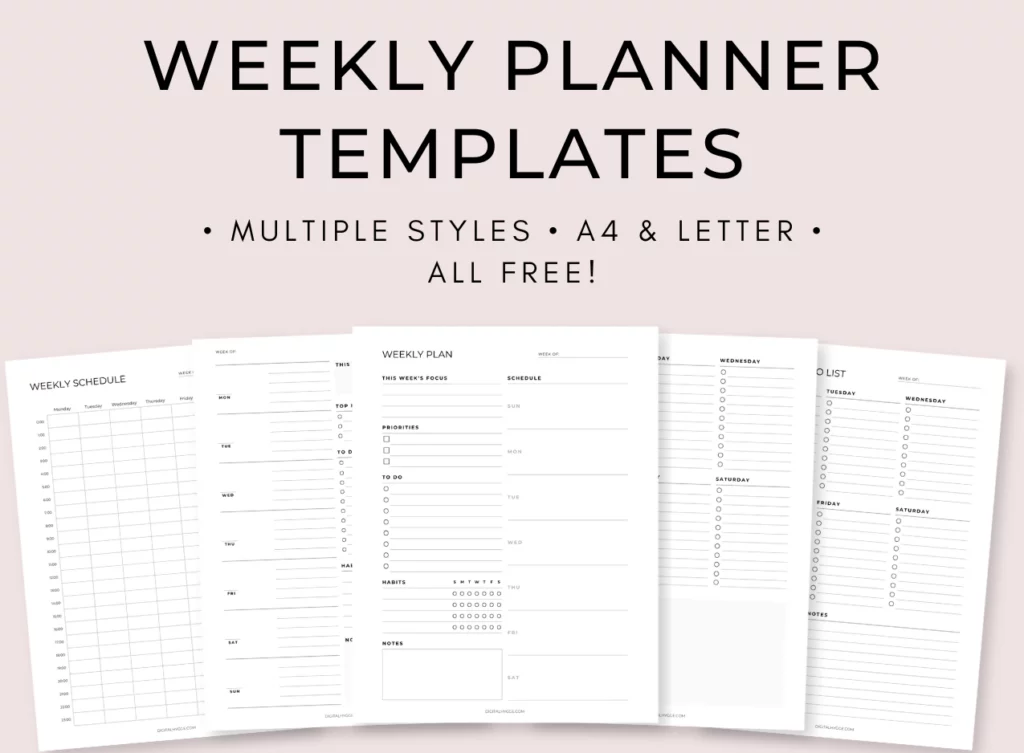 Everyone perceives time differently, influencing how we plan our lives. Some of us thrive with detailed daily planning, while others feel more productive visualizing an entire week or even a month ahead. Whether you favor daily or weekly planners—or a combination of both—it's all about what suits your personal preferences.
I recently released a collection of daily planner templates. If you haven't seen it, be sure to check it out. For this post, I'm turning the spotlight to weekly planner templates.
Below, you'll find four distinct styles of weekly planner templates, each accompanied by a brief description. All printables are available in both A4 and Letter sizes, with options for both Monday and Sunday starts where applicable.
To download, simply click on the image of the planner you prefer. Save the file to your computer, and you'll be ready to print.
Weekly Planner Style 1
The first template is a classic weekly planner. It features individual slots for each day of the week on the right, and on the left, there are additional sections for the week's focus, top three priorities, a to-do list, a habit tracker, and notes.
Weekly Planner Style 2
Next, we have a one-page weekly planner that places greater emphasis on daily tasks for each day of the week. On the right, dedicated sections are provided for outlining the week's intentions, listing top priorities, a 10-item to-do list, a tracker for 5 habits, and a space for notes.
Weekly Planner Style 3
Up next is a 24-hour weekly schedule. The design is straightforward, featuring a table with days of the week and 24 hourly time slots, enabling you to plan your week meticulously at any time of day.
If you're seeking variations of this schedule, such as different time ranges or 30-minute intervals, please let me know. I am always happy to design more printables 😀
Weekly Planner Style 4
Last but certainly not least is our weekly to-do list/checklist. This printable to-do list is available in three distinct styles:
The first two styles are titled "Weekly To-Do List" and feature a 10-item checklist for each day of the week. Both of these have different styles of note sections at the bottom.
The third style is more versatile. It doesn't have a specific title, allowing you to use it as a weekly tasks planner, cleaning checklist, or for any other purpose you see fit. Additionally, it offers an 11-item checklist instead of 10.
If you like these printable weekly planners, you might also like other printables I have shared before. There is plenty to choose from.
Also, if you are looking for a specific planner layout, let me know in the comments. I will happily add your suggestion to this collection.
Have an amazing day and happy planning! 😘