Like so many of us, I have tried to lose weight. Sometimes more, sometimes less successfully. To help myself reach my goals, and to help you do the same, I have created a beautiful weight loss tracker that is both elegant and motivating. Just write down your starting weight and your goal weight and you're set for success 😉
I hope my weight loss tracker will help you enjoy your weight loss adventure. To download, just go down to the bottom of this article and click on the download link for an instant download – no e-mail addresses required and no sign-up needed. If you like my products, please share them with your friends and family 🙂
What's Included in the Weight Loss Tracker [Free Printable]
The free printable at the bottom of this article will hopefully help you with losing weight. Here's what you get when you download my product:
High quality design, PDF file 300 dpi
Wide margins so you can easily punch the insert and put it into your planner
Sizes: A4 and US Letter
Instant access: no need to sign up for a newsletter or do anything else 🙂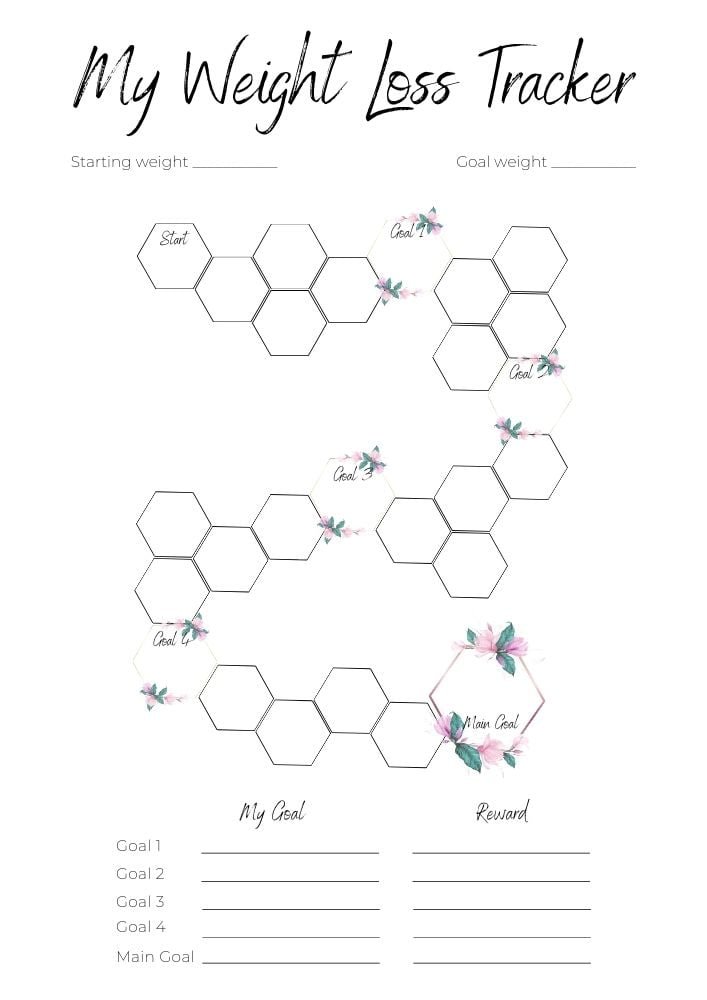 How Can I Track My Weight Loss Journey?
Tracking the weight loss journey is something that can help us stay motivated and remind ourselves of our goals – and our progress. It might also help us stick with the weight loss program, since tracking our progress makes us feel more involved in the process. Here are a few tips on how you can track your weight loss journey in a way that will be motivating for you.
#1 Regularly Update Your Weight Loss Tracker
When you have printed out my weight loss tracker and either put it in a binder, on the fridge or in a planner, you should not forget fill it in regularly. When you have lost some weight, write it down in the tracker. Looking at the tracker will always remind you of the progress you have already made and also remind you of the goals you have set for yourself. Reaching one of the minor weight loss goals is already cause for celebration! One step at a time your dream will come true 🙂
#2 Take Photos of Yourself
When you regularly take photos of yourself, especially from the same angle, it will be easy for you to see how you have been doing. Remember that despite weight loss being the goal, you will see results that can't be measured in pounds or kilos. Many of the positive changes will be evident from the photos – even when you feel like you aren't losing weight as quickly as you wish you did.
#3 Write down and track body measurements
Like I mentioned above, when you start a diet many of the changes will be visual. Your thighs might get firmer and your arms might lose some of the extra fat in only a week or two. To track your development, use a body measurements printable such as this one (personal size and A5) . It is the perfect companion to my weight loss tracker.
#4 Keep a Weight Loss Diary
Keeping a weight loss diary is yet another tool that will help you achieve real results. Here's a list of things you can write down in your weight loss diary:
daily food and drink consumption
daily exercise
your weight
body measurements
how well you sleep
your energy levels
how you feel
When you keep a weight loss diary you will feel more accountable and also like you are in charge of the situation.
#5 Reward Yourself for Reaching Goals
Part of the weight loss journey is setting small achievable goals for yourself on the way to your main goal. After reaching one of these goals, make sure you reward yourself in some appropriate way.
I hope you will love using my weigh loss tracker as much as I loved creating it. My high-quality printables are made with passion and I truly hope that they will help you reach your goals.
If you enjoy my work, please consider sharing my website with your friends who could use my free printables and Canva templates. You can also follow me on Twitter, Instagram and Pinterest if you want to be the first to know about my latest products and freebies.
Have a great day and happy tracking!