Do you want to focus on creating healthy habits? This printable monthly wellness tracker is ideal for people looking for an easy way to keep track of their healthy, wellness-creating habits. By tracking your mood, sleep, exercise, drinking and eating habits, you can assess your situation using actual statistics, making it possible to improve your life one habit at a time. Tracking your progress and rewarding yourself for reaching your goals cannot get any easier than this 🙂 Oh, and did I mention that my wellness tracker is 100% free?
What is in the Monthly Wellness Tracker?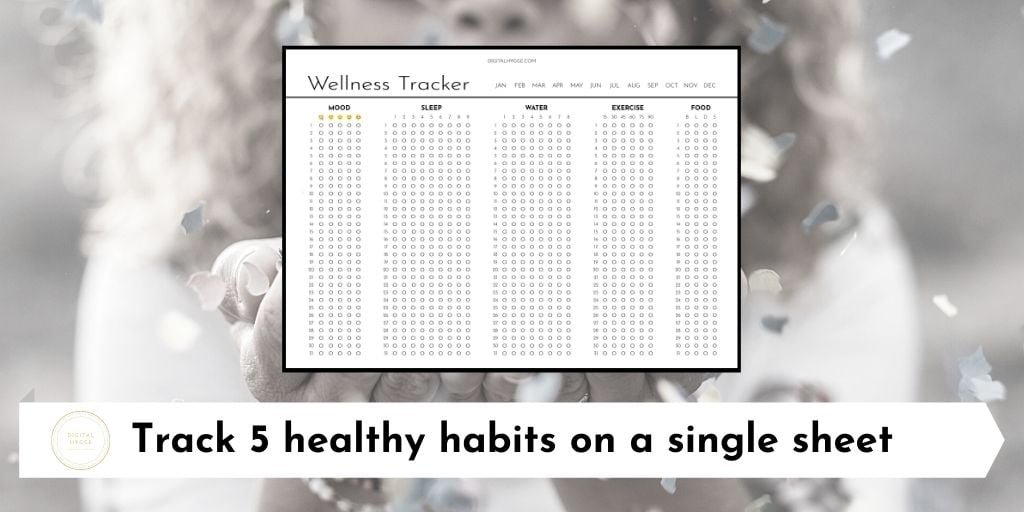 This wellness tracker is actually five trackers in one: a mood tracker, an exercise tracker, a water tracker, a sleep tracker and a food tracker. It lets you track wellness-habits for the duration of a month (31 days) in one simple design. The trackable habits are the following: mood, sleep, water, exercise and food.
Each of these habits can be tracked in detail.
For tracking your mood, you can choose between 5 moods, ranging from very bad (or sad) to excellent.
To track your sleep, you have nine alternatives ranging from one hour to nine hours of sleep.
With the water tracker, you can track your intake of water (measured here in 8-ounce glasses) by coloring in the number of glasses drunk between one and eight.
In the exercise/workout tracker you can track how much exercise you got that day (15 min, 30 min , 45 min , 60 min, 75 min or 90 minutes).
Finally, you can use the food tracker to track whether you have had breakfast, lunch, dinner or a snack that day. As an alternative with the food tracker you can track how often you eat healthy foods vs junk foods.
Using this healthy habits tracker, you will notice whether you have a tendency to skip lunch or some other meal too often. You can also easily tell if you get enough exercise or sleep, and whether you drink enough wate. The strength of the monthly tracker is that it is easy to recognize any unwelcome patterns that you want to change.
The free download (at the bottom of this page) includes the following:
two sizes: A4 and US Letter
wide margin for punching holes
highly detailed, high-resolution, 300 dpi PDF (the quality that is recommended for printing)
five trackers in one: a mood tracker, sleep tracker, water tracker, exercise tracker and food tracker.
Perfect design for all-year-round use: just draw a circle or underline the current month.
FREE download with no need for e-mail addresses, signing up or any hassle at all. Just download the product, print it and start using it!
I hope you will love using my wellness tracker as much as I loved creating it. My products are made with a passion for design and I like to think that they are of high quality. If you enjoy my work, please consider sharing my website with your friends who could use my free printables and Canva templates. You can also follow me on Twitter and Pinterest if you want to be the first one to know about my latest products.
Happy tracking!