Is your child an avid reader? Or would you like your child to read more? Either way, getting a reading tracker can just what you need. Designed to track how many books have been read – or how many times your child has read a book, magazine or similar – my reading tracker makes picking up a book fun 🙂
Many children like reading and might find it interesting to track the number of books they have read. You can track either yearly, monthly or weekly progress. Tip: You can reward your child when he or she has read a certain number of books. Maybe let him/her choose what you should snack on the next day when he/she has read 10 books?
Suitable for children of all ages, but targeting mostly 5 – 11 year olds, the tracker consists of a picture of 35 black-and-white books that your child can color in after finishing a book, or after having read for a certain time.
Free Printable Reading Tracker
I love creating free printables. When I made this reading tracker, I was trying out many different designs on Canva. If you are familiar with Canva Pro, you know that there are A LOT of options when it comes to free-to-use illustrations. Choosing "the right one" is the difficult part! I ended up going for the cute pirate illustrations. You can see the design here below (notice: you can download the full-sized high-quality PDF at the bottom of this page by clicking the "Download" button).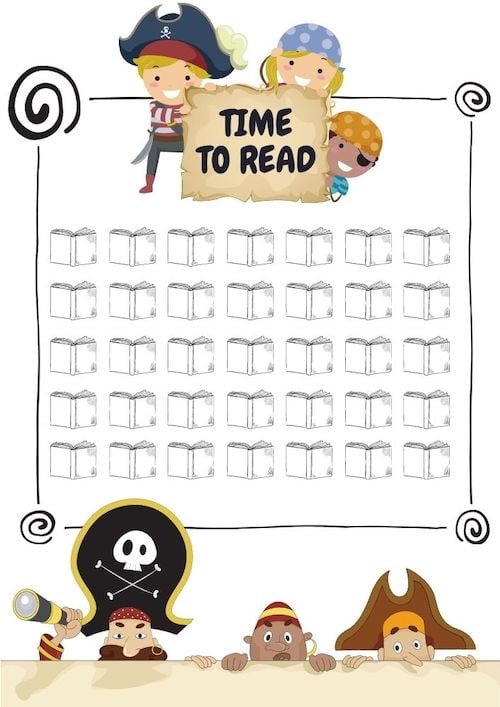 I hope you and your child will enjoy the playful design as much as I do 🙂
What's included in the free reading tracker for kids?
instant PDF download at no cost at all
high-quality printable (300dpi)
1 pirate-themed reading tracker suitable for children
How to use the reading tracker?
When your child has read a book (or read for 15 minutes etc.), your child gets to color in one of the books on the printable. Your child can use what color to use, or then you can have a color coding system where a certain code represents something, such as green for magazines, red for books etc.
Why should I use a reading tracker?
Reading trackers help you keep track of your progress. It can be difficult to know how often your child reads if you don't have any system for documenting it. By keeping track of this, you know whether your child reads a lot, a little – or not at all.
I hope you will enjoy using my reading tracker! If you are looking for more reading-related printables for children, there are 13 totally free printables in my other article 13 Reading Logs That Kids Can Color In.
And if you are looking for free, high-quality printables for yourself or your family, you might be interested in the following products on Digital Hygge:
Want to follow Digital Hygge and be the first one to find out about my latest free products? You can find me on Twitter and Pinterest.
Happy tracking!