No matter how good you are with numbers, handling data as large as a family's finances is challenging. Having a good budget planner makes the work easier. There are many digital alternatives out there, but many of us still prefer the classic pen-and-paper combination. If you are one of these old-fashioned — or should I say sophisticated — people, you can find the download link to my free monthly budget planner template at the end of this article. The budget planner is intended to help you stay on top of your family's finances.
How to Use the Monthly Budget Planner
For a monthly budget planner to be useful, you need to know how to fill it in. If you want to learn how to use my monthly budget planner, read on. If you want the free download directly, scroll down.
Why a monthly budget planner? It is commonly recommended to make a monthly budget, since most income and expenditures are of a monthly nature.
Keep track of all expenses and income
Once you've chosen a posting platform, it's time to get started. Prioritise tracking income and expenses. You want to be sure that you have these numbers exactly right, as these will give you a good overview of your finances.
If your family has multiple sources of income (salaries, dividends, child benefits, pensions, etc.), write them all down. Whether you want to record your income separately or put them all together under the same category is, however, up to you.
You can record expenses either directly or at a certain time. For example, at the end of the week, you can dig up all receipts from your wallet and add the sums together. However, it would be preferable to record the expenditure immediately, since receipts tend to be lost and sometimes perhaps not even received in the first place. Also remember to check your bank statement.
Create and use categories
It is a good idea to categorize your spending by topic. This will help you outline your spending priorities. Commonly used categories are food, electricity, telephone/internet, subscriptions, weekly allowances and sports. You can also use sub-categorization, which helps to identify where exactly the money goes. For example, by using sub-categories for your food expenses, you might realise that a large percentage of your money is used for a rather small sub-category.
You can also assign different family members their own budgets. For example, if you have agreed that children earn a weekly allowance or do some of the housework, the children's (or parents') share of the budget can be broken down.
What's In The Monthly Budget Tracker?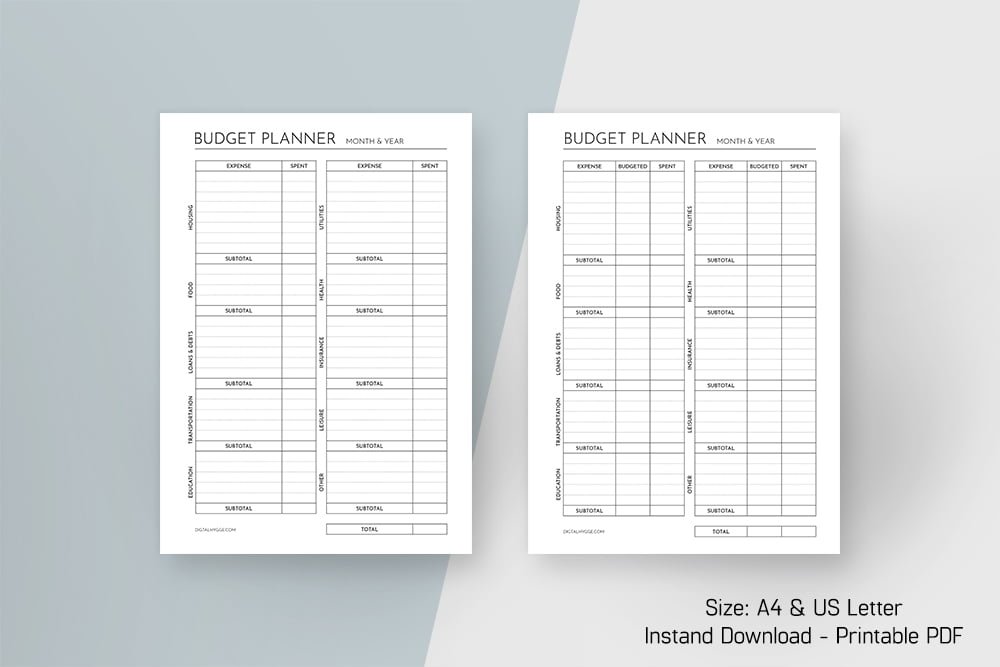 If you are looking for a very simple way to keep track of your money, this printable Budget Planner will help you get started.
With this Budget Planner you can track:
Housing expenditures include net rent, mortgage payments, repairs and maintenance costs, etc.
Utilities expenditures such as electricity, internet, waste, etc.
Food expenditures such as groceries, dining out, takeaway food etc.
Health expenditures such as medical bills, pharmacy receipts, supplements and vitamins, gym etc.
Loans and Debts expenditures such as credit cards, credit card cash advances, interest rates, personal loans, loans from family and friends, etc.
Insurance expenditures such as medical insurance, car insurance, house insurance, etc.
Transportation expenditures such as car related payments, bus tickets, fuel, etc.
Leisure expenditures such as costs of going out, events, hobbies, traveling etc.
Education expenditures such as courses, masterclasses, books and e-books, etc.
Other expenditures.
What will you get if you download my Budget Tracker?
Multiple sizes available: A4 & US Letter
Two budget tracker variations: with and without "budgeted" field
Margins for punching holes
High resolution PDF 300dpi – perfect for printing at home or in a print shop
This template is totally FREE, no e-mail subscription is needed. Just click the button, download and print out immediately.
---
You can get this template without Digital Hygge logo from my Etsy shop. The paid template includes 2 additional pages without expense categories pre-filled. With an empty template you can fill in the categories yourself to make the budget planner better fit your needs.
---
I hope you will enjoy using my budget tracker. I'd be happy if you leave a comment or share the post with your friends.
Happy planning!