This black and white, bistro-style weekly menu planner is the perfect choice for someone looking for smart and easy-to-use free menu planner with a clean look. Stylish font, modern design…what else could you ask for?
What's included in this free weekly menu planner?
This blank, black-and-white weekly menu planner features:
single-page, blank menu planner in black and white
breakfast, lunch, snack & dinner fields to fill in
full 7-day-week menu (Monday – Sunday)
two designs: with border and borderless
high-resolution 300dpi PDF of the highest quality – perfect for printing at home or in a print shop
This is a totally, 100% free high-quality printable PDF. Once you have downloaded the file you can print it out as many times you like. The download doesn't require you to do anything: no e-mail address or other personal information is needed. You will not be asked to subscribe to a newsletter, either.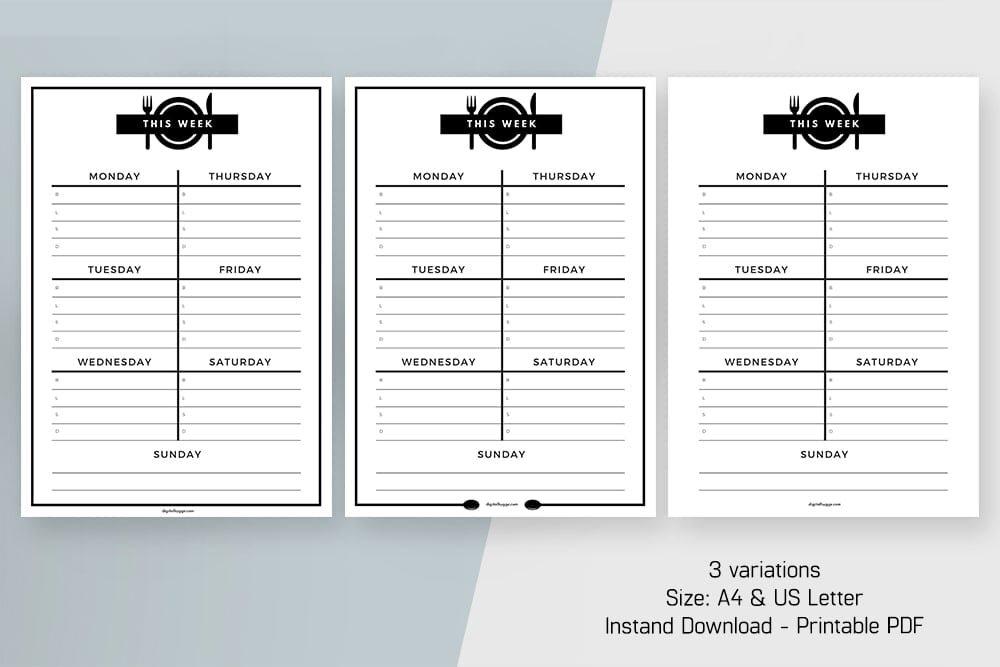 Tips for Planning Meals
We are all different when it comes to planning meals. Here are a few tips that will help you get started.
Instead of focusing on what to buy from the store, plan your meals around foods you already have. Use products with close expiry dates first so you don't end up wasting food (and money). Remember to check all the places where you store food: the pantry, fridge and freezer.
To save money, plan your meals around products that are on sale or in season.
Make shopping easier by using the same ingredients in different dishes. If you buy 2 kg of carrots, you can have carrot soup on Monday, carrot cake on Tuesday and make roasted carrots with garlic & parmesan on Wednesday.
I hope you will like my design and use it often. I make these free printables with love and want them to be used. Unlike many other websites, the designs on Digital Hygge do not have watermarks covering the half of the design, rendering the pdf useless. If you want me to create more beautiful printables, please tell your friends about Digital Hygge.
---
You might also like:
---
If you want to be the first to hear about new free printables or Canva templates on Digital Hygge, you can follow me on Twitter.