This post with five excellent gourmet no-cook, no-bake edible gifts continues my series of stress-free Christmas posts where I am sharing with you quick and easy holiday recipes and craft tutorials. Without further ado, let's get into a real Scandinavian hygge mood and make this Christmas magical 🙂
Why have I chosen to write about edible gifts? Well, I love edible gifts. They are thoughtful, delicious, and appreciated by most people – or at least people like me who love to receive fun, useful gifts 🙂 They are great to receive and a lot of fun to make. On top of all that, these gifts won't cost you a fortune.
UPDATE: I have recently created minimal, modern recipe cards template. These recipe cards are fully editable with a free Canva account. If this is something you were looking for, I'd like to share a -20% coupon with you.

Click on the link to apply the coupon or use the code: RECIPECARDS20.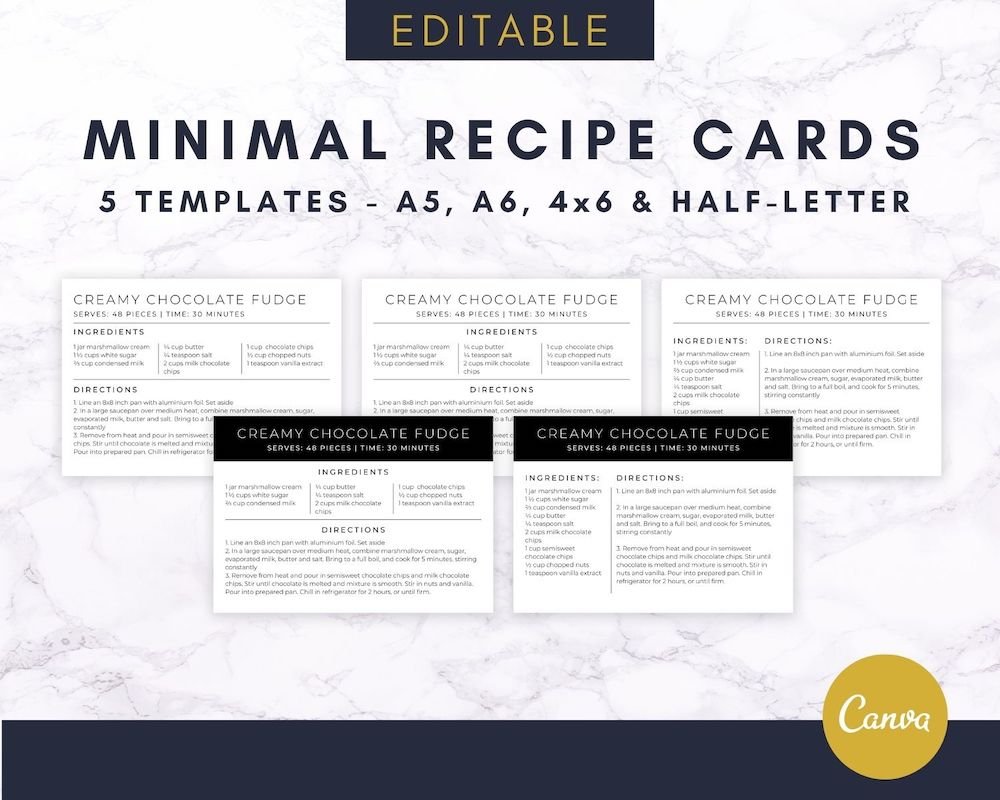 1. DIY Instant Hot Cocoa Tubes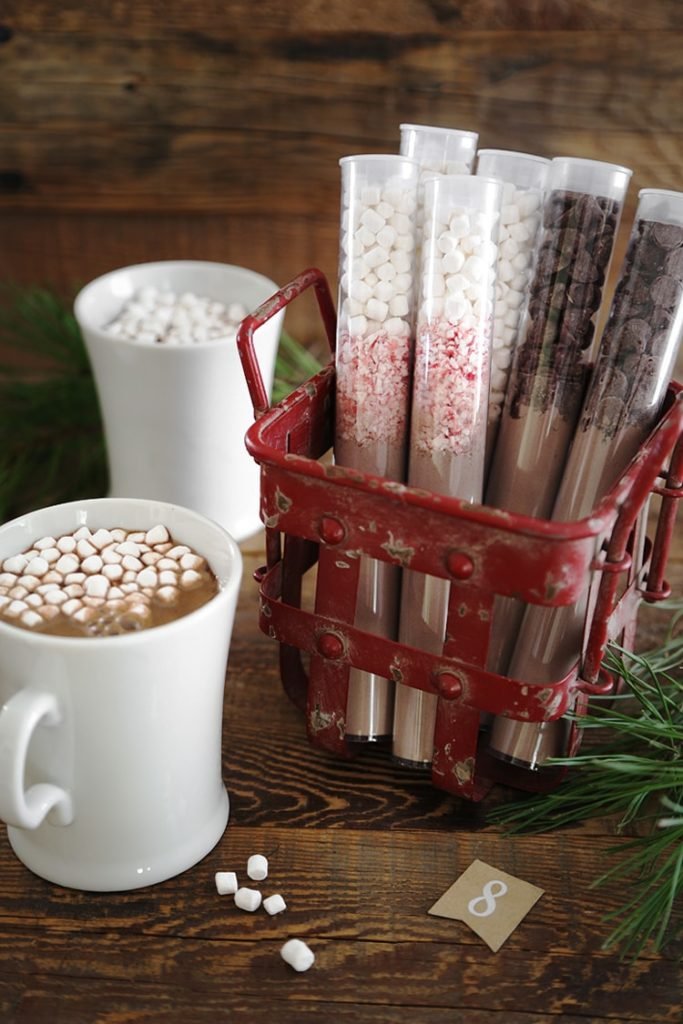 I don't know about you but I personally go crazy for all things portioned and miniaturized. Heather from sprinklebakes.com came up with a brilliant idea to put hot cocoa mix into small tubes rather than serve it in one big mason jar.
You can find Heather's recipe here.
Tip: Are you wondering where to find tubes like the ones in the photo? You can actually find similar tubes on Amazon. Some of these might be called test or lab tubes. They can be made of clear plastic or glass (for an eco-friendly gifts or party favours). These tubes are great for storage of small candies, sprinkles, liquids, jewellery beads or whatever else you could come up with. 
2. Cowboy Cookies In A Jar
Cookie mix in a jar isn't anything new. You can even get ready-made cookie or brownie mixes from grocery shops. However, shop-bought cookie mix jars just don't look and feel the same. It is way better to create them yourself. It literally takes just a few minutes to assemble your gift if you have all ingredients and a clean jar on hand. For inspiration, check out Kristin's mouthwatering Cowboy Cookie recipe here. It includes rolled oats, roasted pecans, dried cranberries and coconut sugar. Cookies just can't go wrong when you use such yummy ingredients 🙂
Tip: Remember to add a ribbon and a handwritten note to make the gift feel really thoughtful and cute. Write down instructions so that the person who gets your cookie mix knows how to use it. Also write down the date when you prepared the mixture. This way it is easier to track the "expiry date". In most cases the cookie mix will spend some time on a pantry shelf, so make sure you use only fresh ingredients to prolong the shelf life of your gift.
3. Homemade Spice Blends
I love seasoning. Who doesn't, right? If you are looking for a gift idea for someone who cooks at least once in a while, you cannot go wrong with these DIY homemade spice blends.
Ella from naturallyella.com shares on her site a selection of four recipes for spice blends as well as a free printable recipe card and printable labels for each of the spice mixes. How cool is that? Pair your homemade spices with a beautiful basket or a small spice rack, and you will get a perfect gift for anyone who loves cooking.
Visit Ella's website to find the recipes for the following spice blends:
Herb Blend
Curry Blend
Baker's Blend
Southwest Blend
Vanilla Extract
You might also like my post about homemade chicken mixes. Check it out if you need more ideas.
4. Easy Homemade Flavored Finishing Salts
Flavoured finishing salts are a fantastic gift idea. I really love the luxurious, high-end salt containers and would be very happy if I got this as a gift!
You can get the recipes, as well as downloadable PDFs with labels, from Love and Olive Oil website.
By the way, I have an article fully dedicated to flavoured salts here. Check it out, if you are looking for more gourmet salt ideas 🙂
5. Soup Mix Ornaments
Here is another edible gift idea that is simple to assemble. All you need to do is to find some cute glass jars to put the dry mixes in. You can come up with your own recipes or visit Rachel's blog for all three soup mix recipes (like on the photo above): bean soup, chicken and rice soup, and chicken noodle soup.
I hope you enjoy these ideas. Let me know in the comments below, if there are any other edible gift ideas I need to include in this list.
Happy holiday season to you and your family!