Christmas is approaching very fast. Everyone has lots to do. I know — I am just like that.
One of the most important Christmas decorations is, of course, the traditional Christmas wreath to hang on your door. After having read this post, you will be able to tick one thing off of your busy Christmas preparation list — if you follow the instructions, you will have a beautiful Christmas wreath in no time.
Below you'll find a list of 5 easy to create Christmas wreaths. They look amazing and won't cost you a fortune like the ones you might find on Christmas markets.
So let's get crafty and create something awesome 🙂
1. DIY Rainbow Bottle Brush Tree Christmas Wreath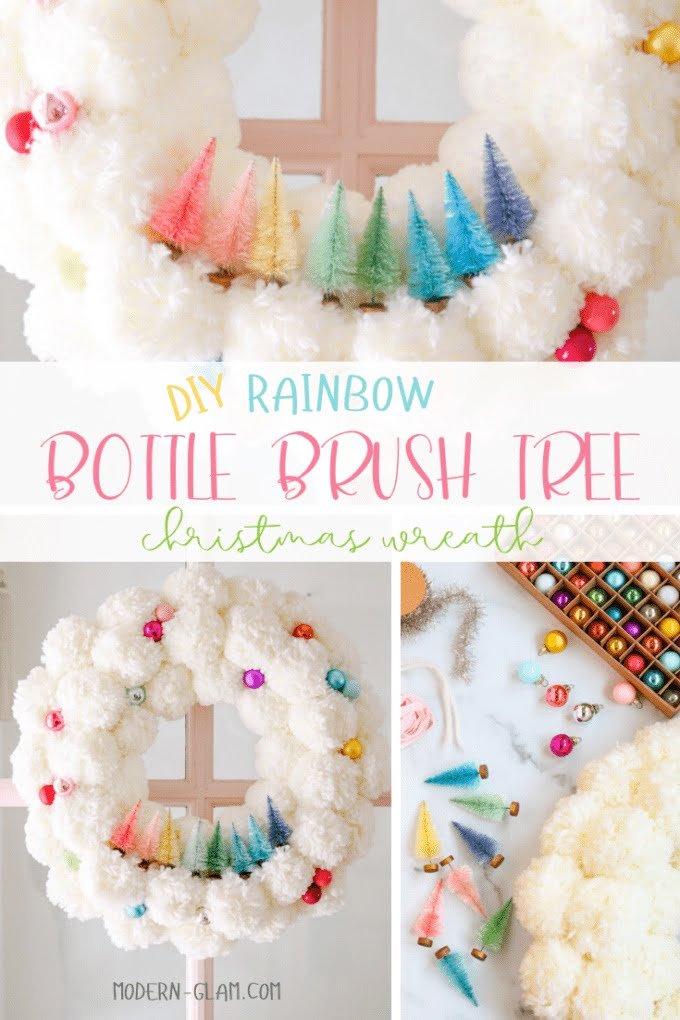 Since this website is called Digital Hygge, I feel like I need to start with something really cosy. When it comes to cosy, I think it's hard to beat this super beautiful pom pom wreath created by Ashley from modern-glam.com.
Honestly, I just can't stop staring at it. It's so simple but at the same time festive and fun. This project is definitely going to my crafty bucket list. So I just want to give a shoutout to Ashley for such a great idea.
This Christmas wreath made with white pom poms, colourful bottle brush sprouts and glass bulbs. If you want to make a pom pom wreath like this one yourself, check out Ashley's super easy to follow tutorial here.
2. Classic Christmas Wreath
This beautiful wreath just screams Christmas to me 🙂 It will definitely make your front door look amazing and will bring the Christmas spirit to your porch. The best part is that it's really easy to make and it will cost you less than if you bought it in a shop. If you follow Kimberly's step-by-step tutorial, you will have a ready wreath in just about an hour.
3. Easy Pinecone Winter Wreath
I really love this DIY pinecone wreath tutorial by Ananda from A Piece of Rainbow. It is very earthy and natural. To create it, all you need is a wreath metallic base, a bunch of pinecones and some real or fake greens. You can make this wreath with almost no cost if you decide to use mother nature's gifts from the nearby forest. You can also add optional LED lights to make your wreath glow on a dark winter evening.
4. Burlap Christmas Wreath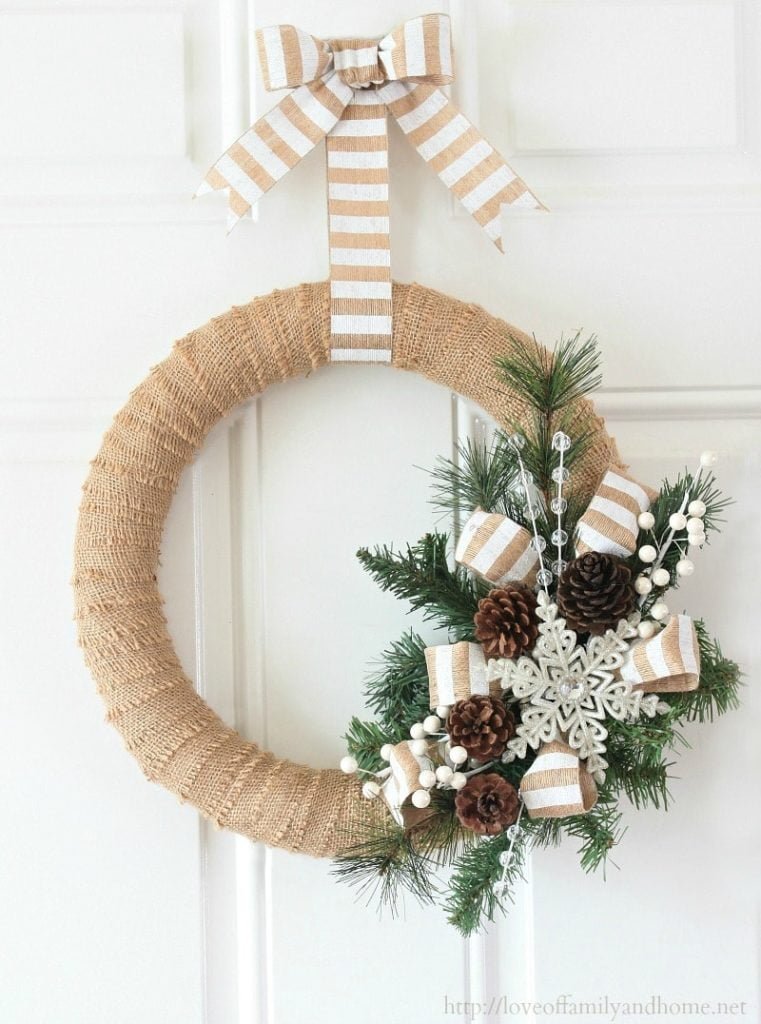 Sometimes less is more. If you want something simple yet elegant, you can create a Christmas wreath with burlap ribbon, a few pinecones, some sprout brunches and a decorative ornaments you have on hand.
Follow Tonya's tutorial on how to create this easy burlap Christmas wreath.
5. Snowy Owl Faux-Fur Christmas Wreath
Last but not least comes this gorgeous faux-fur wreath with a cute white owl made by Christine Anne from collectivelychristine.com. I find it really original and fresh as an idea. I bet your kids would also love it 🙂 It is super easy to make and will cost you under $20. How great is that?
See Christine Anne's tutorial here.
That was my list of easy DIY Christmas wreaths that you can create in less than 60 minutes. Did you like the ideas? Did you try any of these instructions? Let us know in the comments.