Nut butters are delicious. If you've ever tried any type of nut butter, you know it yourself. Nut butters are also versatile. You can use nut butter on breads, in porridge and yogurts, in sauces and salad dressings, and even smoothies. These butters are also often used in homemade granola, energy balls, protein bars and desserts. In this article, you will find 12 delicious nut butter recipes. The nut butter recipes I have selected are all different from one another. My list of recipes includes the following nut butters:
Homemade Macadamia Butter
Homemade Pecan Butter
Homemade Hazelnut Butter
Homemade Pistachio Butter
Homemade Walnut Butter
Homemade Chestnut Butter
Homemade Coconut Butter
Homemade Cashew Butter
Homemade Baru Nut Butter
Homemade Pine But Butter
Homemade Brazil Nut Butter
I hope you will enjoy reading the list as much as I loved creating it!
UPDATE: I have recently created minimal, modern recipe cards template. These recipe cards are fully editable with a free Canva account. If this is something you were looking for, I'd like to share a -20% coupon with you.

Click on the link to apply the coupon or use the code: RECIPECARDS20.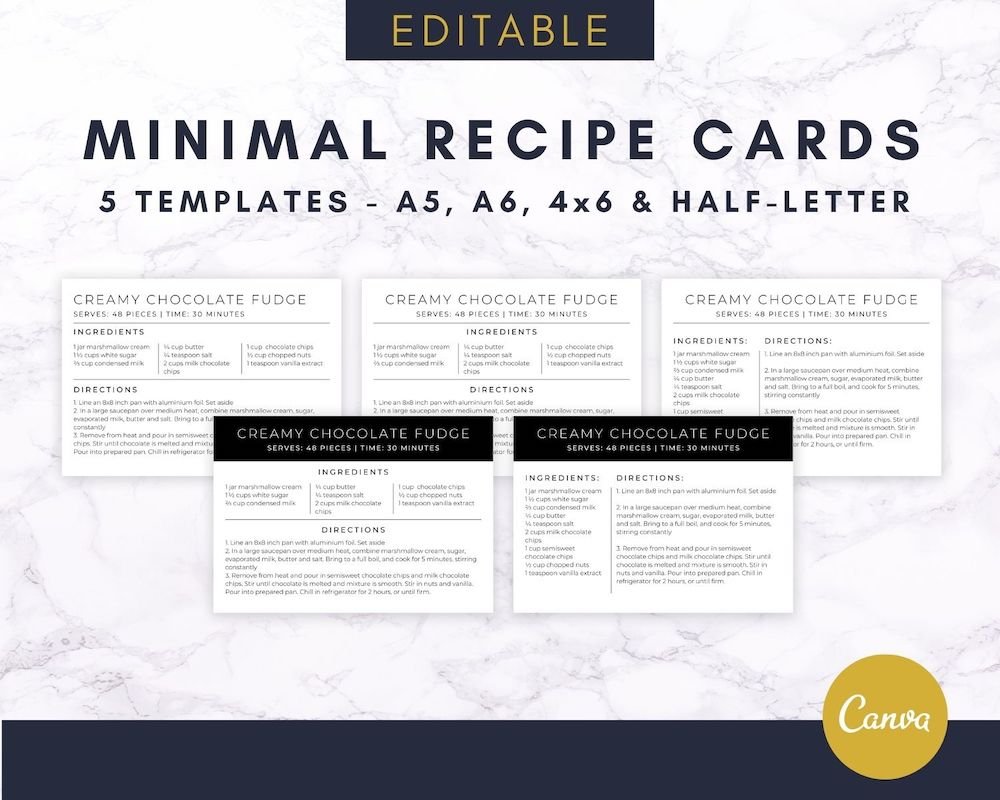 Homemade Macadamia Butter
Have you tried macadamia butter? Its rich, smooth and creamy texture makes this butter truly special. it's a perfect alternative to traditional peanut and almond butters. Macadamia nuts can be quite expensive, but you will love it. It's definitely a high-end, luxury nut butter for connoisseurs.
Check out Jessica's super easy two-ingredient macadamia butter recipe.
Here is a simple 10-minute and only four-ingredient pecan butter recipe from jessicainthekitchen.com. Jessica thinks that if you give this recipe a shot, you will love it so much that you will want to put the pecan butter "on every. single. thing.". I personally enjoy the taste of pecan nuts and I love them in pastries. So why not make a creamy pecan nut butter?
Homemade Hazelnut Butter
Do you love Nutella? If you answer yes, I am sure you will love the hazelnut butter as well. Sonia from thehealthyfoodie.com shares two versions of hazelnut butter on her blog: natural and chocolate (similar to Nutella).
Homemade Almond Butter
Almond butter has become a real competitor to the ever-popular peanut butter. Today, many stores offer a wide variety of ready-made almonds butter. However, nothing compares to the taste of homemade almond butter. When you make your own almond butter, it is very thick, creamy, and tastes like warm, freshly roasted almonds.
The recipe I recommend is by Kate from cookieandkate.com. Follow her instructions and you will never want store-bought almond butter again 😉 Her recipe is naturally gluten-free, vegan and vegetarian.
Homemade Walnut Butter
Walnut Butter is often overlooked even if it is such an amazing spread that is perfect for numerous diets. Walnuts have many health benefits and have plenty of plant-based omega 3's. Follow Vanessa's step-by-step instructions for a perfect Walnut Butter. You can choose between making a raw walnut butter, chocolate or maple syrup walnut butter. By the way, the maple walnut butter actually tastes like cookie dough. You want it even more now, don't you?
Homemade Pistachio Butter
Pistachio Butter stands out from other nut butters with its nice green colour. You can make pistachio butter in two ways:
raw for a milder and fresher taste
or roasted for a full-flavoured taste
Follow the incredible Sara's tutorial if you want to make pistachio butter at home.
Homemade Chestnut Butter
The interest for nut butters continues to rise. You can find ready-made butters of all types in stores and online. However, chestnut butter hasn't yet reached its peak in popularity. It is hard to find in shops but very easy to make at home. So if you want to try something new or prepare a unique edible gift this holiday season, give this easy homemade chestnut butter recipe by Valentina from cookingontheweekends.com a shot.
---
You might also be interested: Best No-Cook No-Bake Edible Gift Ideas
---
Homemade Coconut Butter
Coconut butter is probably one of the easiest and cheapest type of nut butters you can create at home. All you need is shredded or flaked coconut and a high-powered blender. Check out Lisa's tips on how to achieve an extra smooth and creamy texture of your one-ingredient coconut butter.
Homemade Cashew Butter
Homemade Cashew Butter is a very quick and easy homemade condiment made with just one ingredient — cashew nuts. It is perfect on toast, stirred into oatmeal, added to smoothies or by the spoon for a snack.
Check out Jacqueline's tips on how to make Cashew butter at home.
Homemade Baru Nut Butter
Have you ever heard of Baru Nuts or Barùkas? These superfood nuts are higher in protein and antioxidants than many other nuts. They also contain less fatty calories.
Baru nuts taste like a mixture of a peanut and a cashew nut. These nuts are quite hard to eat raw. However, they work perfectly in butter. So if you find some baru nuts in your local shop or on Amazon, why nut try (pun intended) and make some homemade Barùkas butter?
Check out how to make the Baru Nut butter at home at Rachel's blog bakerita.com. There you will also find a super yummy recipe for Baru Nut Buttercups.
Homemade Pine Nut Butter
The next nut butter is a bit different, because the main ingredient is actually not really a nut, but a seed. The recipe I recommend is this Toasted Pine Nut Butter Recipe by Stef from Cupcakeproject.com.
Pine nuts, as you might know, are soft. This means that it is easy to turn them into nut butter even if you don't have a super power food processor.
Pine nut butter tastes similar to other nut butters, but with a subtle pine nut aftertaste.
Homemade Brazil Nut Butter
I personally love the taste of Brazil nuts. They are the best source of selenium there is. Selenium has many benefits on health and assist with cognitive function and fertility. However, this nut is rarely used in nut butters. When I was looking for a recipe, I was surprised to find that there are not that many recipes online. Luckily Gerri from meatandtravel.com tried it out and shared her recipe in her blog.
Finally, I want to leave you with a book recommendation. If you are excited about nut butter, there is one book that you absolutely need to have. Nut Butter: Over 50 Clean and Simple Recipes to Fuel a Healthy Lifestyle is an amazing compilation of different nut butters, written by co-founders of Portland's Ground Up Nut Butters. In this book you will learn everything you need to know about preparing homemade nut butters: from soaking/toasting to simple or gourmet butter recipes as well as various ways of using your homemade nut butters in food.