These homemade seasoning blends will add great flavor to all of your your chicken dishes. They are easy to prepare at home and will save you money. Homemade seasonings are always lower in sodium and are gluten free as you have full control over what is going to your spice mix. Prepare these chicken spice mixes for yourself or as a DIY edible gift for your friends and relatives.
UPDATE: I have recently created minimal, modern recipe cards template. These recipe cards are fully editable with a free Canva account. If this is something you were looking for, I'd like to share a -20% coupon with you.

Click on the link to apply the coupon or use the code: RECIPECARDS20.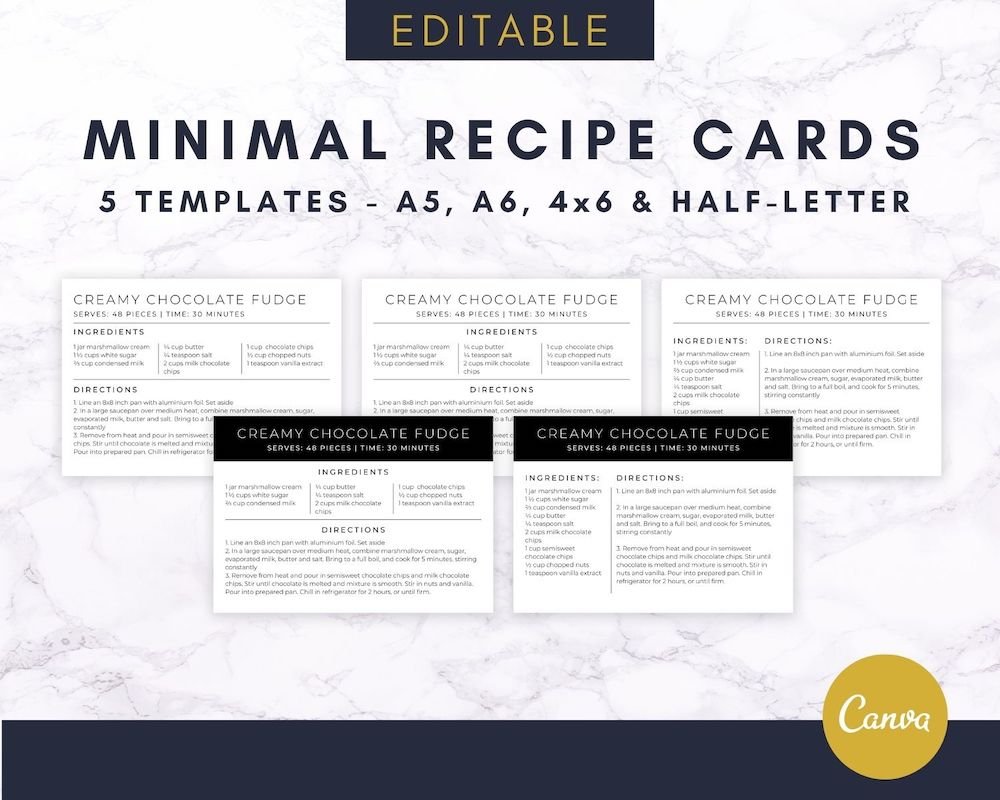 1. Easy Homemade Chicken Spice Mix
This is a super easy to create spice mix that goes perfectly with all chicken dishes. All the ingredients are easy to find in the store and you probably already have most of them on your spices rack.
Ingredients for a 50g spice jar:
1 teaspoon salt
1 teaspoon smoked or sweet paprika
1 teaspoon garlic powder
1 teaspoon onion powder
1 teaspoon dried thyme
1 teaspoon dried basil
1 teaspoon dried rosemary
1 teaspoon dried parsley
1/2 teaspoon black peppercorns (freshly ground)
1/4 teaspoon cayenne pepper
Mix all the ingredients together in a small bowl. Transfer the spice mix into an airtight container or a spice jar. Consume within 3 months.
This small batch of chicken spice blend will be enough for approximately 3-4 pounds (2 kg) of chicken.
2. Spice Mix For Roasted Chicken
This spice blend is great for roasting chicken. It goes well with any parts of chicken: whole, thighs, breasts, wings. All you need to do is to mix all the spices together and cover the chicken. Let it marinade for a while or put it directly to the oven.
Ingredients for one whole chicken:
1 1/2 tablespoon garlic powder
1 tablespoon salt
1 tablespoon onion powder
1 tablespoon sweet paprika
1 tablespoon smoked paprika (optional)
1 teaspoon dried thyme (or dried tarragon)
1 teaspoon white pepper (freshly ground)
1/2 teaspoon black pepper (freshly ground)
1/2 teaspoon cayenne pepper
This is a small batch sufficient for one whole chicken. If you create this blend for later, store the spice mix in an airtight container away from heat and sunlight for maximum of 6 months.
3. Aromatic Seasoning For Chicken
This spice blend works great with chicken, turkey, game birds or other meats as a rub. It can also be used in stews, soups, homemade breads, vegetables and dressings.
2 tablespoons dried thyme
2 teaspoons dried marjoram
1 1/2 tablespoons dried sage
1 1/4 teaspoons dried rosemary
1/4 teaspoon black pepper (freshly ground)
1/4 teaspoon ground nutmeg
1/4 teaspoon allspice (freshly ground)
Process all the spices in a spice or coffee grinder until you reach a medium grind. Transfer the ready spice mix into an air-tight container. Consume within 3 months.
4. Herb Mix Perfect For Chicken
This is a very simple mix of herbs that is perfect for delicate taste of chicken and turkey meat. Use it as a dry rub before grilling or roasting your meat or use it as a marinade in combination with olive oil.
3 tablespoons dried parsley
3 tablespoons dried sage
3 tablespoons dried marjoram
2 tablespoons onion powder
1 tablespoon dried rosmary
1 tablespoon black peppercorns
1 tablespoon sweet paprika or ground chili flakes if you want it hot
2 teaspoons garlic powder
5. Homemade Curry Powder for Chicken
Curry and chicken is a match made in a culinary heaven. Curry works great in all chicken dishes be it a whole chicken, roasted chicken, one pot chicken dishes or chicken soups and stews.
2 tablespoons ground coriander
1 tablespoon ground cumin
1 tablespoon ground turmeric
1 tablespoon cayenne pepper
1 tablespoon sweet paprika
1/2 teaspoon ground ginger
1/2 teaspoon mustard powder
1/2 teaspoon ground cardamom
1/2 teaspoon ground black pepper
If you have whole spices, first toast them on medium heat for a few minutes. Next grind them in a coffee grinder. Last, place all the ingredients together and mix. This blend stays fresh in a tightly closed jar/container for up to one year. The fresher your ingredients, more aromatic will be your curry blend.
6. Chinese Five Spice Mix For Chicken
This is a basic recipe for a chinese five spice blend that works great with chicken and other dishes. To prepare it, you will need a special ingredient – Sichuan peppercorns. You can find Sichuan peppercorns in spice stores or order them from Amazon.
Ingredients:
1 1/2 tbs (20g) Sichuan peppercorns
1 1/2 tbs (20g) star anise
2/3 tbs (a bit more than half tablespoon) fennel seeds
2/3 tbs (a bit more than half tablespoon) ground cinnamon
1/2 tbs cloves
If you use whole Sichuan peppercorns and star anise, grind them first. Add other ingredients and process until all spices are well ground. If you have larger pieces in your spice mix, sift the blend through a sieve. Keep in an air-tight container for up to one year.
7. Shawarma Seasoning For Chicken
Making your own Shawarma spice blend for chicken is very easy. The main flavors in this mix come from cumin, allspice, and paprika. I personally don't like smoked paprika in my blends, so I often skip it in my recipes. However, if you would like to add a smoky note to your spice mix, you can add one or two teaspoons of spoked paprika to other ingredients.
1 tablespoon cumin powder
1 tablespoon allspice
1 tablespoon cardamom
1 tablespoon garlic powder
1 teaspoon sweet paprika
1 teaspoon turmeric
1/2 teaspoon ground cinnamon
1/2 teaspoon ground ginger
1/2 teaspoon dried oregano
1/4 teaspoon cayenne pepper