AdCreative.ai is an innovative AI-driven platform designed to generate a vast array of captivating, high-performing ad creatives within mere seconds. Their rapidly-growing platform utilizes an advanced scoring system to determine the likelihood of each creative's success within an advertising campaign. Users can choose between tens of AI-powered designs, choose the one they like the most and conveniently download or directly push creatives to their social media advertisements through the user-friendly interface.
In addition to using AI assist the ad design process, AdCreative.ai also features a sophisticated text generator designed to assist with the development of compelling ad copy and headlines. This feature proves particularly advantageous when confronting writer's block or when working on demanding campaigns, such as Google Performance Max and Facebook Dynamic Ads.
Adcreative.ai also offers insightful creative analytics and provides real-time feedback on ad performance once users connect their Google Ads and Facebook ad accounts. With seamless integration and state-of-the-art AI technology, AdCreative.ai is positioned to provide any business with a competitive edge in the digital advertising landscape.
Adcreative.ai Video Reviews
Want to check out what people think about Adcreative.ai? Watch the following video reviews and see what people like and dislike about Adcreative.ai.
The two above video reviews by Saas Reviews and LearnWire are our favorites, because they really help you understand the work-flow. After watching, you should easily be able to tell whether Adcreative.ai is worth it for you or not.
Frequently Asked Questions
What is Adcreative.ai?
AdCreative.ai is an innovative Artificial Intelligence-powered tool designed to produce conversion-focused ad creatives and social media post creatives in just a few seconds. By streamlining the creative process and maximizing efficiency, this cutting-edge solution helps users achieve improved results while significantly reducing the time spent on content creation.
How much does AdCreative.ai cost?
Adcreative.ai costs between $29 and $299. The discount offered currently slashes the prices by 25%, meaning that you can get it for as cheap as $21.
Is AdCreative.ai any good?
If you want to create well-performing ads for your company faster and cheaper, AdCreative.ai is a great tool that is worth a try.
Who is the CEO of AdCreative.ai?
The CEO is Tufan Gok.
Where is AdCreative.ai based?
Adcreative.ai is based in Paris, France.
What are the pros and cons of AdCreative.ai?
Pros:
1. Perfect for people aren't designers, since it requires minimal input from the user to generate ad templates after the initial brand set-up.
2. AdCreative.ai quickly produces numerous ad templates, letting users simply choose the ad they prefer.
3. The AI Text feature saves a lot of time and effort, if you have writer's block.
4. The software enables smaller teams to effectively manage multiple ad accounts.
5. AdCreative.ai facilitates the creation and testing of various ad variations, ensuring optimal performance.

Cons:
1. Limited customization options.
2. Not everyone is pleased with the sometimes text-heavy results of the generated ads.
Who is the ideal AdCreative.ai customer?
AdCreative.ai is aimed at startups, e-commerce businesses and marketing agencies.
How to Set Up Your Brand on AdCreative.ai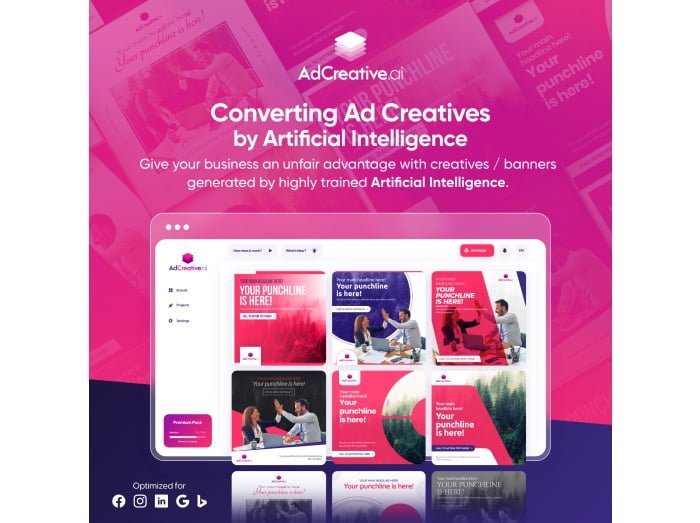 1. Log in to your AdCreative.ai account.
2. Begin creating your brand by entering the following information.
Name
Logo
Colors
Description
Once you have completed the basic setup, your brand is ready for use. However, to optimize personalization and streamline the process, proceed to the next steps:
3. Connect your ad accounts, such as Facebook Ads, for enhanced creative personalization and more accurate performance predictions.
4. Finally, by linking your ad accounts, you can directly push your creatives to the respective platforms, eliminating the need to download and re-upload your assets.
How to Create AI-powered Ad Creatives using Adcreative.ai
Creating ads has never been easier than it is with Adcreative.ai. Here's a quick step-by-step guide:
1. Begin by clicking the "Generate" button and selecting "Ad Creatives" to create ad creatives for your company.
2. Choose between two size options: a. Social media sizes (square, landscape, story, vertical, pin) b. Display sizes (leaderboard, medium banner, wide skyscraper etc.)
3. Define your target audience. 
4. Review the project description and target audience sections to make sure everything is correct, which will be pre-populated based on your brand description. If necessary, modify the project description or target audience.
5. Click the Save & Continue button to move onto the next step: adding text to your ad.
6. Choose between AI-generated content or manual entry for filling in the ad copy. If you choose the manual entry, you can skip steps 7-8 and go straight to step 10.
7. Click on the "Text AI" button to generate conversion-focused headlines and punchlines.
8. Browse the various options available in the drop-down menu and make your selection. 
9. Once your text content is ready, decide between two options for visuals:
Next, select an image from AdCreative.ai's library or upload your own.
Generate creatives for multiple products or backgrounds simultaneously (useful if you have an extensive product catalog).
10. Name your project and click "Save and Generate" to proceed. The platform will utilize your brand information, brand description, ad accounts, project description, and target audience to generate ad creatives.
11. Browse the hundreds of AI-generated creatives, which will continuously load as you scroll. If satisfied with a particular creative, download it directly. The platform will remove the watermark and provide a high-definition version. Note: You can download multiple creatives in different formats and push them directly to your desired platforms. Also note that each creative generated by the AI also receives a score, indicating its potential performance.
By following these easy steps, you can efficiently create conversion-focused ad creatives ready to be implemented across various platforms in almost no time.
How to Use the Adcreative.ai Social Post Generator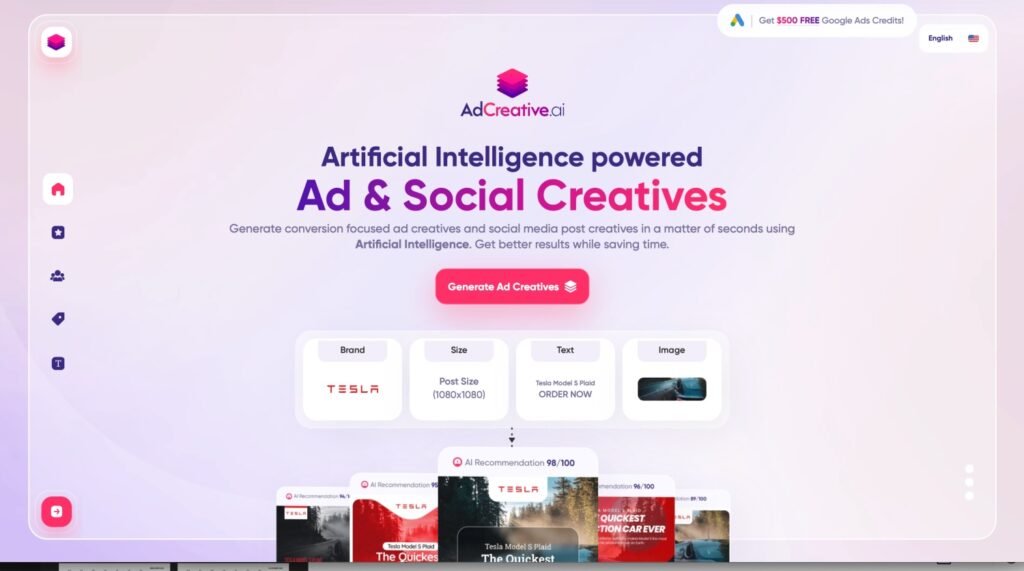 As you may know, maintaining an engaging social media presence is important for any business. Social media posts don't only play a crucial role in capturing your audience's attention but also have a significant impact on the performance of your ads. Many users tend to click on a brand's name to visit their profile rather than clicking on the call-to-action (CTA) button within the ad itself and if they don't like your posts, then it doesn't matter how good your ads are. Also, if your most recent post is outdated, it may lead to lower conversion rates. 
To address this challenge, AdCreative.ai has developed a AI-driven feature called "Social Creatives". How does it work? Here's a step-by-step guide to using the Social Post Generator:
1. Choose the size for your social media post (Twitter, Facebook, Instagram, LinkedIn sizes available)
2. If needed, change or modify the project description or target audience.
3. Choose between AI-generated text content or manually enter your own text.
4. Allow the AI a few seconds to generate suitable text options for your social media post.
5. Review the generated text and select a suitable call-to-action (CTA) from the several options available. Once you are satisfied with the text, move on to the image selection step.
6. Search for suitable images using the in-built image search engine and choose your favorite images (single or multiple images)
7. You will now be shown a preview of your ad. You can now crop and move the image if needed.
8. Click on Create a Post. 
9. You will now be asked to name your project and save it. Click the Save and Generate button to generate hundreds of social media post options to choose from.
10. Browse the AI-generated options and select the one that meets your needs.
11. Download your chosen post directly or make any necessary adjustments before downloading.
12. Optionally, you can also convert your chosen design into different formats, if needed.
I hope you found this post helpful! 🙂