Take your meals from bland to brilliant with a sprinkle of flavoured salt.
Flavoured salts are quite expensive to buy at the store. Some shops would charge you an arm and a leg for a small jar of gourmet sea salts with mix-ins like fresh herbs, spices, and fruit peels. But great news that flavoured salts are extremely easy to make at home.
Homemade specialty salts make a perfect edible gift for any occasion. They are excellent addition to almost any dish or cocktail. So why not try and make it yourself?
UPDATE: I have recently created minimal, modern recipe cards template. These recipe cards are fully editable with a free Canva account. If this is something you were looking for, I'd like to share a -20% coupon with you. 

Click on the link to apply the coupon or use the code: RECIPECARDS20.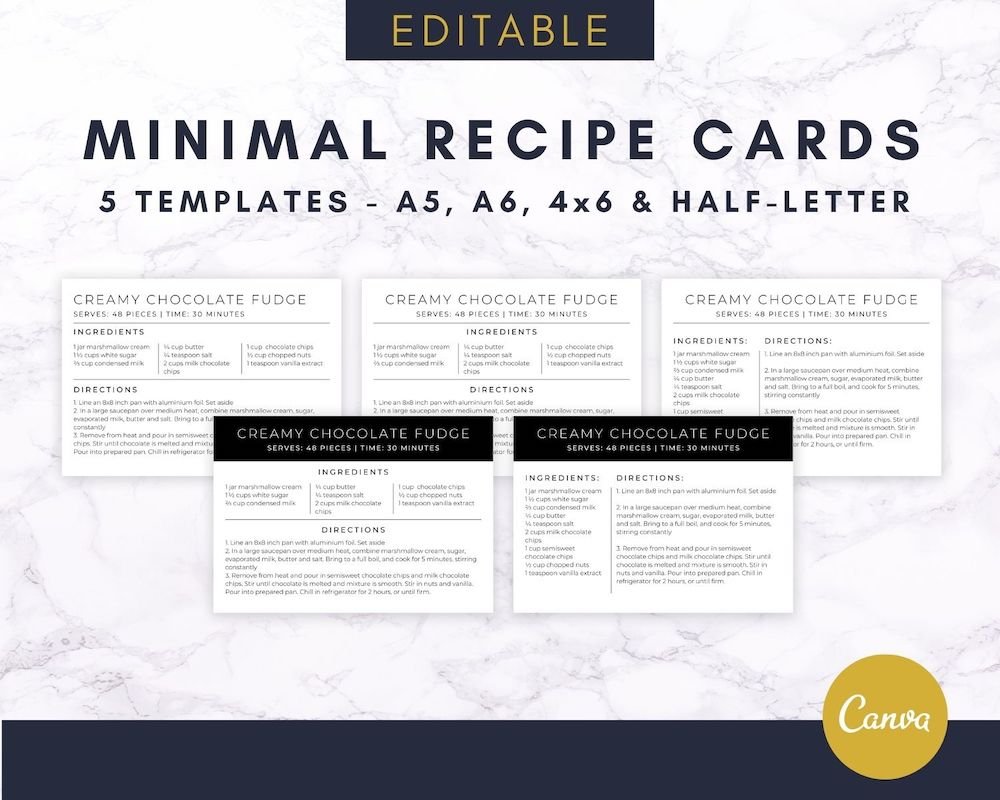 In this post you will find a lovely selection of flavoured sea salt recipes including:
Red Wine Infused Salt
Lemon Thyme Infused Salt
Hibiscus Salt
Basil Flavoured Salt
Raspberry Lime Chili Salt
Homemade Smoked Salt
Rose Flavored Salt
Citrus Herb Seasoned Sea Salt
Homemade Sriracha Salt
Bacon Bourbon Flavoured Salt
1. Red Wine Infused Salt
This Red Wine Sea Salt isn't just an eye-pleaser. It actually tastes great. It's perfect as a homemade seasoning or can be given as an edible gift. Wine salt is also an easy and delicious way of using leftover wine.
This sea salt infusion takes a little time to prepare and dry but it definitely yields a delicious lasting return. Check out Rachel's instructions here on how to make red wine salt at home.
Red Wine Infused Salt can be used on top of meats, in salads or in any dish where you want a light wine accent without adding liquid wine. It is also nice as a finishing salt, sprinkled on vegetables or on mildly salted cheeses.
---
Need more edible gift ideas? Check out our post: 5 Amazingly Delicious No-Cook No-Bake Edible Gift Ideas
---
2. Lemon Thyme Infused Sea Salt
Lemon Thyme Sea Salt is a perfect seasoning that will bring out the flavor of your fish or seafood. It is also delicious on poultry and can be added while cooking or tableside.
If you make the thyme salt recipe up in bulk, you will never have to worry again about having fresh lemon and thyme in your kitchen! Check out Diane's recipe here.
3. Hibiscus Salt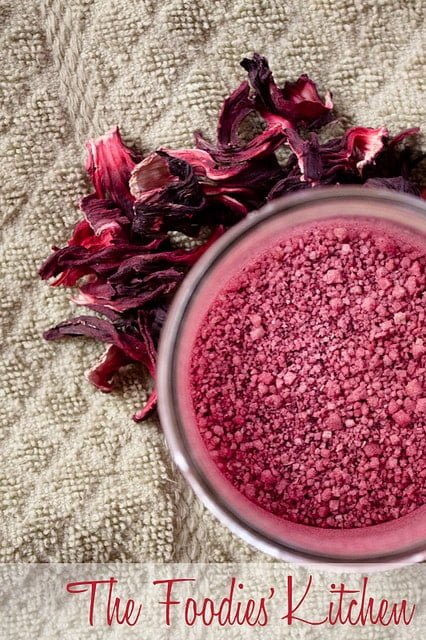 Hibiscus Salt is a zingy finishing salt and is, most probably, unlike anything you've ever tasted. It has a rich rose-violet hue and a pleasant fruity sweet flavour that contrasts beautifully with the salt.
Hibiscus salt works great on all sorts of foods – sweet or savoury. You can use Hibiscus Salt for finishing dishes, sprinkling on chocolate desserts, or elevating the taste of your cocktails. Hibiscus Salt is also perfect for seasoning meats, adding flavour to marinades and ground over goat cheeses for a luscious flavour and presentation. Endless possibilities! 
For this gourmet salt you need only two ingredients: dry hibiscus flowers and salt. Get the recipe and instruction here.
4. Easy Basil Flavoured Salt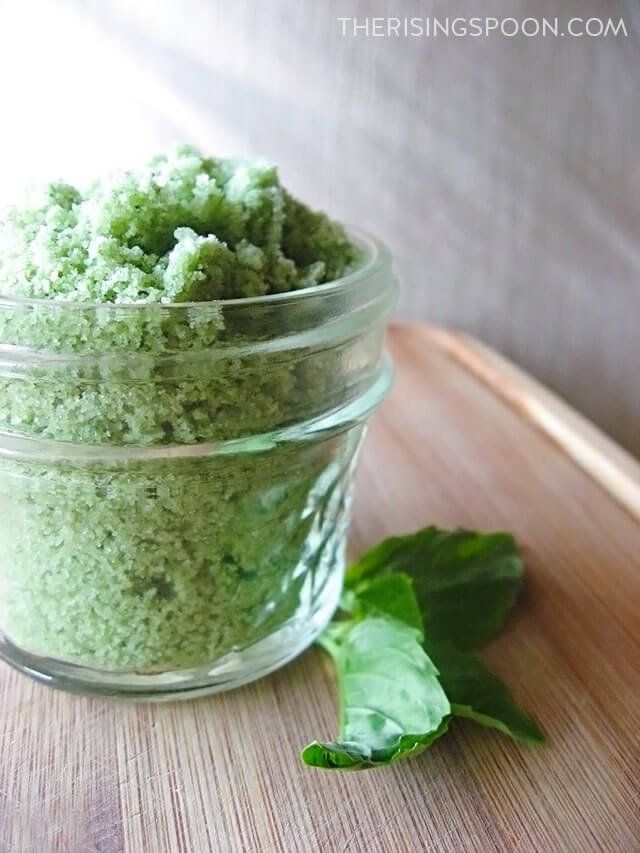 Learn how to make this simple herb salt with fresh basil leaves. This is a handy way to preserve basil from your garden. Basil Salt can be used for seasoning and finishing foods that naturally pair well with basil or mix it into DIY personal care products like salt scrubs & bath salts! It also makes an excellent homemade gift for the foodies in your life.
Find step-by-step instructions on how to make this herb-infused basil salt here.
5. Raspberry Lime Chili Sea Salt
This Raspberry Lime Chili Sea Salt is a great way to add flavour to dark chocolate bark, sea salted brownies, as a cocktail rimmer or used in a salted caramel and drizzled over ice cream!
Get the recipe here.
6. Homemade Smoked Salt
Smoked salt is the easiest way to add grill touch to your dishes without the grill. Smoked salt is perfect finishing salt for all BBQ foods, as a dry rub for meats, for seasoning snacks, in sauces and garnishes (like homemade BBQ sauce). It's great on eggs and in cocktails. The uses for this salt are almost endless.
Homemade Smoked Salt is as good, or I'd say, even better than some of the gourmet smoked salts you can buy in the grocery store.
Learn how to smoke salt with any backyard BBQ using Laura's instructions.
7. Rose Flavored Salt
By the words of Sweet Paul Magazine "untreated organic rose petals turn sea salt into a subtly flavored work of art.". It makes a perfect seasoning for savoury dishes, deserts and homemade chocolate. Try it on brownies as soon as they come out of the oven… You will be amazed by the taste.
Find the recipe and instructions here.
8. Citrus Herb Seasoned Sea Salt
If you love making your own seasoning, you might want to try Kim's Citrus Herb Sea Salt Recipe. It's super easy to prepare. Make it for yourself or as a gourmet gift for your family or friends.
9. DIY Homemade Sriracha Salt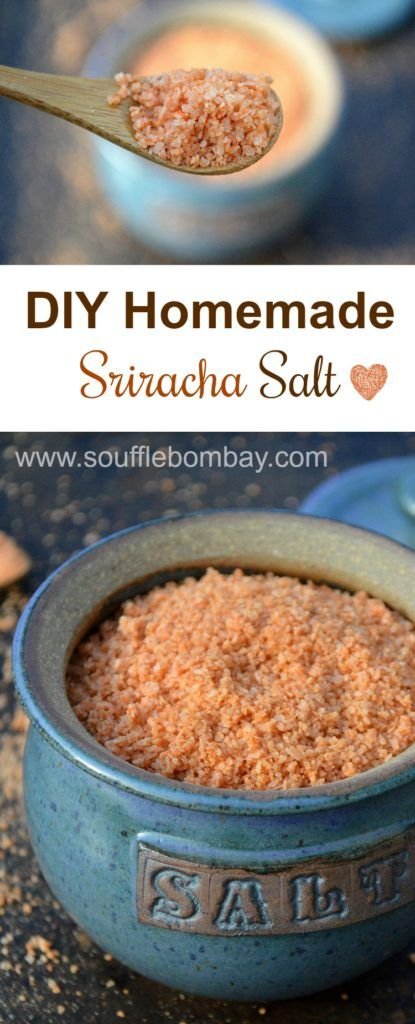 Homemade Sriracha Salt is full of flavour and takes only two ingredients to make. This is also a great food gift idea.
Homemade Sriracha Salt lends the perfect amount of spiciness to anything. It iss great on potatoes, meats, veggies and chocolate.
Find the recipe here.
10. Bacon Bourbon Flavoured Salt
A flavourful salt that is perfect on just about anything! From grilling to vegetables to salads to eggs and more. This particular salt also makes a delicious gift for any foodie and for man in particular. It's great for any grilled dish but also makes a yummy spice for chicken, pork, steak, or even vegetables.
You can find Kim's recipe here.