Today is an exciting day for Etsy sellers. The platform has just introduced its new "Share & Save" program. If you're like me, you've probably already spotted the notification in your shop and checked out that email they sent to all shop owners.
So, what's the buzz about?
In a nutshell, if you make a sale through a unique link you share, Etsy promises to give you a 4% refund on your fees. Sounds tempting, right? Let's see if it's worth the effort.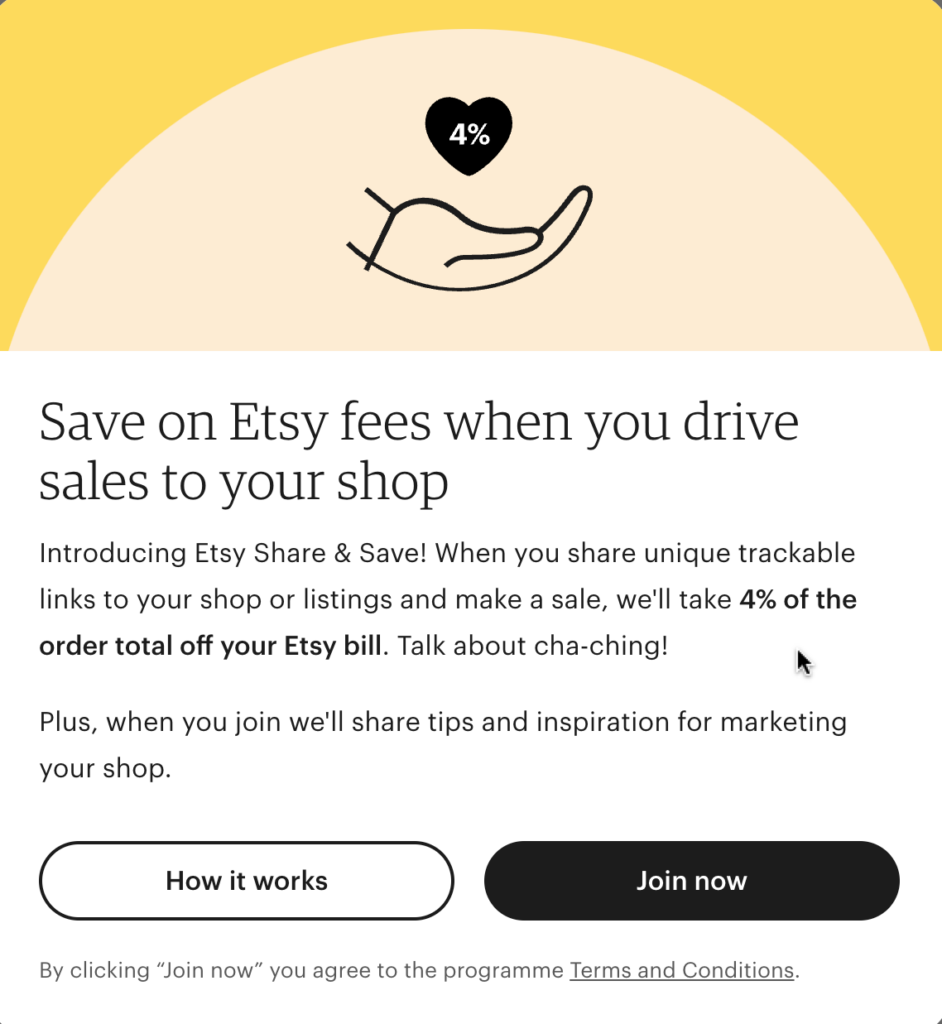 What is Etsy's "Share & Save" Program?
Etsy's "Share & Save" program is quite simple to understand. Once you join, you'll receive special trackable links. These are distinct from the links you'd get if you weren't part of the program. Share these links anywhere online, and if they lead to sales, you'll enjoy a 4% reduction on all Etsy's fees.
The way I see it, this program closely resembles an affiliate program, but instead of promoting other shops, you're promoting your Etsy store and products. When someone purchases through your link, you earn a small commission.
The distinct feature of this program, compared to traditional affiliate programs, is that the link is specific to your shop and doesn't extend to the entire marketplace. Therefore, if a customer chooses to buy from a competitor through your link, you won't earn a commission or the fee reduction, as referred to in the "Share & Save" program.
Etsy's "Share & Save" Program: What Does It Mean for You?
Let's see what it means with an example: if you sell an item for $20 while participating in "Share & Save" program, you'll save $0.80. While it won't make you rich overnight, over time and with consistent sales, these savings can accumulate significantly!
Let's dig a little bit deeper and think about the usual Etsy fees we pay on each sale.
What do we have here?
Listing renewal: $0.2
Transaction fee: 6.5%
Processing fee: 4%
So, if you sell something for $20, you usually pay $2.30 in fees: $0.20 for relisting + $1.30 selling fee + $0.80 payment fee.
How "Share & Save" Help You Save
With this new program, you get a discount of 4%. For a $20 item, your fees drop to $1.50. It's like you don't have to pay the 4% processing fee 😆
Now, imagine you sell 100 items in a month. That's a monthly saving of $80! It might not sound like a fortune, but over a year, it adds up. But of course it all depends on how many people you can get to visit your Etsy shop from outside without too much effort.
The Bottom Line
The "Share & Save" program is essentially offering you a chance to cut down on your Etsy selling expenses.
For sellers with a strong online presence or those who can easily channel external traffic to Etsy, this program can be great. If you're already directing traffic from social media or have the budget to invest in influencer shoutouts, the 4% savings will be the cherry on top.
Right now, I'm not in a position to fully capitalize on this program. My DigitalHygge Etsy shop is still growing, and my social media following isn't quite where I'd like it to be 🙈. While I'll join the program, I won't be obsessing over that 4% saving. I recognize the power of a strong social media presence, but it demands a lot of effort. At the moment, I believe my time is best spent crafting new listings and nurturing relationships with my current buyers, turning them into loyal, repeat customers. In my opinion, there's more potential for profit in this approach.
How to Join Etsy's "Share & Save" Program?
Etsy made it super easy to join the program. I feel like they are very motivated to get as many people as possible to participate as they for sure will be the biggest winners here. Think about all the extra exposure they might have!!!
So, how to join?
It is as easy as clicking the "Join" button. You might find this one in the notification within your shop, in the email Etsy sent you, or by following this link.
The Three Unique Links Etsy Offers
When you join Etsy's "Share & Save" program, you will be provided with four distinct link types to share online:
General Etsy shop link
Link to a specific product
Link to a section
Link to a coupon code
You can find these links in your shop's dashboard when accessed via a browser. Additionally, they can be found scattered throughout the Etsy Sellers app.
1. Your Trackable Etsy Shop Link
Your Shop URL is like an open invitation to your Etsy store, welcoming buyers to explore everything you've got.
The new trackable link looks like this: https://yourshopname.etsy.com.
In the browser, you can find this link in quite many places. For example, in your shop's Dashboard or following this link (you must be logged in for the link to work).

When using the Etsy Seller app, you can find your shop's link in the "Home" tab. Simply tap on the link icon located in the upper right corner.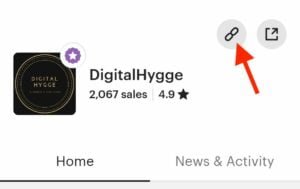 2. Your Trackable Etsy Listing URL
The Listing URL is a direct route to a specific item, perfect for promoting a bestseller or a new product.
In the browser, to get the link for a specific product:
Navigate to your listings.
Click on the gear (settings) icon next to the product you want to share.
Choose the "Share" option, which has a green "Share & Save" badge next to it.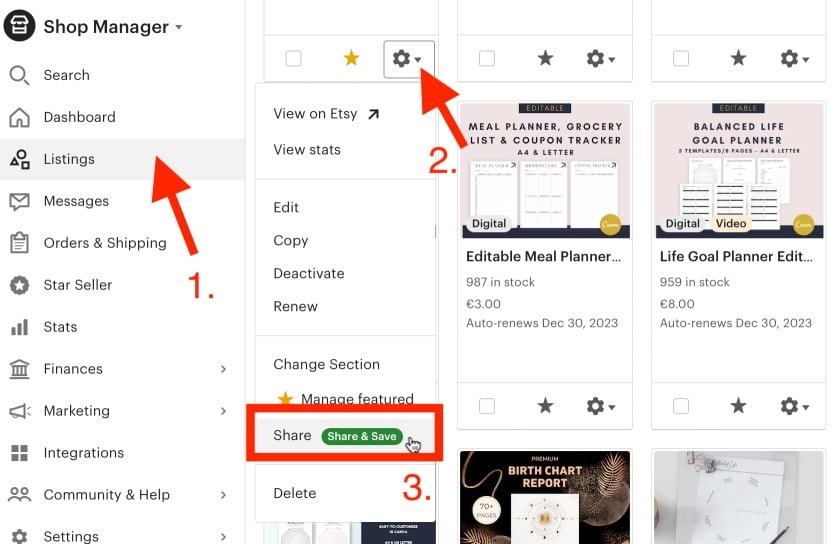 An alternative way to get a product link is to visit the page of your product on Etsy and copy the link in the black button.
When using a mobile app, simply go to the "Listings" tab. Select a listing and tap on the link icon to copy the link.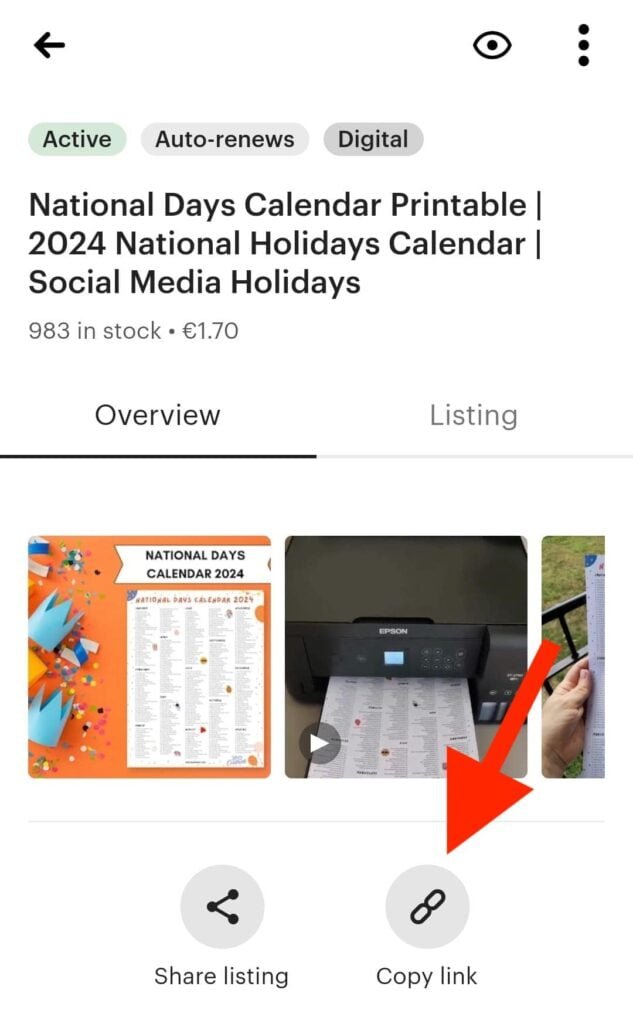 3. Your Trackable Etsy Shop Section URL
If you've organized your shop into sections (e.g., "Summer Collection" or "Handmade Jewelry"), this link takes buyers to one of those specific sections.
An example of such a trackable link is:
https://digitalhygge.etsy.com?section_id=44092565.
When browsing on a desktop, there isn't currently a direct method to copy a section's link. As a workaround, navigate to the desired section and inspect the browser's URL. Look for the segment that reads "section_id=44092565". Copy this portion and append it to your trackable Etsy shop link, preceded by a question mark.
For those using the Etsy Seller app:
Navigate to "Listings".
Choose the desired section from the carousel.
Tap the link icon to copy the link.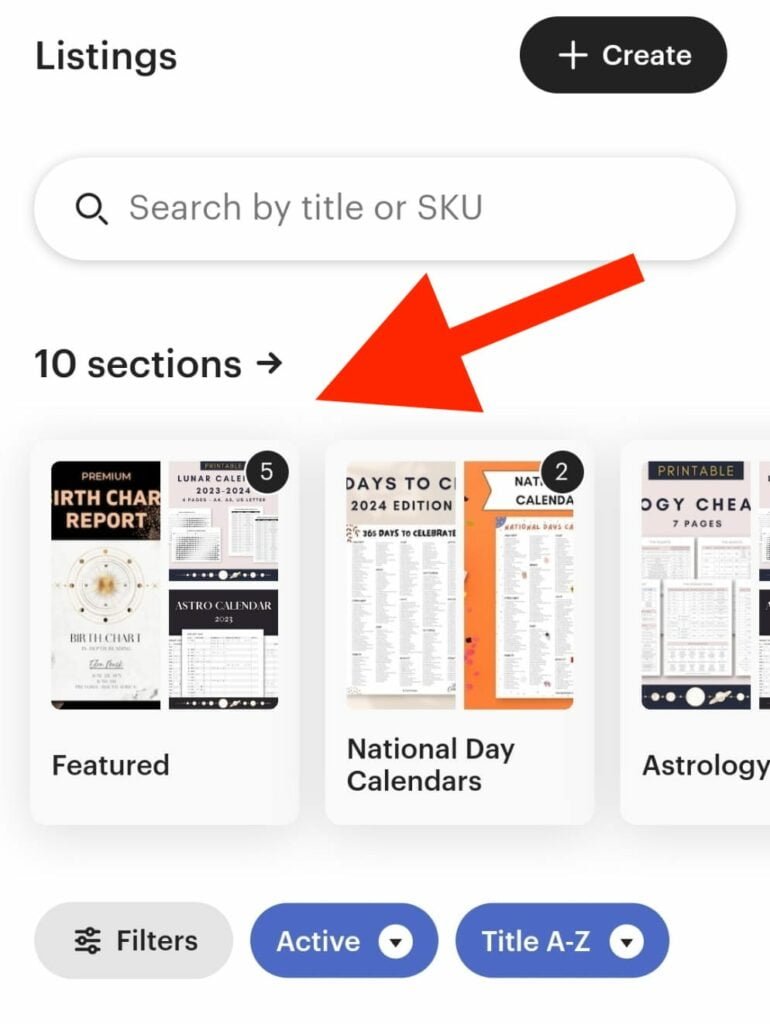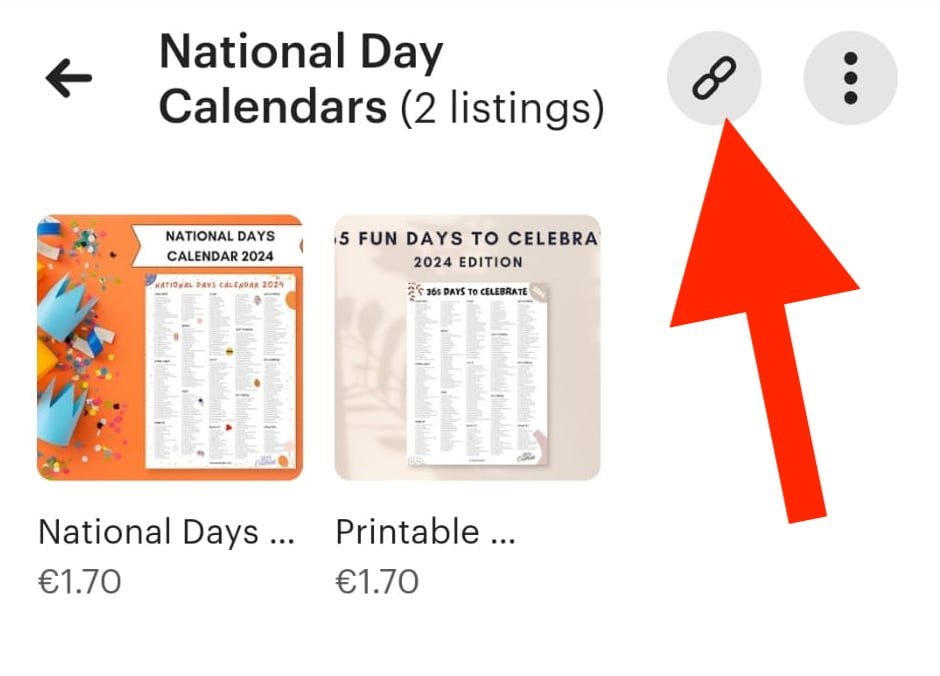 4. Your Trackable Coupon/Promotion Link
Many might not be aware, but there's a feature allowing you to generate a trackable promotional link that automatically applies a coupon code when clicked.
You can locate this link both in the browser and within the Etsy Seller app. To access it:
Head to the "Marketing" tab.
Choose "Sales and Discounts".
Proceed to your list of coupon codes and click on "Details".
Upon selecting a code, you'll find a shareable link resembling this format:
https://digitalhygge.etsy.com?coupon=DIGITALHYGGE
Personally, I find it more convenient to type out the entire link and just modify the coupon code, especially if you just remember it 😆
Note: There isn't a trackable link for coupons associated with Etsy's automatic email campaigns, such as those sent when a product is favorited or a cart is abandoned. While I'm unsure of the outcome if you manually generate such a link, my advice would be to create a new coupon. This ensures you don't risk losing out on commissions if Etsy doesn't track these specific links.
Where to Share Etsy Links for Maximum Impact
Armed with these unique links, the question becomes, "Where should you share them?" The platforms that work best often depend on where your audience hangs out:
Social Media: Social media platforms like Instagram, Facebook, and Twitter (or should I say X?) are obvious choices. Think Instagram posts or stories, Facebook posts or groups, and even Tweeting out your latest product.
Blogs: If you've got a blog, consider weaving these links into relevant posts or articles.
Emails: Consider sending out newsletters to your subscribers, or even a simple email to friends and family can go a long way.
Other Platforms: Any other online platform where you have a presence can be a potential goldmine.
What Counts as a Valid Sale?
Of course, there are rules to this game. Let's try to understand what Etsy considers a "Qualifying Transaction".
What is a Valid Sale?
30-Day Window: It starts when a buyer clicks your unique link. From that moment, they have 30 days to purchase for it to count. If they buy on day 31, unfortunately, it won't qualify.
No Offsite Ad Influence: Let's say a buyer clicked your link, but then, before making a purchase, they clicked on an Etsy Offsite Ad leading to your shop. This would invalidate the sale under the "Share & Save" program.
Self-Purchases Don't Count: Buying from your shop using the unique link won't fetch you any benefits. Etsy has systems in place to detect such activities.
Refunded Transactions: If a sale is refunded, it's as though it never happened, at least in the eyes of the "Share & Save" program.
How Much Money You Saved via Etsy's "Share and Save" Program?
You can see how much money you saved through your trackable Etsy links. This information will be available on the Statistics page.

Other Things to Keep in Mind
If you're part of Etsy's Affiliate or Creator Co programs, you can't join "Share & Save."
Using the refund to reduce your fees might have tax implications depending on where you live.
You must follow all rules when sharing your link, like respecting third-party platform rules and local marketing laws.
Misusing Etsy trademarks in ads or domain names is a no-go.
Etsy made it clear they're keeping an eye on things. They can audit our participation, and if they feel we're bending the rules, they can warn us, suspend our account, or even kick us out of the program. And just like everything else, Etsy can change the rules or pull the plug on the program anytime.
Lastly, they also mention a confidentiality clause. If Etsy shares some inside info with you (I don't yet know what it could even be), it's strictly hush-hush and you should keep it secret.
---
What are your thoughts about this program? Are you going to participate?