Cookies are pretty much the best part of Christmas, right? Whether you're making them as an edible gift or for your family, a party, Santa, or just a cozy night in, there's always a reason to whip up a batch of cookies during the holidays. If you are looking for easy cookie ideas, you are in the right place. In this post you will find the most delicious Christmas cookie recipes that are perfect for any holiday gathering.
Enjoy!
1. The Best Ginger Molasses Cookies + 5 Ways To Decorate Them
Molasses Cookies are soft and chewy on the inside and crisp around the edges. They are full of delicious ginger flavor and taste just like Christmas! Once the cookies are baked and have cooled down, you can drizzle or dip them in white chocolate to create the ultimate holiday cookie!
Get the recipe and instructions in Nye's blog post.
2. The BEST Soft and Chewy Sugar Cookie Recipe
If you're wondering how to make soft and chewy sugar cookies, then you have to try this recipe. These cookies require no chilling, are easy to make, and stay wonderfully soft and chewy for days!
3. The Best Cut Out Sugar Cookie Recipe
Cut out sugar cookies are perfect for all occasions and holidays! This recipe has ALL the options: a no chill option, a gluten free option, as well as buttercream and royal icing recipes! The recipe is easy to follow with step-by-step pictures and a video tutorial!
Find the recipe here.
4. Chocolate Kiss Cookies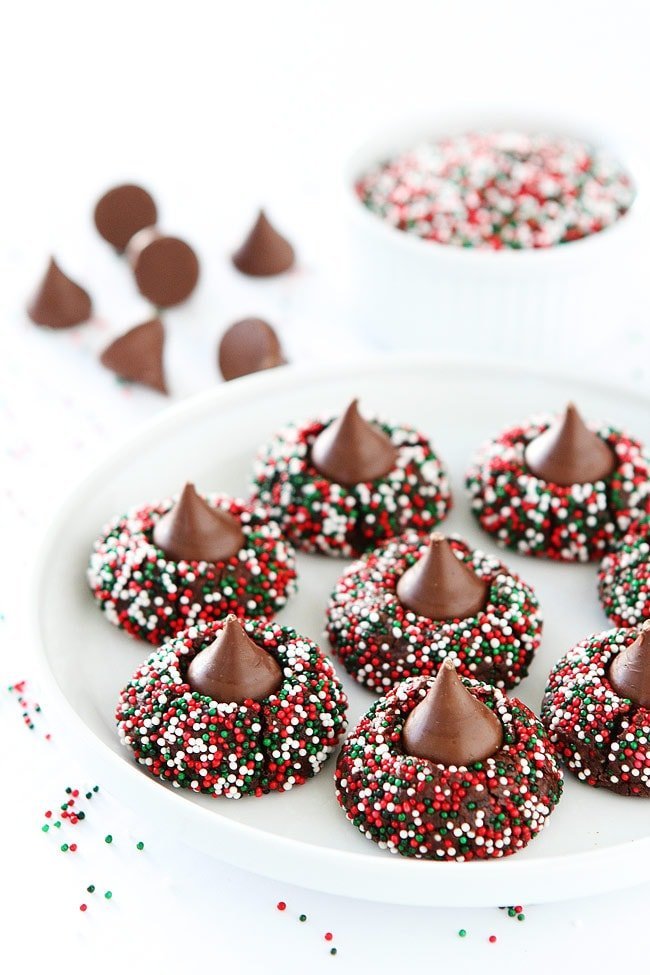 Chocolate Kiss Cookies recipe is a decadent chocolate cookie rolled in sprinkles and topped with a chocolate kiss in the center! You can use any flavored kisses too as center toppings for this amazing cookie.
Get the recipe and the step-by-step instructions here.
5. Lofthouse Sugar Cookie Recipe with Frosting
These Copycat Lofthouse Sugar Cookie Recipe with Frosting will be a big hit with your whole family! They are also perfect to take to class parties or for birthdays or any occasion and they're so simple to make. So easy to make and they taste just like the real thing.
Get the full recipe here.
6. Christmas Light Cookies
Christmas Lights Cookies are so cute and so easy to make! Kids love these cookies for Santa because of the mini M&Ms. Find out how to make these easy cut out sugar cookies with simple royal icing from Christina's recipe.
7. Easy Marble Sugar Cookies
These colorful Marble Sugar Cookies are a unique take on a traditional Sugar Cookie and the technique can be used in any color combination you wish. It can be fall or Christmas colors, or why not preparing these cookies for St. Valentine's or birthday?
Find the recipe here.
8. Traditional Cut Out Sugar Cookie Recipe with Glossy Frosting That Hardens Well
This Cut Out Sugar Cookie Recipe has been Laura's family's holiday baking tradition for 30 years! These cookies turn out soft, chewy and don't spread! Laura also shares her easy sugar cookie frosting that tastes great and hardens with a beautiful shine that's perfect for decorating!
Find the recipe and instructions here.
9. Simple Mini Christmas Cookies Decorated with Royal Icing
Learn how to beautifully decorate your Christmas cookies with Marian's step-by-step video tutorial. She also shares her cookie recipes and icing recipe on her blog post.
10. Imperfectly Perfect Slice 'n' bake Vanilla Bean Christmas Sugar Cookies With Whipped Buttercream
If you are seeking great taste of your Christmas cookies instead of their impeccably perfect looks, you should try this vanilla bean cookie recipe by Tieghan. So easy to make and they are delicious.
11. Easy Eggnog Cookies With Frosting
These Frosted Eggnog Cookies are made with a soft sugar cookie recipe that is spiked with eggnog. Decorate these soft eggnog cookies with a swirl of eggnog frosting and you will get a super yummy and beautiful Christmas cookie in under one hour.
Get the recipe here.
12. Peppermint Meltaways Recipe
Peppermint Meltaways are fun little bite-sized holiday cookies with a bright and buttery flavor. The cookie texture is tender but not crumbly, so they truly melt-in-your-mouth!
Fin the recipe on Tricia's blog post here.
13. Red Velvet Christmas Sugar Cookies With Cream Cheese Frosting
Red Velvet Sugar Cookies are perfect for Christmas or St. Valentine's Day. They look so festive and taste really good.
Check Jaclyn's recipe to learn how to make these classy cookies with cream cheese frosting at home.
14. Chocolate Peppermint Cookies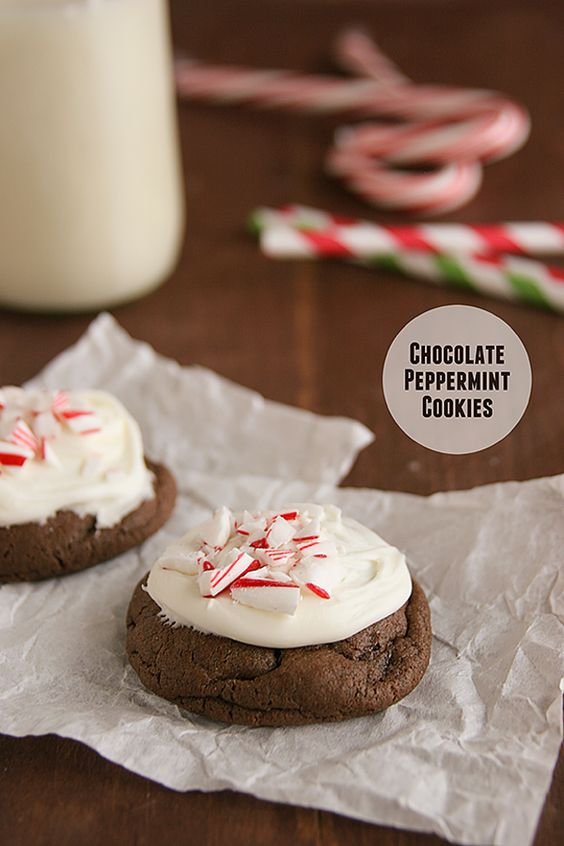 These cookies have everything that a peppermint lover would want: a chocolate and peppermint cookie, white chocolate cream cheese frosting and some crushed candy canes on top.
Find the recipe here.
15. Christmas Pinwheel Sugar Cookies
An easy and festive pinwheel cookie, perfect for the Christmas season! A must make for all sugar cookie fans!