Do you sometimes get home from the grocery store only to notice that you have forgotten to buy the main ingredient for tonight's dinner? I must admit that I have done it way too many times. It is so frustrating, especially when I know that I could have avoided this by preparing better.
Today, I will share with you the item that has helped me avoid this problem: my printable grocery list with checkboxes. When I get a product at the store, I now simply tick it off the list.
---
GET EXCLUSIVE COUPON CODE (-30%) FOR MY ETSY SHOP: DIGITALHYGGE
---
Grocery List By Category – Free Printable PDF
This grocery list goes perfectly together with my free weekly meal planner printable – after planning your meals, simply fill in the grocery list with everything you need from the grocery store. Moreover, these two printables look good together: both have similar design and color scheme. I personally love this duo and it looks very good in my planner.
What is included in the free printable grocery list?
High quality PDF (300 dpi). It's an instant download, so you can start planning right away
Two sizes: A4 and US Letter
Two designs: "Shopping List" and "Grocery List"
Pre-filled or blank. Each design includes two pages: one with pre-filled shopping/grocery list categories and one with blank shopping/grocery list categories for you to fill in.
---
You might also like:
---
If you'd like to tweak this design (change fonts and colors, add clip art, write your own list titles), you can get the customizable Canva template in my Etsy shop. The Canva template includes 9 pages:
shopping/grocery lists;
blank weekly meal planner with Monday and Sunday start;
weekly meal planner (Monday and Sunday start) with text boxes to make it easier to fill in digitally;
coupon tracker.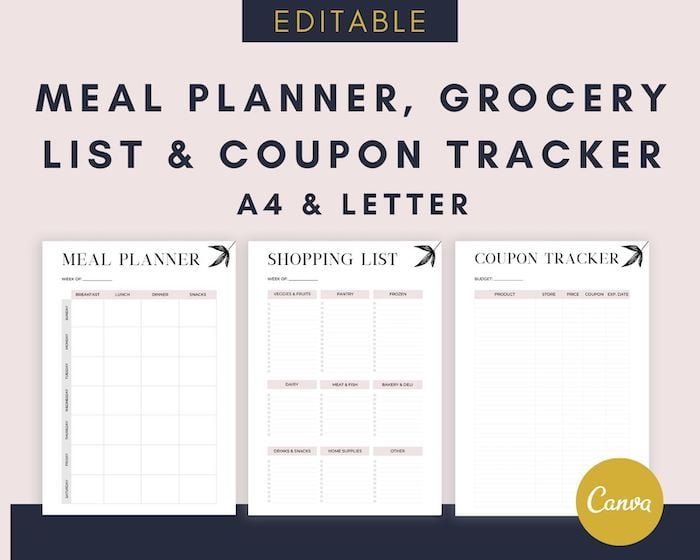 5 Reasons Why You Should Use a Shopping List
Not sure if you need a grocery list or not? Here are 5 reasons why it makes sense.
#1 Save Money
Have you noticed that you often pick a lot of unnecessary items from the grocery store when you don't have a clear plan? I have experienced this first hand when I didn't use a grocery list. All of a sudden the cart is full of things I didn't plan on buying at all – and I'm only in the second aisle! Having a grocery list will help you stay away from the things you might want, but don't need. This will save you money.
#2 Save Time
If you'd send me to buy groceries without a clear plan, you can be sure that I won't come back anytime soon! Not knowing what you're looking for makes you waste time walking up and down the aisles for no good reason. Being prepared and knowing what to get will make you a more efficient shopper.
#3 Reduce Food Waste
How does having a grocery list help fight food waste? It is actually quite simple: a well-planned grocery list means that you won't buy something you already have. If you buy fresh apples when you still have many good ones left, you just might start eating the latest ones instead of first finishing the older ones, leaving them to go bad. A good grocery list will help you finish your left-overs before buying new groceries.
#4 Stick to the Plan
Have you decided to buy healthier and try to lose some weight? If you have, you want to stick to your plan. Without a grocery list, you will be tempted to pick up items you shouldn't. The grocery list gives you structure that's needed to change your habits for the better – according to your own plan.
#5 Feel Better
When you plan your meal, write the grocery list and buy what's on the list you will feel like you truly are in control of your life. Feeling like this is empowering and will help you feel better about yourself and reduce stress. I know first-hand how great it feels to actually follow through on your plans!
Have a great day and happy planning! 😀
PS Remember that I have a matching meal planner that goes together with this shopping list.