Saving can be a tough nut to crack, especially when it feels like every penny is already accounted for. But here's a little secret: saving just $1 a day? It's doable, even if your budget feels stretched thin.
Imagine missing out on just one takeout coffee or that extra snack. Tiny changes like these can lead to impressive savings over time. You'd be surprised how they add up!
Now, I get it. Starting to save often means spending – on advice, on tools, and so on. And while there's a sea of savings trackers out there, often with price tags on Etsy or Amazon, I wanted to give you something without strings attached. Why? Because I genuinely want to help you start your savings journey, without the catch. So, ta-da! My high-quality, $1 savings trackers are yours to use, absolutely free.
What is the $1 Savings Challenge?
The $1 Savings Challenge is a savings approach where you save one dollar every day. It's designed to make saving money accessible and uncomplicated. You can choose from a variety of printable trackers, whether your goal is $30, $60, or $100, to help you monitor your progress and reach your savings target.
$1 Savings Challenge Trackers: The Simple Path to $100 Savings
The essence of the $1 savings challenge is straightforward: aim to save $100. Whether you wish to achieve this in a brisk 100 days by saving daily or prefer to take your time and focus solely on reaching the final goal, the pace is entirely up to you.
Three Printable Trackers for the $1 to $100 Savings Challenge
I've created three dollar trackers to help you save $100 (previews and download links below). Pick the one that resonates most with you, download, and print.
Design 1
The first tracker, adorned with a floral theme, is perhaps my favorite among the trio designed for the $100 savings goal. However, if you prefer more minimalistic designs, the next two might be right up your alley.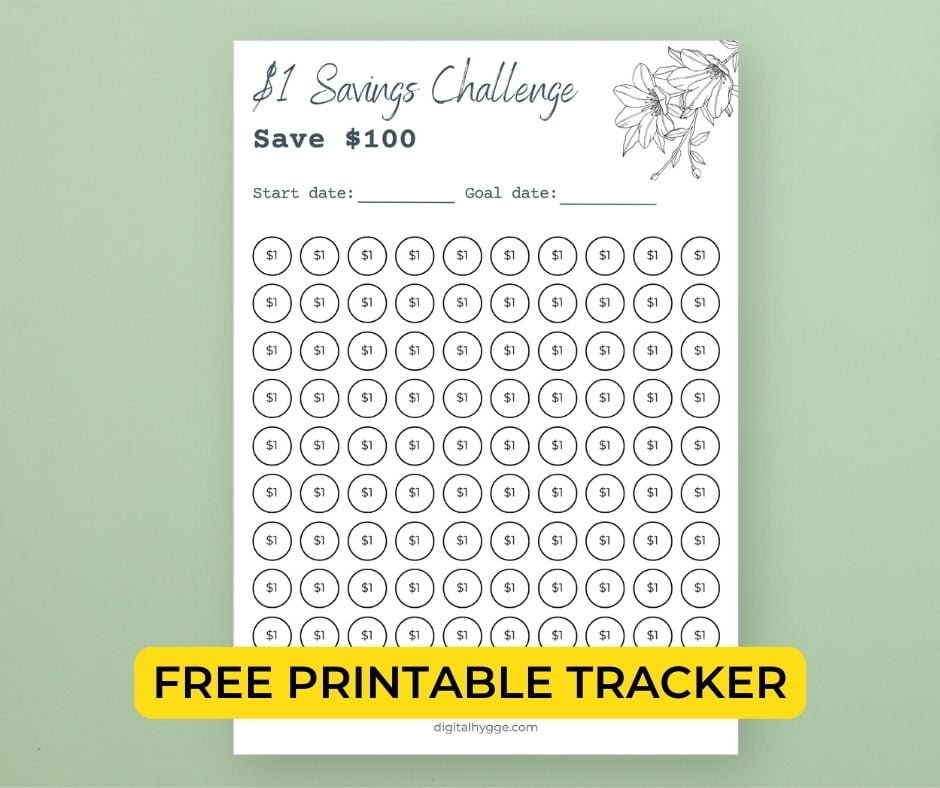 Design 2
The second tracker echoes the design elements of the first but omits the floral details, presenting a cleaner look.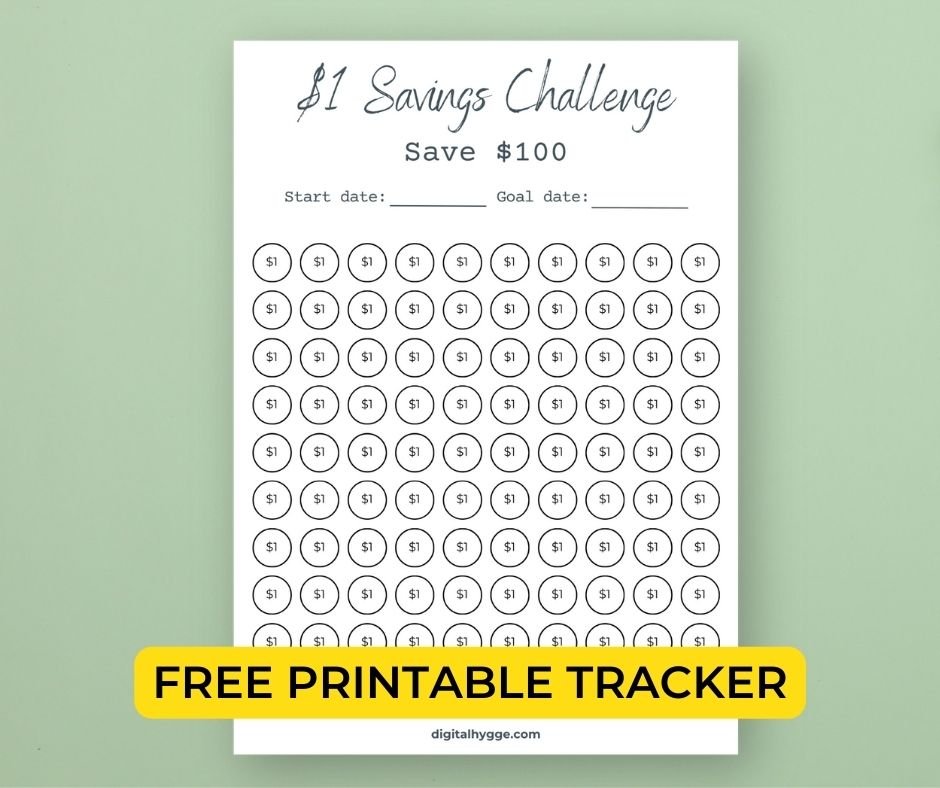 Design 3
The third tracker features modern fonts while retaining the consistent layout found in the previous designs.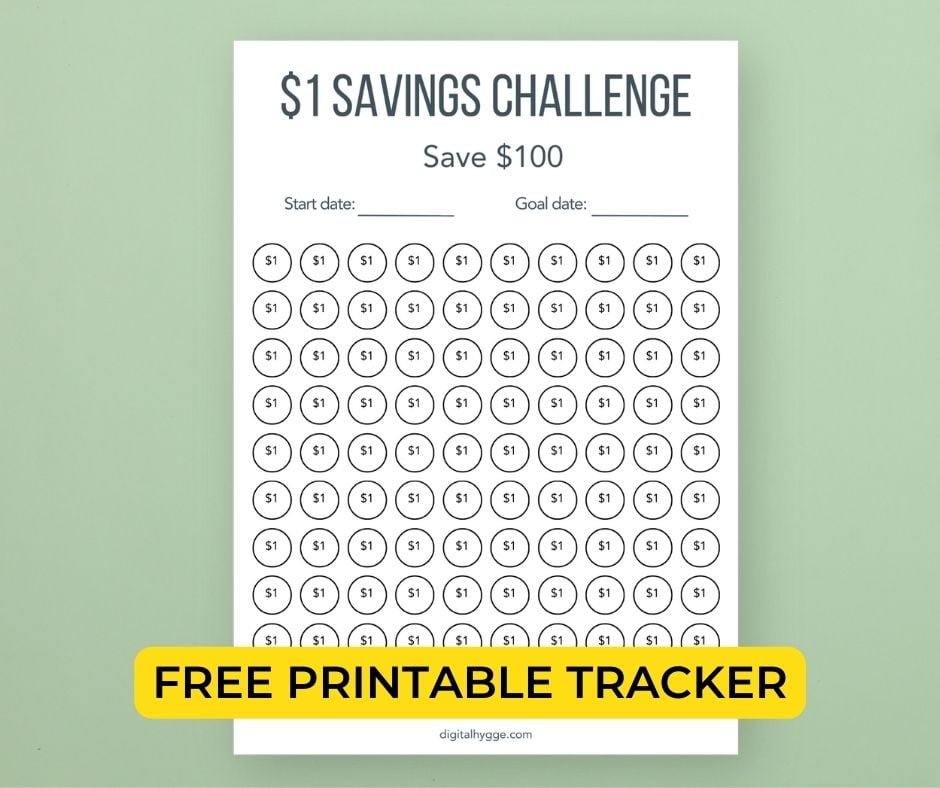 $1 Savings Challenge Printable Tracker: Aim to Save $30
Up next, we have our monthly $1 savings trackers. These challenges, though small, aim to help you accumulate $30. These trackers are ideal if you're seeking to cultivate a savings habit without overwhelming yourself. They're especially suited for those on a tight budget or with a low income, as well as for students.
This printable $1 savings tracker boasts a beautiful aesthetic in a boho style and is available in two sizes: A6 (perfect for budget planners) and a mini tracker sized similarly to a banknote (75 × 155 mm or 2.95 x 6.1 in).
How to Use The $1 Savings Challenge?
Download and Print: Download the tracker you liked, print it and trim it if needed.
Set the Start Date and Goal Date (optional): Note the date you begin the challenge and the date you target to complete it.
Color in the Circles: For every $1 you set aside, shade or fill in a circle on the tracker.
Achieve Your Goal and Celebrate: Once you've filled in all the circles, you've successfully saved $30 or $100 depending on the tracker you chose.
Who's the One Dollar Savings Trackers Designed For?
Savings Newbies: If the word 'savings' gives you jitters, these trackers are your gateway to mastering the art. These trackers turn saving into a visual game.
Budget Warriors: If you're on a tight budget or low income, saving might seem tough. With this tracker, you can visualize your progress, making it easier to set aside small amounts regularly.
Students: Juggling education costs with daily expenses can be challenging. This tracker provides a tangible way for students to start saving without feeling overwhelmed.
Before You Go:
This marks the beginning of my series on free printable savings trackers. If you've found value in my trackers, I'd love to hear from you. Your feedback not only boosts my motivation but also drives me to create even more. Should you have any suggestions regarding types of trackers, styles, or sizes, please leave a comment below.