I've been an online entrepreneur for almost 7 years. Like most people starting an online business, I have followed business gurus and downloaded numerous e-books. I was always amazed by how all these people seemed to create these e-books or brochures so effortlessly. It wasn't until a few years ago when I started finding online stores such as Etsy and Creative Market that I realized that most, if not all, of these people I looked up to were using ready-made templates. Since that moment, I have been intrigued by the thought of creating my own templates for other struggling online entrepreneurs. Today, I can say that I have finally finished my e-book template for online entrepreneurs and bloggers — and I couldn't be happier with the outcome.
But first, let's have a look at why having your own e-book as a blogger, online entrepreneur, coach or influencer makes sense.
---
GET EXCLUSIVE COUPON CODE (-30%) FOR MY ETSY SHOP: DIGITALHYGGE
---
Why Do Bloggers and Online Entrepreneurs Need to Have an E-book?
There are numerous reasons why creating your own e-book is an essential move for any online entrepreneur who wants to make money online. In his article, Garin Etcheberry names 7 reasons why he thinks e-books are a must. I will summarize the reasons here briefly.
E-books:
are products that can be sold for money
can be used to impress people
can be given for free in exchange for an e-mail address
can work as "conversation starters" with potential clients
can be part of your sales funnel
builds your authority and brand ("this is who I am")
can bring considerable search traffic
Each of the above reasons alone should be enough to convince you to write your own e-book. By not having an e-book, you simply miss out on so many chances to monetize your content and build your brand. As a blogger myself, I also find that finishing an actual product, instead of "just" another article is incredibly satisfying. It is one of those feelings that help you remember why you love your work 🙂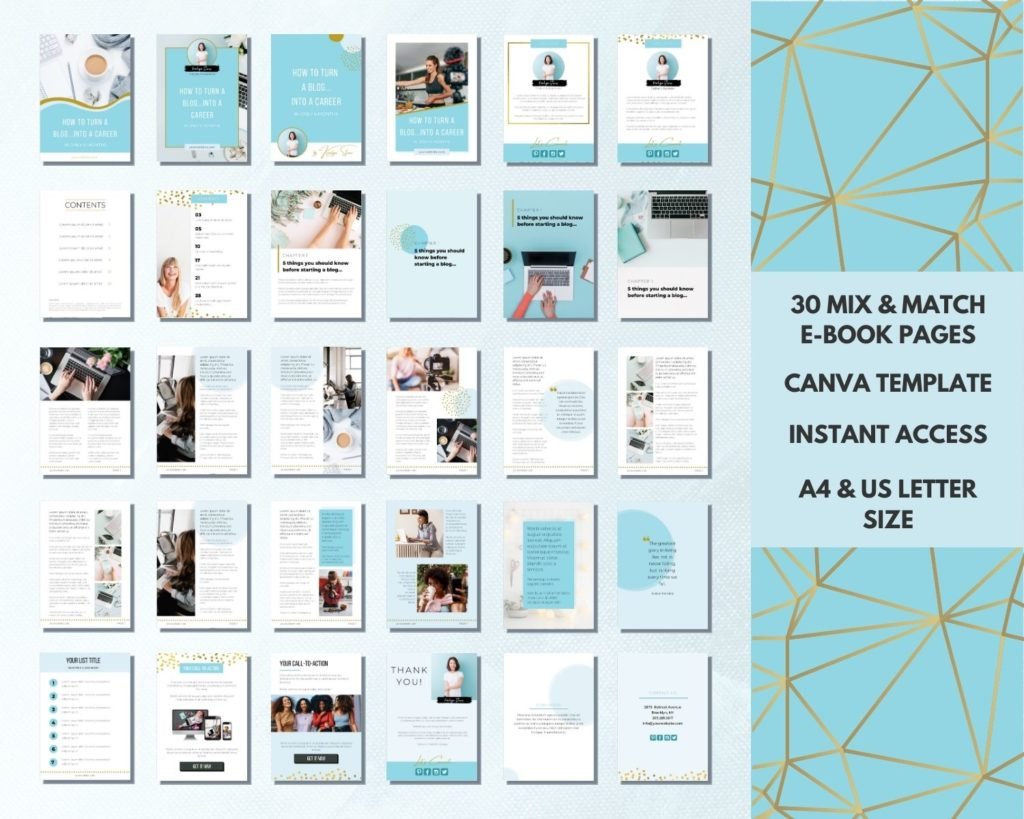 Why Use a Canva E-book Template?
Is Canva really the best tool for creating an e-book? If you are a blogger or an online entrepreneur, the answer is a resounding yes!
Canva offers bloggers and other online entrepreneurs everything: free stock images, a simple user experience, thousands of free graphic elements (incl. animated elements) designed with online entrepreneurs in mind, templates for most situations and a multitude of amazing fonts.
And this is only what the FREE Canva version offers. The Canva Pro subscription offers even more of everything: excellent stock photos, tons of graphic elements (static and animated), as well as more fonts. Moreover, Canva Pro lets you easily resize your designs, upload your own fonts and save color palettes (a real game-changer). Compared to Adobe's products, Canva Pro is a steal. Having said that, my e-book template is made for people using the free version of Canva, so if you don't want the added pleasure of using Canva Pro, you will have no problems designing your very own e-book with my Canva template. Nevertheless, notice that the photos used in the template are Premium images that only Canva Pro users can use for free.
E-books can be created with other software tools, including Adobe's InDesign and Microsoft's PowerPoint and Google Slides, but I honestly don't find those particularly suited for bloggers or online entrepreneurs. Why? Well, first of all you will have to use either exclusively your own photos or then buy expensive stock images to illustrate your e-book. Why spend all that money on a few photos when Canva offers 100,000+ free stock images? Secondly, unlike Canva, the above-mentioned programs don't offer graphic elements designed exclusively for online businesses. Thirdly, using Canva is simply easier — anyone can master Canva. To summarize, I am 100% certain that Canva is the right choice for people who want to create a stylish, modern, easily customizable e-book.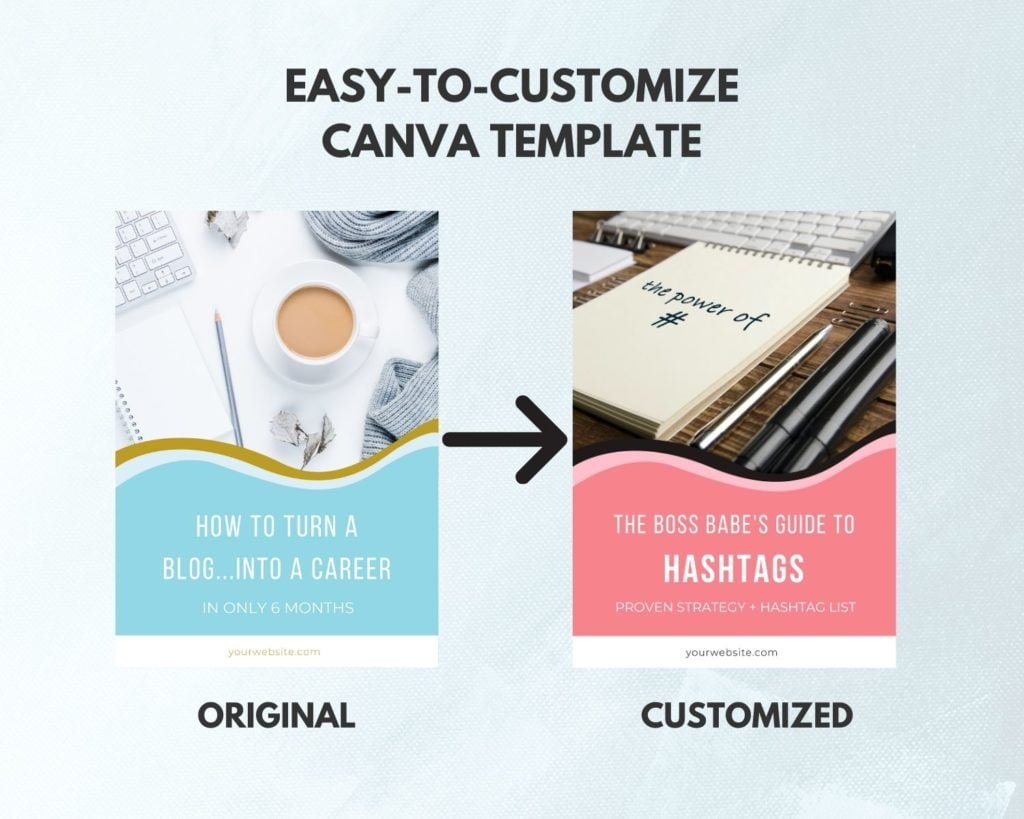 FAQ: Writing an E-book in Canva
Can I make an e-book in Canva?
You can make e-books in Canva. When using a ready template, all you have to do is to write the content. You might want to write in a word processor from where you copy the text into Canva when your e-book's text is ready.
How can I make my e-book beautiful?
Canva includes thousands of free graphics and photos that can be used to make your e-book visually pleasing. Using my Canva e-book template you only need to fill in the text and photos (and add page numbers), since the design has already been taken care of. Having said that, it is possible for you to alter and customize the template as much as you like.
If I design an e-book with Canva, how long can my e-book be?
The maximum length of a Canva design is 100 pages. The limit used to be 30 pages, but Canva has fortunately increased the maximum number of pages one can use in one design.
I made an e-book in Canva. Can I publish it in the EPUB-format?
Canva supports PDF, PNG, and JPG formats. Typically, e-books created with Canva are published as PDFs. You can not publish your e-book in the EPUB format directly from Canva, but you can use a PDF to EPUB converter to achieve this.
Can my long article be turned into an e-book?
Absolutely! If you have a long article that you think deserves to get the e-book treatment, then go for it! A well-written article can then, for instance, be turned into a freebie that you give to your newsletter subscribers (or something else). Win-win!
Can I add links to my e-book?
Yes. In Canva, elements (text box, images) can be turned into links as long as the design is exported as a PDF.
I am a starting online entrepreneur. Why should I make an e-book?
E-books are fantastic lead magnets. Use your e-book to promote your blog, course, webinar or just to get people to subscribe to your newsletter. This strategy works and is used by successful coaches, bloggers and online entrepreneurs around the world.
E-Book Template For Bloggers and Online Entrepreneurs
ALL YOU NEED TO CREATE A BEAUTIFUL E-BOOK IN MINUTES
Writing an e-book is time-consuming. I've been working online since 2013 and I know that there never is enough time for everything you'd like to accomplish. Personally, getting things done has always been the most difficult part of being a blogger. Coming up with smart ideas is easy, but finishing them is hard. That's where a well-designed template comes in handy. Everything apart from adding the text and choosing suitable images has already been done for you. My e-book template includes the following mix-and-match page templates:
4 cover pages
1 welcome page
2 about author pages
2 table of content pages
4 chapter pages
9 types of content pages
1 list page
2 quotes pages
2 call-to-action pages
1 thank you page
1 copyright/disclaimer page
1 contact us page
You can purchase this template from my Etsy shop DigitalHygge.
FULL PREVIEW OF ALL PAGES IN THE TEMPLATE:
4 Cover Pages
My template includes not one, or two, but four (4) different cover pages you can choose from! Not only does this mean that you can choose your favorite, it also means that you can use my template for four different e-books. Obviously, you could use the same cover several times but, personally, I would feel uncomfortable using the same exact cover template for two books. With four cover templates your e-book needs should be covered for a long time 🙂
Welcome Page
Use the welcome page to, you guessed it, welcome the reader and tell shortly about the purpose of your e-book. This page can be very personal and is designed to create a stronger bond with the reader.
Ebook Canva Template for bloggers, influencers, coaches and online entrepreneurs. Includes 30 mix & match pages in US Letter and A4 size. No need to start from scratch or hire an expensive designer – use this easy-to-use, fully customizable Canva template to create a stunning professional-looking ebook in a matter of minutes.
2 "About the Author" Pages
The author page is where you present yourself to your readers. Make sure to mention your credentials, relevant achievements and your website. Also, if someone well-known has something to positive to say about you, you might want to add it here. With my template, you can choose between two different author pages.
2 Table of Content Pages
For some reason, most templates only include one Table of Contents page. I like being able to choose, so I created two totally different pages for you 🙂
4 Chapter Pages
Depending on what kind of an e-book you are writing, you might have more or fewer chapters. My template includes four (4) different designs so that you can mix them around a bit, or simply use one design throughout your e-book now, and save the others for your next project 😉
9 Content Pages
To provide as much as value as possible, I wanted to include a lot of content pages. This way the reader will not get the same design page after page. Moreover, the inclusion of nine content pages makes it possible for you to use and re-use the template several times 😉
List Page
Creating lists is something content creators often do, so it was obvious that this had to be included in my template. Use this page to break up the flow a bit and give the reader something a bit more visual and more easily digestible.
2 Quotes Pages
It seems like quotes are all the rage these days, so obviously you should include one or two in your e-book! These make your e-book more attractive to your reader.
2 Call-to-Action Pages
If you are a blogger, coach or an online entrepreneur, your e-book should have a purpose. Usually, the purpose of the e-book is to make money for you (either in the short or the long run). Whether you want the reader to sign up for your next webinar or course, or if you want them buy a product/service of yours, you need a page for that. This template has space for some text, a picture and then the call-to-action button with a customizable text field. Remember to add a link (to a landing page or similar) to the text field!
Thank You Page
Your chance to thank the reader and build a connection with your reader.
Copyright/Disclaimer Page
A copyright and disclaimer page is highly recommended so including it in my Canva template was a no-brainer.
Contact Us Page
Don't forget to make sure your reader knows how to contact you. If nothing else, adding this page is yet another great way to build your brand and make sure the reader remembers you.
---
All in all, this template is very versatile. It is suitable for creating lead magnets, and could be used as an opt-in freebie or content upgrade.
The template is fully customizable to fit your brand and style. You can customize everything you see:
images and image grid areas
text
fonts
colors
layouts
graphic elements
*Please note that the photos are only for illustration purposes. If you want to use any of the photos in the template, you will have to buy them separately in Canva or upgrade to a Canva Pro account.
You do not need to use all the pages included in the template. You can easily duplicate, rearrange, delete or add your own pages to create the e-book layout you want.