Looking for a printable habit tracker that focuses on your use of alcohol, or rather, the lack of it? If yes, you have come to the right place. To download my free No Alcohol Habit Tracker now, simply scroll to the bottom of this page. Whether you are trying to quit alcohol completely or only try a 30-day no alcohol challenge, this habit tracker is made for you!
This is the fourth one-habit tracker I have made free for downloading. If you are interested in my other trackers, here's a selection of my best ones:
Why You Need a No Alcohol Habit Tracker
Quitting alcohol for 30 days can have a drastic influence on your life. For instance, this 24-year-old woman experienced an overall improvement in her mood, a reduced focus on her weight and less cravings.
But when you are trying to quit alcohol, or even just reduce your consumption, you might very well need some help. To help you keep track of how often you drink alcohol, I have created this simple monthly habit tracker that lets you do just that. Using this completely free, printable No Alcohol Habit Tracker you can keep yourself responsible for your own actions and reward positive behavior. For instance, perhaps a month without any alcohol would be worth a spa day, or a nice dinner outing to that new restaurant you've heard so much about?
About The 30-Day No Alcohol Habit Tracker (Printable PDF)
My free printables are designed for normal people who simply can't afford to buy templates, but still want a well-designed product. What's more, I don't require you to give your e-mail address or sign-up for anything. Instead, you will find a download button at the bottom of this page, that takes you directly to my files so that you can instantly download them without hassle.
What's included in the No Alcohol Habit Tracker?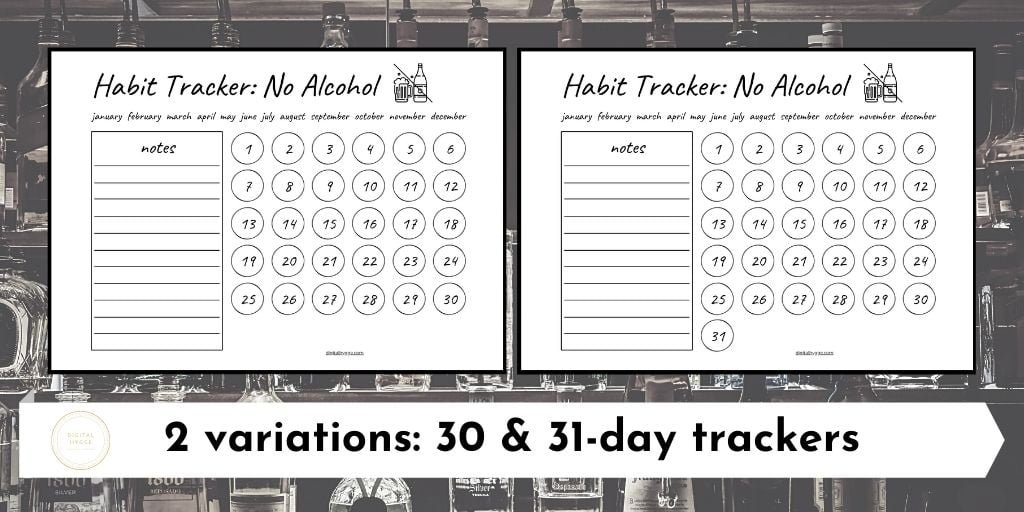 My No Alcohol Habit Tracker, like all my habit trackers, is a high-quality product that has been designed with care. It is useful, practical and easy to use. All my free designs are high-resolution PDFs and are made to look good when printed out.
Here's what's included:
two sizes: A4 and US Letter
30-Day and 31-Day version of the No Alcohol Habit Tracker
suitable all-year-round, simply draw a circle around the current month
text field for notes
instant free download (link at the bottom of the page)
I hope you will enjoy using my tracker, but most importantly I hope that it will help you reach your goals! If you are interested in my paid products, here's the link to my Etsy shop. If you want, you can also follow me on Twitter and Pinterest.
If you are looking for other free printables, here are some of my personal favorites:
Printable Day Planner (Blue and Pink Floral)
Wheel of Life Template with Instructions (Printable PDF)
Happy tracking!