Are you about to take a 30-day stretching challenge and want to track your progress? Then this is the habit tracker you are looking for. Totally free and easy to download, this printable PDF is of the highest printing quality (300dpi) and will look fantastic whether it's on your fridge or your desk, or in your planner. There are two versions of the tracker: a 30-day stretching habit tracker and a 31-day one.
How To Use the Monthly Stretching Habit Tracker
Each day that you have reached your stretching goals, simply color in today's circle in the habit tracker. Many stretching challenges do not include separate trackers, which is why this printable is the perfect companion to many challenges that you find online. The field for additional notes can be used for specifying the type of stretching, or to write down why you didn't stretch on certain days (illness, holiday, too much work etc.).
What's Included in the 30-Day Stretching Habit Tracker:
30-Day and 31-Day versions of the habit tracker
Option to select the current month (circle or underline the current month from a list)
two sizes: A4 and US Letter
high-resolution 300dpi printable PDF, which is perfect for high-quality printing
a text field for additional comments or notes
free download! No e-mail address needed – just download, print and use it without hassle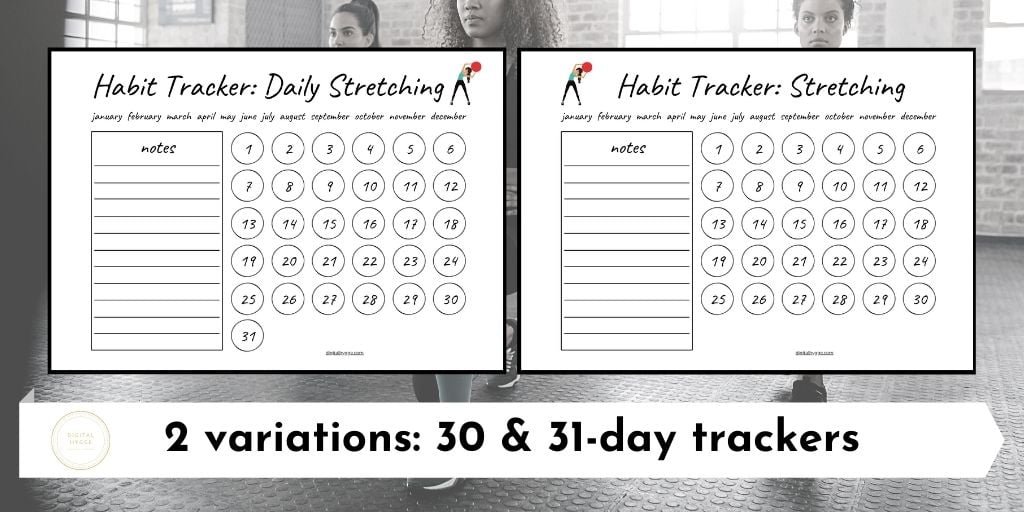 The Dos and Don'ts of Stretching
If you haven't stretched enough lately, it is good to review the dos and don'ts of stretching.
The dos:
stretch when your muscles are warmed up, not directly after getting up from bed or after having been in a static position for a longer time
start lightly to avoid injury. There are no shortcuts to getting more flexible, so take your time.
If you have health conditions such as osteoporosis, consult a physician before and take precautions when stretching
only stretch uninjured areas
be versatile and vary your stretching regimen.
The don'ts:
Avoid stretching after particularly hard exercise
If you feel pain, stop stretching. Stretching is not supposed to hurt, even if feeling a slight discomfort is normal.
I truly hope you will like my design and I hope it will inspire you to reach your goals. My free printables are made with a lot of care, which I hope is felt.
If you want to help me create more free printables, feel free to share my website with anyone you think could need quality printables.
Happy stretching!