Looking for a way to keep track of how much you exercise? There are blank habit trackers out there that let you track whatever habit you want, but sometimes, when you just only want to track one habit, a single habit tracker is even better.
This 30-day exercise habit tracker is made for people focusing on tracking their exercise habits, for instance during a 30-day exercise/workout challenge. There are actually two trackers in this one: a 30-day and 31-day one. Each version lets you underline/circle the month, making the designs perfect for use all-year-round. This habit tracker also allows you to use a color code system for specifying the type of exercise. Pretty neat, right?
Despite being totally free, the printable PDFs are of the highest quality: high-resolution 300dpi, which is recommended for products designed to be printed at home or in a print shop.
What is included in the 30-Day Exercise Habit Tracker?
The exercise habit tracker includes the following:
a 30-day and a 31-day version of the habit tracker
option to select the current month (circle or underline the current month from a list)
two sizes: A4 and US Letter
a text field for additional comments or notes
six fields where you can write down the type of exercise for color coding purposes.
high-resolution PDFs (300dpi), perfect being printed at home or in a print store.
free download! No e-mail address needed – just a no-hassle download, ready to print and use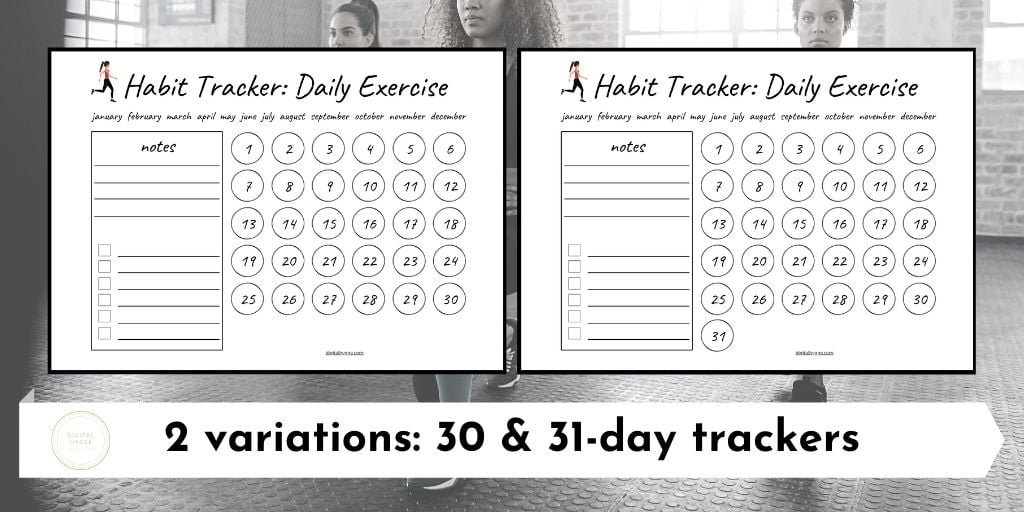 Check out our daily stretching tracker here. It's totally free 🙂
Exercises You Can Track with the Exercise Habit Tracker
You can obviously track whatever you want, but here a few examples of exercises to track in my 30-Day Exercise Habit Tracker:
push-ups
squats
jogging
walking
bicycling
ball sports
yoga
roller-skating
etc.
I hope you will like my habit tracker and put it to good use. I love creating useful products for people on a budget. If you want to help me create more free printables, share my website with anyone you think could benefit from helpful, high-quality freebies 🙂