It's not easy to quit smoking, especially if it's been a habit for years. There are countless products on the market that help people quit smoking, all of which cost quite a lot. What I have to offer is something a bit simpler: a way to keep track of your new, healthy no-smoking habit – for totally free.
How To Use the 30-Day No Smoking Habit Tracker
Habit trackers are fantastic for many reasons. They are simple products that require very little time. In the case of this monthly No Smoking Tracker, you only have to worry about ONE thing: have you smoked today or not. If you haven't, you can color or tick a circle with today's date. When you track your smoking habits like this, it is easy for you to know exactly how things have been going. By promising yourself a specific reward for good behavior, ie. not smoking, filling in the habit tracker will become a pleasant routine that will help you live more healthily.
The design of this Monthly No Smoking Habit Tracker is quite simple, which I think most people appreciate. It doesn't eat up much printer ink, but still looks good on your fridge, desk or wherever you want to keep it. The tracker is black and white and you get four (4) different PDFs with one download: a 30-day and a 31-day version in US Letter size and as a A4. You can, of course, print out the product in other sizes, such as half letter and A5, if you want.
Apart from the circles with the number for the day's date, there is a note field on the left where you can write down anything you find important. You can, for instance, write down what rewards you will give yourself if you manage to stay without smoking for the whole month.
What's included in the 30-Day No Smoking Habit Tracker?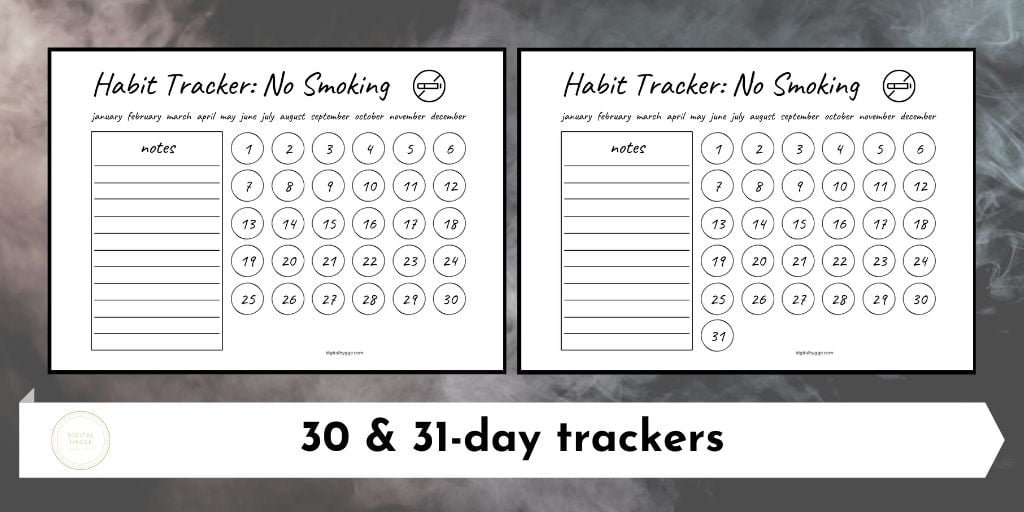 30-Day and 31-Day versions of the No Smoking Habit Tracker
two sizes: A4 and US Letter
select the month by underlining or drawing a circle around the current month
high-resolution printable PDF (300dpi); the perfect quality for a high-quality print
field for additional notes
totally FREE download without a need to sign up, log in or subscribe to anything – just a direct download link at the bottom of this article.
What are you waiting for? Download the free No Smoking Habit Tracker and quit smoking today 🙂
If you want to follow Digital Hygge and be the first to know about new products and what I am up to, you can follow me on Twitter and Pinterest. If you want to take a lot at the top-quality digital products I have for sale, you will find my Etsy shop here. See you there!