Every day thousands of people all over the world decide to start working out more. Maybe you are one of them? If so, you've come to the right place. I have a free workout planner template for you that will make planning—and sticking to the plan—so much easier. The monthly workout planner is perfect for anyone looking for a way to keep track of what exercises you've done and when. My free template can be used as a planner insert and comes in four (4) sizes: US Letter, Half Letter, A4 and A5.
This product is quite similar to my other fitness templates: the monthly Wellness Tracker, 30-Day Stretching Habit Tracker, 30-Day Exercise Habit Tracker and the Weight Loss Tracker. Why not download them all?
What Is In the Workout Planner Template?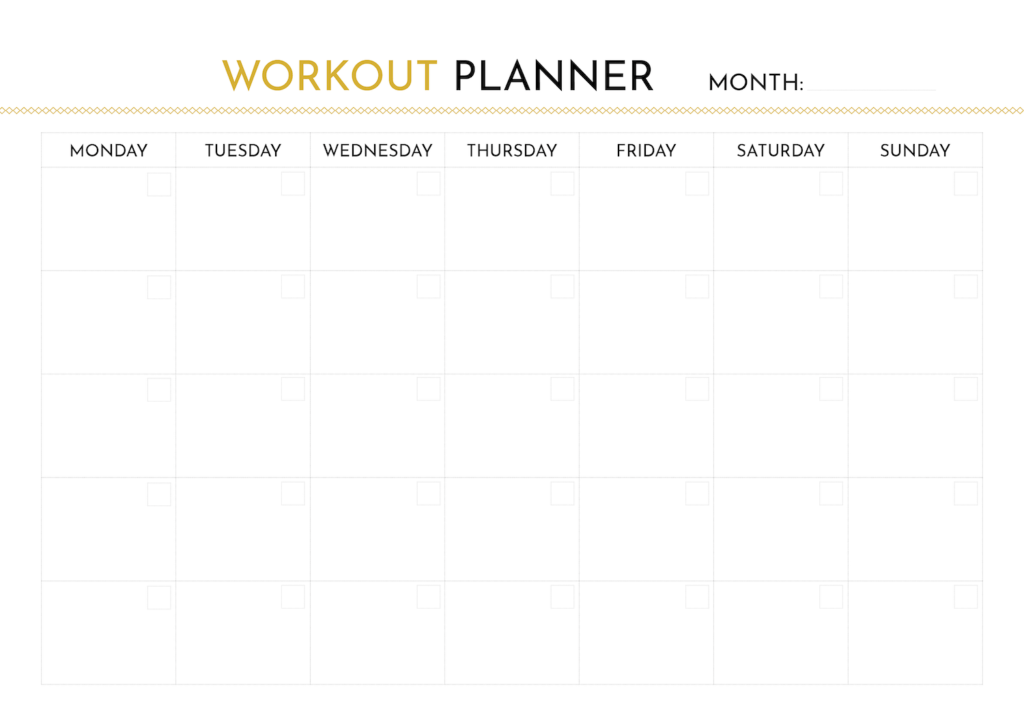 My workout planner consists of a simple one-page design in three sizes:
The color scheme is simple and consists of two colors: black and gold. FYI: Gold color will become light grey if you print the template in black & white.
The design leaves enough space for writing down details about your workout such as the:
type of exercise
number of repetitions
how you felt, or feel, when/after exercising
Here are a few examples of what you could write down in this planner:
daily steps taken
type of activity (running, aerobics, cardio, arms, legs, abs, squats, floor planks, push-ups, oblique twists, weight-lifting etc.)
number of repetitions or time spent on an activity
This planner can be used for tracking workout habits or planning your monthly workout regimen in advance. Since everyone is so different and has different needs, the planner is basically blank, except for the title ("Workout Planner"), month and names of the weekdays (Monday and Sunday start).
Why Everyone Needs a Workout Planner
I've long ago lost count of the times I've promised myself to start working out, only to see the initial enthusiasm ebb out within weeks.
With a planner, however, I have noticed that I can go on for much longer and stick to my routine. When I keep track and plan my future workouts I feel more emotionally involved and can't just forget all about it after having missed a few days.
Workout planners also:
give structure. When you have structure, you have consistency. And with consistency comes results.
facilitate a sense of achievement
provide a way for you to limit your exercising and prevent burn out or overtraining
an easy way to visualize your progress
How to Download the Workout Planner Template
You can download the free workout planner template at the bottom of this page by clicking on the download button.
Finally, if you are interested in self-development, why not check out my Etsy shop? I mostly focus on creating unique Canva templates but I also have miscellaneous products such as the Astrology Cheat Sheet and a Body Measurements Tracker.
I hope you liked my product. I am constantly creating new designs for both Etsy and digitalhygge.com, so remember to check in once in a while for new free templates!