I love designing things that make people's lives easier. Some of these products I sell on Etsy, others I give away for free. This free printable monthly planner for is of the latter category. This free pdf template can be printed out as many times as you like at absolutely no cost. The design is professional and it comes in several sizes, too. I hope you will like it!
What's in the Free Monthly Planner Template?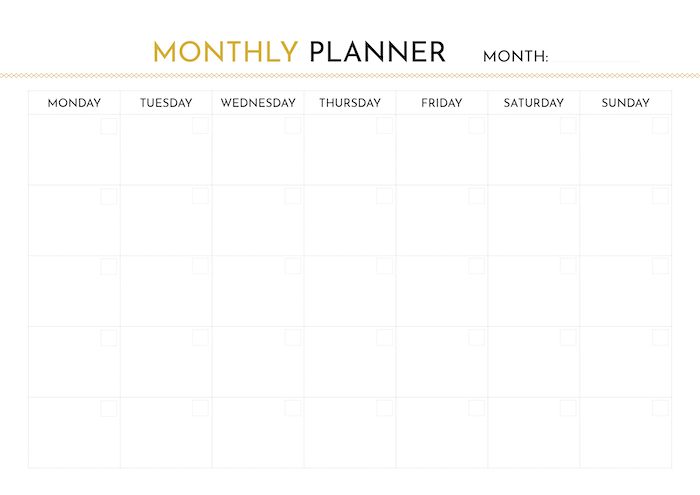 This printable undated monthly planner will help you remember important dates, birthdays, deadlines etc. You can use it as a calendar, but you can also use it to track projects and deadlines or to plan your personal or work schedule.
The download includes the following:
monthly, undated planner
high-quality PDF
a field for writing down the month
a field in each square where you can write the day's date
three sizes: A4, A5 and US Letter
Sunday and Monday start
instant 100% free download (click the download button at the bottom of this page)
classic, minimalist design
The design of this monthly planner is minimalist and comes in black with golden accents. If you print it in black & white, the gold color will simply turn into light grey. It looks great both ways.
How to Use The Monthly Planner Template
How you use the monthly planner template is obviously up to you. Having said that, here are a few ideas that hopefully help you utilize the planner to its fullest capacity.
You can use the monthly planner for:
important dates (birthdays, holidays, anniversaries)
appointments
work deadlines
bills to pay
plans (events you will attend, such as concerts, movies, parties, travelling
You can find all of my FREE printables here. You can also check my Etsy shop if you are looking for habit trackers, self-help printables or ready-to-use Canva templates.
I wish you a great day and happy planning! 🙋🏻