Have you ever gotten a late fee after totally forgetting about a bill you had to pay? I have. Too many times, I might add. Every time is just as annoying. Especially since I never actually intend not to pay it – usually I just misplace the bill and end up losing it, or finding it when it is already too late.
I figured I can't be the only one, so I created a few printable checklists that will help you pay your household bills on time. My printable bill pay checklists will help you keep track of your bills when you pay them. No more paying added interest on a bill you missed. No more feeling like a fool. No more oversights that could easily be avoided. When you use a checklist, you won't miss a crucial bill anymore and won't get into trouble for nothing.
When I started tracking which bills I had paid and which I hadn't it helped me feel organized and I hope you will feel that way, too.
---
GET EXCLUSIVE COUPON CODE (-30%) FOR MY ETSY SHOP: DIGITALHYGGE
---
Free Bill Pay Checklist Printables
Before looking at my free printables, let's start with the basics.
What is bill pay checklist?
Well, a bill pay checklist is used for writing down and tracking any bills, especially ones that are paid on a monthly, quarterly or yearly. In your checklist you write down your bills (electricity, phone bills, heating etc.) and simply check a box when you have paid them.
I have four (4) different versions of a bill pay checklist so no matter what your need is, I believe I have you covered! All the checklists are available in three sizes: A4, A5 & US Letter.
Bill Pay Checklist (Landscape)
The first two designs are created with monthly bills in mind. If you mostly have monthly bills to pay and especially if you sometimes use automated payment a.k.a. automatic bill payment, this one is for you. Below is the first horizontal (landscape) version of my two bill pay checklist designs.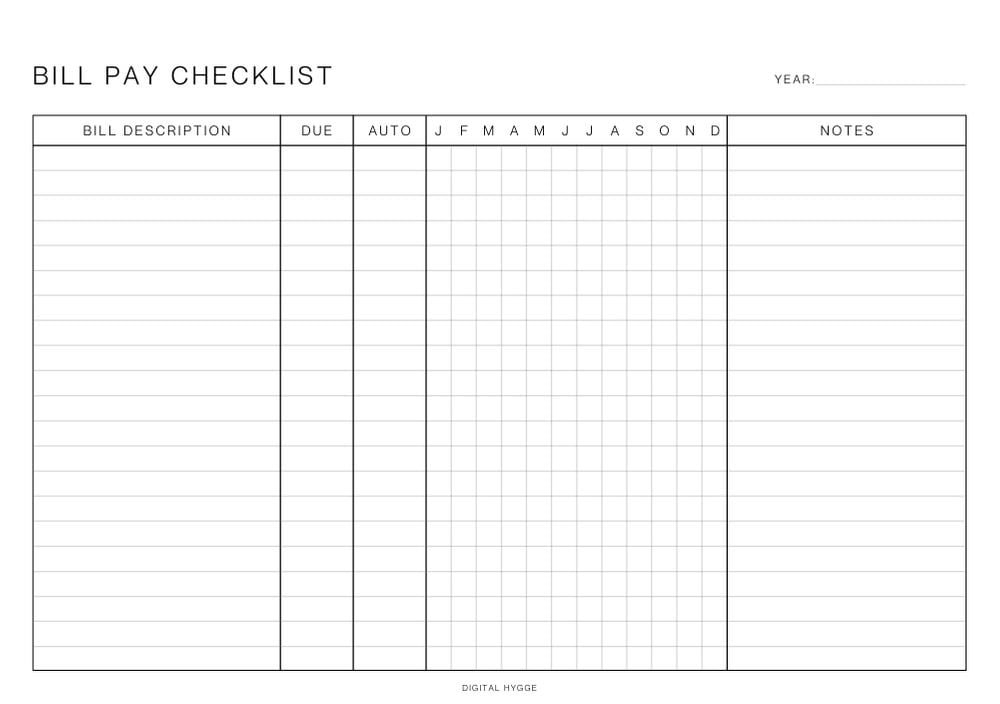 This horizontal (landscape) checklist can be used for the whole year. When you paid the bill for the month of January, you simply check a box. J for January, F for February, M for March etc. One check per payment. Other fields in this template include "bill description", "due date", "auto" and "notes". The "auto" field is for automatic payments: just check the box if this bill is paid automatically.
I have two horizontal bill pay checklists. The designs differs slightly as you can see from the pictures. The biggest difference is in how the months are written. In the first version you only see the first letter of the month, whereas the second version has the first three letters of each month written on it: "jan", "feb", "mar", "apr" etc.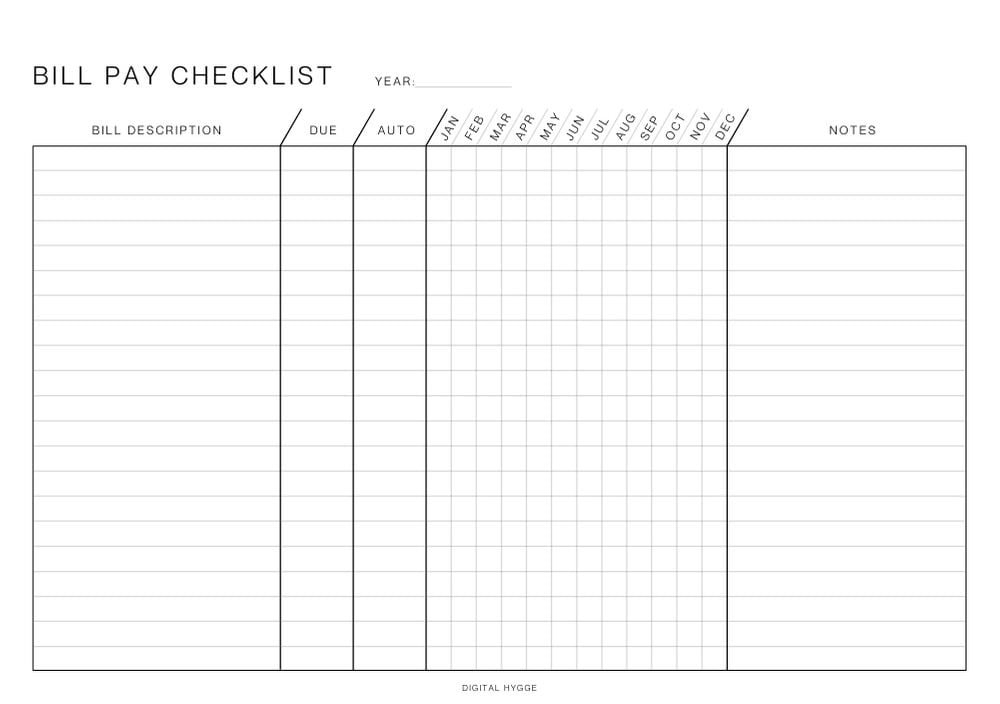 Using this tool is simple and I am a 100% sure that it will prove to be very useful. I hope you will like it.
Monthly Bill Organizer PDF
Knowing whether you have paid all your monthly bills is not easy if you don't have an efficient way of track of them. This monthly bills checklist will help you make sure you don't forget to pay each bill on time. Personally, I love printing out these good-looking tables that I can then put in my binder. It helps me stay organized and in control.
Compared to the bill pay checklist which I presented above, my monthly bills checklist is overall quite similar-looking. However, you will notice that the layout of this design is different: the image orientation is portrait, not landscape. That means that this checklist is vertical. Another difference is the addition of a new field: method of payment. So no matter what your method of payment is, you will be able to write it down here and make sure you don't get confused!
As you might have noticed, I really love minimalist design. I try to keep things simple and let the beautiful fonts and straight lines do the talking. It's maybe not very exciting but I like it this way 😀
Monthly and Quarterly Bill Pay Checklist
My fourth bill pay checklist is for everyone who has both quarterly and monthly bills to pay. You can use it all-year-round: just tick the box (for a month or a quarter) – it can't get any easier and more convenient than that!
This printable comes with a field where you write the name of the bill, the due date and finally a field you can tick when the bill is paid. The design can be used in 2023, 2024… well forever, actually, because there is a separate field on the top of the page where you write down the current year. It is an evergreen design that you download once, but can print out as many times you like 🙂 Hopefully, it will be the last bill pay checklist you'll ever need 🙂
About the Checklists
All bill payment checklists shared in this article are high quality PDF files (300 dpi) that come in two sizes: A4 and US Letter. You can print them out as many times you need. If you want to share them with your friends, please link to this page. I appreciate any support I can get and all shares are more than welcome 🙂
Types of Bill Pay Checklist
If you want to make sure you don't get late penalties, you need to be organized. There are numerous different types of bill pay checklists out there, all with the shared intention of helping you keep track of your bills. Here's n overview of the most important bill pay checklists out there.
Monthly Bill Checklist
Perhaps the most common tool is the monthly bill checklist. This tool makes it easy for you to know which bills you need to pay and which ones you already have paid that month. Most typically even the monthly bill checklists can be used the whole year: you just tick a box for each month when the bill's been paid. The monthly bill checklists are often rather versatile and can include several fields, such as due date, auto-pay, notes etc.
Yearly Bill Checklist
The yearly bill checklist is specifically designed for knowing which bills to pay during a year. Yearly bill checklists can include both monthly, quarterly and yearly bills.
Bill Pay Calendar
The bill pay calendar serves the same purpose as the other checklists: it's all about making sure you haven't missed anything. The biggest difference between a bill pay checklist and a bill pay calendar is in the design: the calendar can sometimes actually resemble a calendar, rather than consisting of a number of lines. If this design works for you, and you don't need to bother about quarterly or yearly bills, it might just be the best choice for you.
Bill Payment Tracker
A bill payment tracker is a wonderful tool if you want to be sure that you have paid your bills on time. The trackers are often a bit more colorful than the checklists, probably appealing to the planner community.
Bill Payment Log
Payment logs are simple tools designed for people who simply want to write down which bills they have paid. Whereas the checklists can have multiple fields to check, the bill payment logs are usually very simplistic and more suitable for casual use only.
Bill Pay Chart
A bill pay chart does not significantly differ from a bill pay checklist, log or tracker. Usually bill pay charts have more fillable fields than the logs, but this is not always the case.
What to Include in a Bill Pay Checklist
Before starting to fill in your bill pay checklist it is a good idea to take a look at which bills you should include. Because if you forget to add the bill to the checklist, you might end up forgetting about that bill altogether, which is something you want to avoid.
To help you get started, here's a list of 25 common expenses.
Electricity
Rent or mortgage
Renter's or homeowner's insurance
Cell phone
Water
Health insurance
Internet
Student loans
Groceries
Dining out
Childcare and school
Car insurance
Other loans
Gym membership
Online subscriptions (newspapers, Youtube, Spotify, Netflix, XBox Game Pass etc.)
Sports events
Hobbies
Gasoline
Credit card debt
Medications
Life insurance
Cable TV
Transportation
Pet food
Movie tickets, concerts, arts, museums
When you have written down all monthly, quarterly or yearly bills you have to pay, it is time to design the checklist.
First, choose how many rows you need. The number of rows depends on how many bills you have, but make sure that you have a few extra rows just in case there are new bills to add later on.
Next, choose which fields you could need. Typically, you might want to write down the due date of each bill. This way you can use the checklist not only for tracking what has been paid and what hasn't, but also for making sure you remember the due date correctly. This way you can also better plan your finances in general.
There are many other fields you might want to add, such as auto-pay, method or just simply a notes field for important info.
Finally, you need to have a way of tracking your payments. A monthly/yearly checklist would normally have separate fields for each month where you can then tick a box for each bill. For examples, take a look at my checklists in this article.
If you want, you can even combine monthly payments with quarterly payments. For ideas, check out my Monthly and Quarterly Bill Pay Checklist above.