Starting off in the UK in the early 1990s as Apple Day, National Apple Day is nowadays also celebrated in the United States and other countries on October 21. There are, additionally, many different apple-related games and fun events taking place over the weekend closest to October 30.
A big success in its native United Kingdom, around 600 Apple Day events took place in the UK at the turn of the millennium. Apple Day has been featured in The Telegraph in the UK and National Apple Day mentioned on today.com as well as numerous other websites and it really seems like nothing can stop it from becoming bigger and bigger in the coming years.
When is National Apple Day celebrated?
National Apple Day is celebrated on October 21 every year.
| | |
| --- | --- |
| Year | Date |
| National Apple Day 2022 | Friday, October 21 |
| National Apple Day 2023 | Saturday, October 21 |
| National Apple Day 2024 | Monday, October 21 |
| National Apple Day 2025 | Tuesday, October 21 |
| National Apple Day 2026 | Wednesday, October 21 |
| National Apple Day 2027 | Thursday, October 21 |
National Apple Day is celebrated on October 21.
History of National Apple Day
Apple Day was first celebrated in 1990. It was, and still is, a day for celebrating apples and orchards.
National Apple Day 2022 Social Media Post Ideas
National Apple Day is worth celebrating on social media. To help you get inspired, here are a few ideas for you to consider when planning your National Apple Day posts and/or events.
Post idea 1: Do you have an apple tree in your garden or somewhere nearby? Take a selfie with an apple tree in the background. Don't forget to use hashtags #nationalappleday and #appleday.
Post idea 2: If your company makes anything out of apples (apple pie, cider, apple sauce etc.) you can have a special National Apple Day event on social media. A perfect opportunity for you to engage with your audience!
Post idea 3: If you're an influencer or building your brand, you can share your love for apples and tell an engaging apple-related story on National Apple Day.
National Apple Day 2022 Hashtags
On Instagram, Twitter and other social media, hashtags make a real difference. So, to make sure your post reaches your target audience some hashtag research is needed. That's why we've looked up the most popular hashtags to use on Sweetest Day.
The following hashtags are especially popular on Sweetest Day:
#NationalAppleDay
#NationalAppleDay2022 (just change the year if necessary)
#AppleDay
#AppleDay2022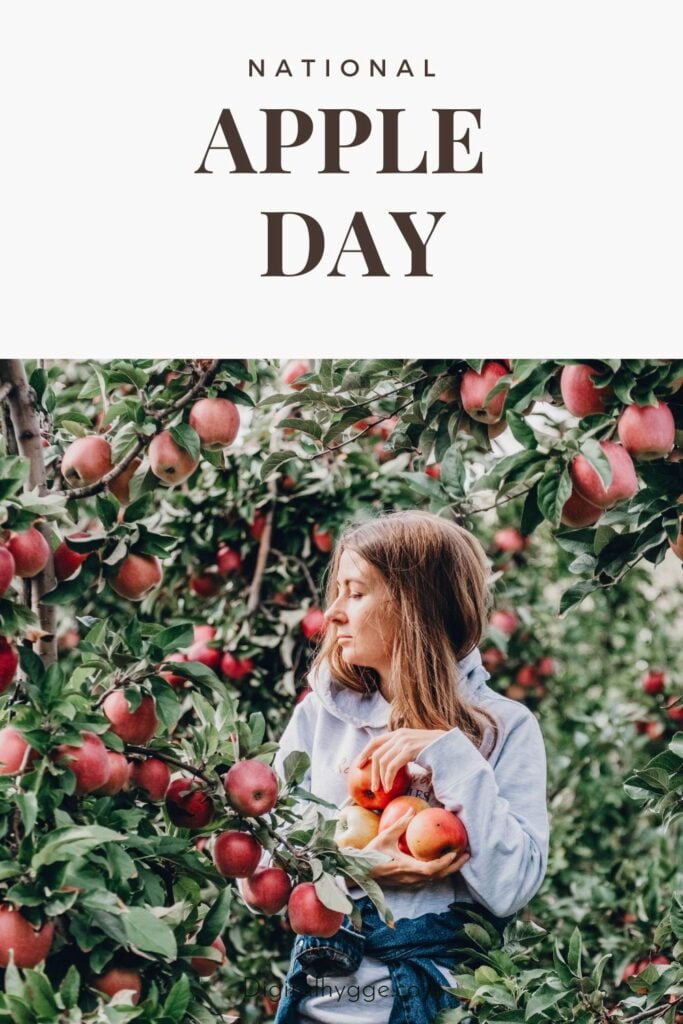 National Apple Day 2022 Quotes
We have compiled the best National Apple Day quotes for your convenience. Here are some of our favorite apple quotes – perfect for social media posts about #NationalAppleDay!
"Birds of a feather pick apples together"
"I find you a-peel-ing"
"The sweeter the apple, the blacker the core."
"The simplicity of apples attracts a lot of people."
"Comfort me with apples, for I am sick of love." – Solomon
"It's unsettling to meet people who don't eat apples." – Aimee Bender
"How do you divide seventeen apples among sixteen people? Make applesauce." – Batman TV series
National Apple Day Jokes
Need a joke for National Apple Day? Look no further!
Q: Why did the apple cry? A: Its peelings were hurt…
Q: What's worse than finding a worm in your apple? A: Finding half a worm…
Q: What is a math teacher's favourite dessert? A: Apple Pi.
Q: Why are apples excellent athletes? A: They have a strong core.
My neighbor says he is too afraid to plant an apple tree. I told him, "Grow a pear!"
National Apple Day Facts & Trivia
Here are some interesting facts about apples that we bet you didn't know!
You need around 36 apples to create a gallon apple cider. That's a lot!
It would take you 20 years to try each variety of apples. There are over 7,500 of them!
Apples are grown in all 50 states of the United States.
Do you peel your apples? You probably shouldn't! Two-thirds of the antioxidants and the fiber of apples are in the peel. Amazing, right?
Did you know that apples are actually related to roses?
Looking for more fun, weird and wacky holidays in October? Our list of October holidays is perhaps the most complete list of them all. And if you are looking for fun holidays in other months, check out our social media holiday calendar.