Each year on the 4th Friday of October, champagne-lovers around the globe gather to celebrate Champagne Day. Tasting event, master classes and other events make this day special each year – and a great opportunity for champagne enthusiasts to gather together and enjoy life…and maybe a glass or two of champagne.
You can find more information about the official events taking place on Champagne Day on their website, but don't let nothing stop you from celebrating on social media wherever you are – just don't forget to use the hashtag #ChampagneDay!
When is Champagne Day celebrated?
Champagne Day is celebrated on the 4th Friday of October each year.
| | |
| --- | --- |
| Year | Date |
| Champagne Day 2022 | Friday, October 28 |
| Champagne Day 2023 | Friday, October 27 |
| Champagne Day 2024 | Friday, October 25 |
| Champagne Day 2025 | Friday, October 24 |
| Champagne Day 2026 | Friday, October 23 |
| Champagne Day 2027 | Friday, October 28 |
Champagne Day is celebrated on the 4th Friday of October
History of Champagne Day
Champagne Day started in 2009 when the Californian blogger and wine enthusiast Chris Oggenfus introduced the concept of #ChampagneDay. Since then Champagne Day has grown into a legitimately important holiday among champagne enthusiasts, with its own website in six different and tens of events taking place each year in restaurants, wine cellars, wineries and hotels around the globe.
Champagne Day 2022 Social Media Post Ideas
Champagne Day is celebrated on social media by champagne lovers each year. To help you get inspired, here are a few ideas on what to post on Champagne Day!
Post idea 1: Go to a restaurant and order a glass of real champagne. A picture of the glass in a beautiful setting, together with a champagne-related text is a winning concept every time! Use hashtags #ChampagneDay and #GlobalChampagneDay to make sure your post is found by other champagne enthusiasts.
Post idea 2: This one's for hotels and restaurants. If you have real champagne on your wine list, why not celebrate this by sharing a picture of your best champagne bottle? Or, even better, why not host an event on Champagne Day if you think it fits your brand!
Champagne Day 2022 Hashtags
If you celebrate Champagne Day, make sure you got the hashtags right.
The following hashtags are especially popular on Champagne Day:
#ChampagneDay
#ChampagneDay2022 (just change the year if necessary)
#GlobalChampagneDay
#GlobalChampagneDay2022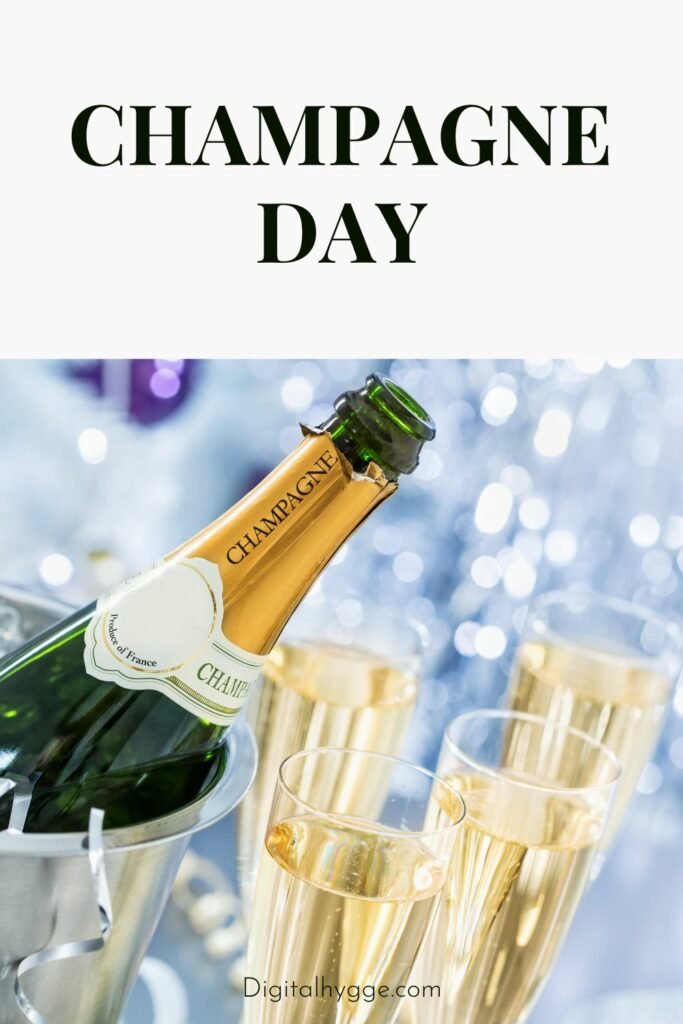 Champagne Day 2022 Quotes
If you want to post about #ChampagneDay on social media, you may need some inspiration. Quotes often offer us exactly that. Here are some of our favorite champagne quotes!
"Too much of anything is bad, but too much Champagne is just right." –Mark Twain
"I only drink Champagne on two occasions, when I am in love and when I am not." -Coco Chanel
"Why do I drink Champagne for breakfast? Doesn't everyone?" –Noel Coward
"Pleasure without champagne is purely artificial." –Oscar Wilde
"Start the day with a smile and finish it with champagne." -Unknown
"Life is too short to not have oysters and champagne sometimes." -Christie Brinkley
"No 'pagne, no gain!" – Unknown
Champagne Day Jokes
Want to tell a champagne-related joke? How about these ones?
Q: How do you launch a champagne factory? A: Throw a boat at it.
Q: Why did the bee drink champagne? A: To get a good buzz.
Girl: "I love you so much, I could never live without you." Boy: "Is that you or the champagne talking?" Girl: "It's me talking to the champagne."
Q: What's it called when you mix champagne with orange juice at breakfast? A: Alcoholism…
Champagne Day Facts & Trivia
Here are some interesting champagne facts that you probably didn't know!
A popped Champagne cork can reach a speed of 24.8 miles (40 km) per hour!
The first glass of champagne will make you feel drunk the fastest. Why? Because it contains the most bubbles.
Have you always wondered how many bubbles a bottle of champagne contains? So have we. The answer? 49 million bubbles!
Did you know why champagne is always served in flute glasses? It's to keep it bubbly. After all, what would champagne be without the bubbles?
Champagne bottles come in different sizes, starting from 75 cl. The biggest one? 30 liters!
Looking for more fun, weird and wacky holidays in October? Our list of October holidays is a complete list of important social media holidays.
Need more drink holidays? Check out our Drink Holidays in October article.
Finally, if you are looking for fun holidays in other months, check out our social media holiday calendar.