Knowing what hashtags to use on a certain day is tricky. To make it easier for you to navigate the social media puzzle, we created this handy list of hashtags that are can be used on a certain day of the week. The list includes a wide selection of the most used daily hashtags for Instagram, Twitter, Pinterest and other social media. The hashtags are perfect for practically anyone, including Instagram models, small businesses and influencers.
When using hashtags, you can either try to choose one or two that describe your post perfectly, or go for a bunch of related hashtags. Some experts recommend using 5-6 hashtags on Instagram, when the maximum number of allowed hashtags is 30. Twitter recommends using 2 hashtags, but allow unlimited hashtags (within the character limit, that is).
Why You Should Use Daily Hashtags
There are several reasons to why daily hashtags should be used at least for one post a day. First of all, the daily hashtags are popular. Among the trending hashtags, there is almost always a daily hashtag in the top 20.
Using one of these daily hashtags is also a great move for beginners who are new to the world of hashtags, since you can't go wrong. Using the hashtag #ThursdayAfternoon on a Thursday afternoon can simply not be out of place, no matter what content you are posting. Easy and effortless, isn't it?
Finally, the fact that there are so many daily hashtags one can use makes it possible for you to keep your hashtag game versatile and surprising. Mix your hashtags up a bit every week to keep your content feeling fresh and current.
Adding Hashtags To Your Social Media Content Calendar
Successful businesses on social media don't just wing it every day – they plan. People will tell that having a social media calendar or a social media planner – with your social media activity planned, or at least outlined, in advance – is a game changer. But many social media calendars fail to take hashtags into consideration. This, to me, is a rather curious oversight, considering the importance and prevalence of hashtags. So instead of leaving out the hashtags from your social media content calendar, plan them from the start – this way you can also make sure that you don't end up using the same hashtags over and over again. After all, there are numerous hashtags already for each day of the week. Add your industry hashtags to this list and you understand that the combinations are quite endless (if you use the recommended number of hashtags). Planning your hashtags in advance will not take much time, but they can have a real impact on your social media efforts.
If you're looking for the most comprehensive social media calendar out there, I recommend Angie Gensler's Social Media Content Calendar. The actual calendar is editable and comes in several formats (Google Sheet, Google Calendar, Microsoft Excel Sheet as well as a printable PDF) includes hashtags for holidays, smart, well-planned content prompts, engagement-increasing questions and just a ton of material that will help you plan your content – including hashtags – for the whole year. If you buy now, you get the calendar for 2021 and 2022 at no extra cost. Note: I am using an affiliate link, which means I might get a commission if someone buys the product through my link, enabling me to create more fantastic content for my readers.
Monday Hashtags
#NewWeek #MondayAfternoon #MondayMorning #MondayNight #MondayNights#Monday #MondayMonday #Mondays #Mondayz #MondayFunday #MondayBlues #Mondays #Mondayz #MondayFunday #MondayBlues #MondayMantra #Monslay #MagicMonday #MagicMondays #ManicMonday #MondayVibes #MondayThoughts #MondayMuse #MondayMadness #MondayMood #MondayMotivation #MondayQuote #MondayQuotes #MondayWisdom #MondayInspiration #MondayCoffee #MondaySelfie #MondayAgain #MondayMemories #MondayGoals
Tuesday Hashtags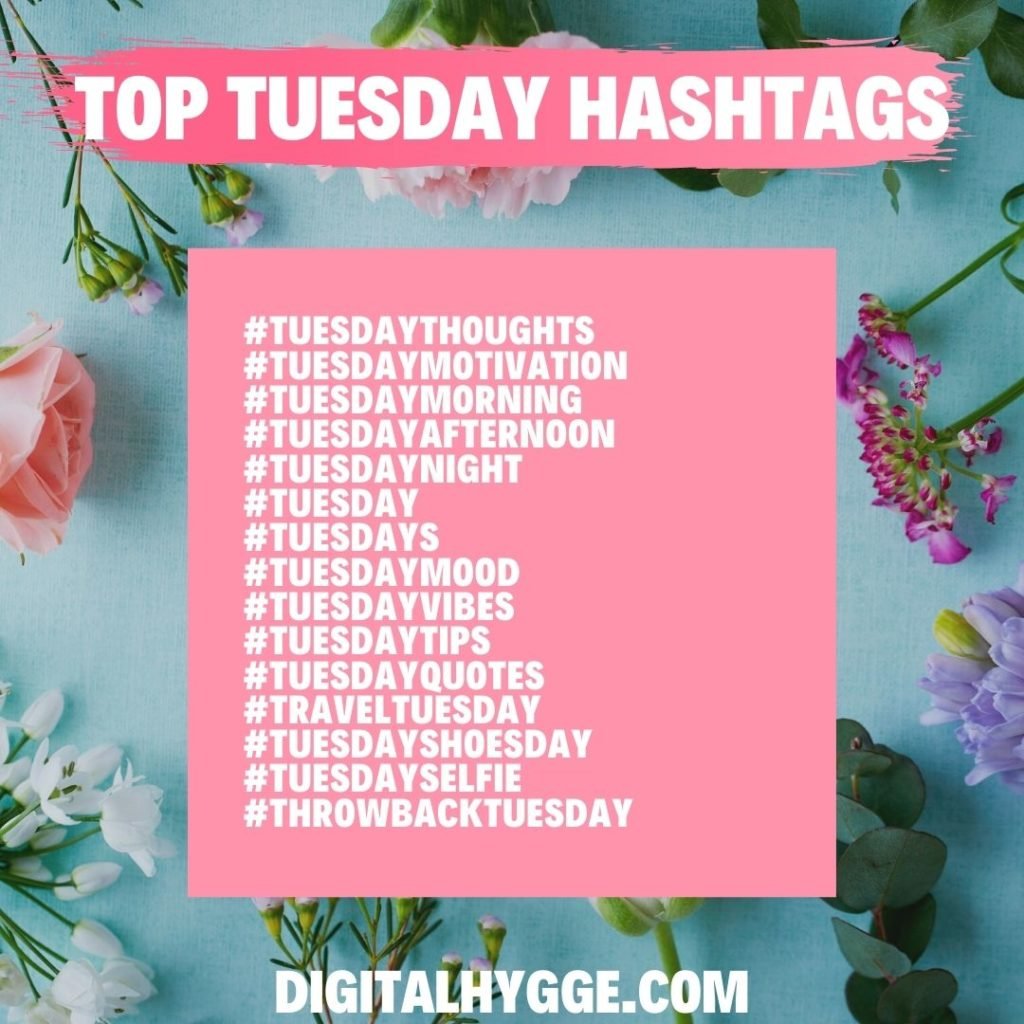 #TuesdayThoughts #TuesdayMotivation #TuesdayMorning #TuesdayAfternoon #TuesdayNight #Tuesday #Tuesdays #TuesdayTip #TuesdayMood #TuesdayVibes #TuesdayTips #MotivationTuesday #TuesdayFeels #TacoTuesday #TuesdayQuotes #TravelTuesday #TuesdayShoesDay #TuesdaySelfie #ThrowbackTuesday
Wednesday Hashtags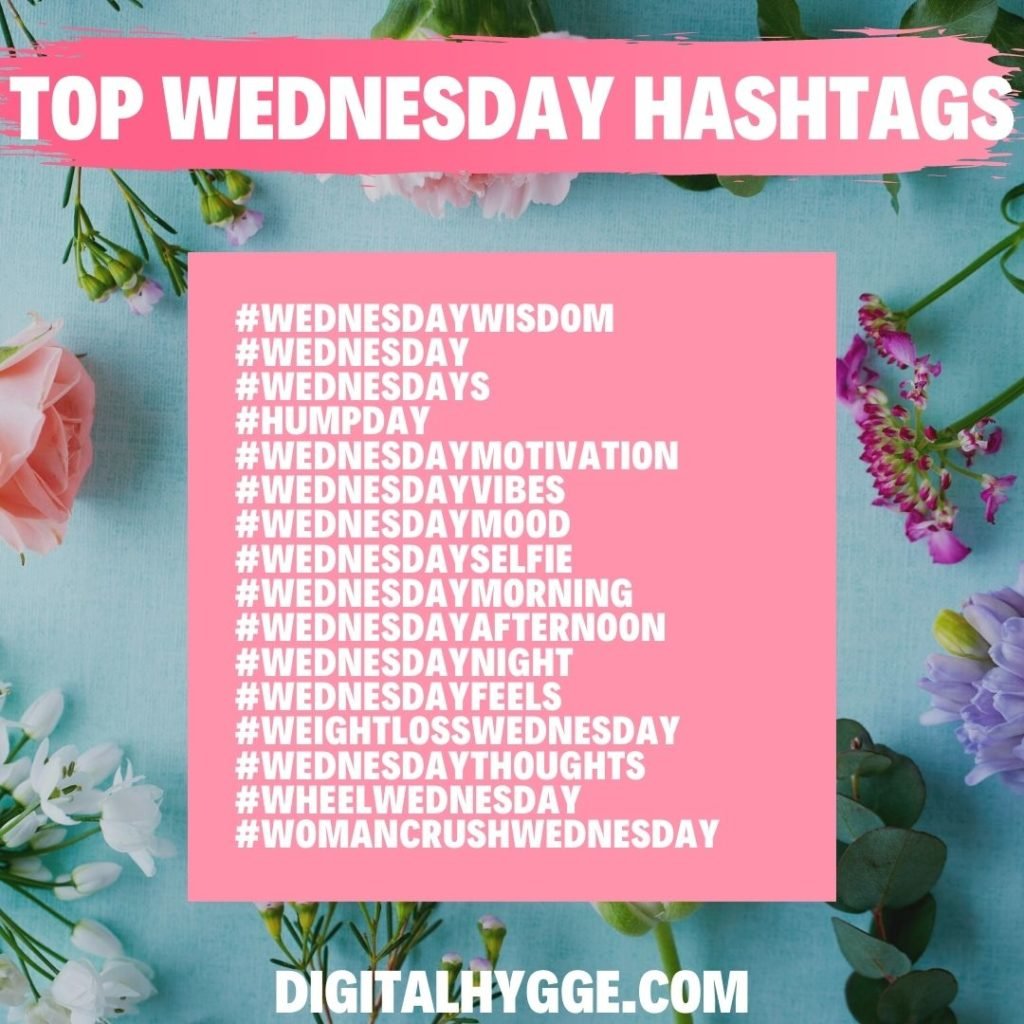 #WednesdayWisdom #Wednesday #Wednesdays #HumpDay #WednesdayMotivation #WednesdayVibes #WednesdayMood #WednesdaySelfie #WednesdayMorning #WednesdayAfternoon #WednesdayNight #WednesdayFeels #WeightlossWednesday #WednesdayThoughts #WildlifeWednesday #WheelWednesday #WomancrushWednesday #WorkoutWednesday #WeddingWednesday
Thursday Hashtags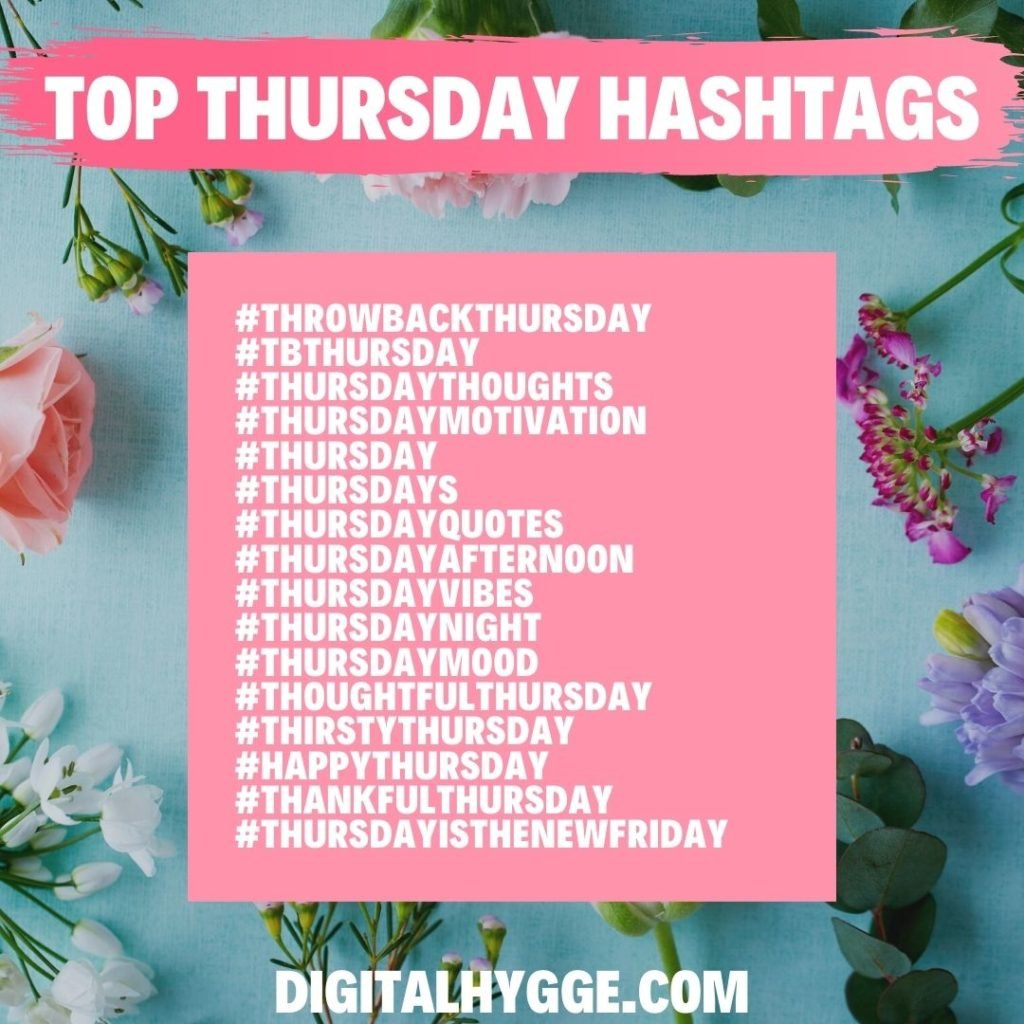 #ThrowbackThursday #TBThursday #ThursdayThoughts #ThursdayMotivation #Thursday #Thursdays #ThursdayAfternoon #ThursdayVibes #ThursdayQuotes #ThursdayMorning #ThursdayNight #ThursdayMood #ThoughtfulThursday #ThirstyThursday #HappyThursday #ThankfulThursday #ThursdayIsTheNewFriday
Friday Hashtags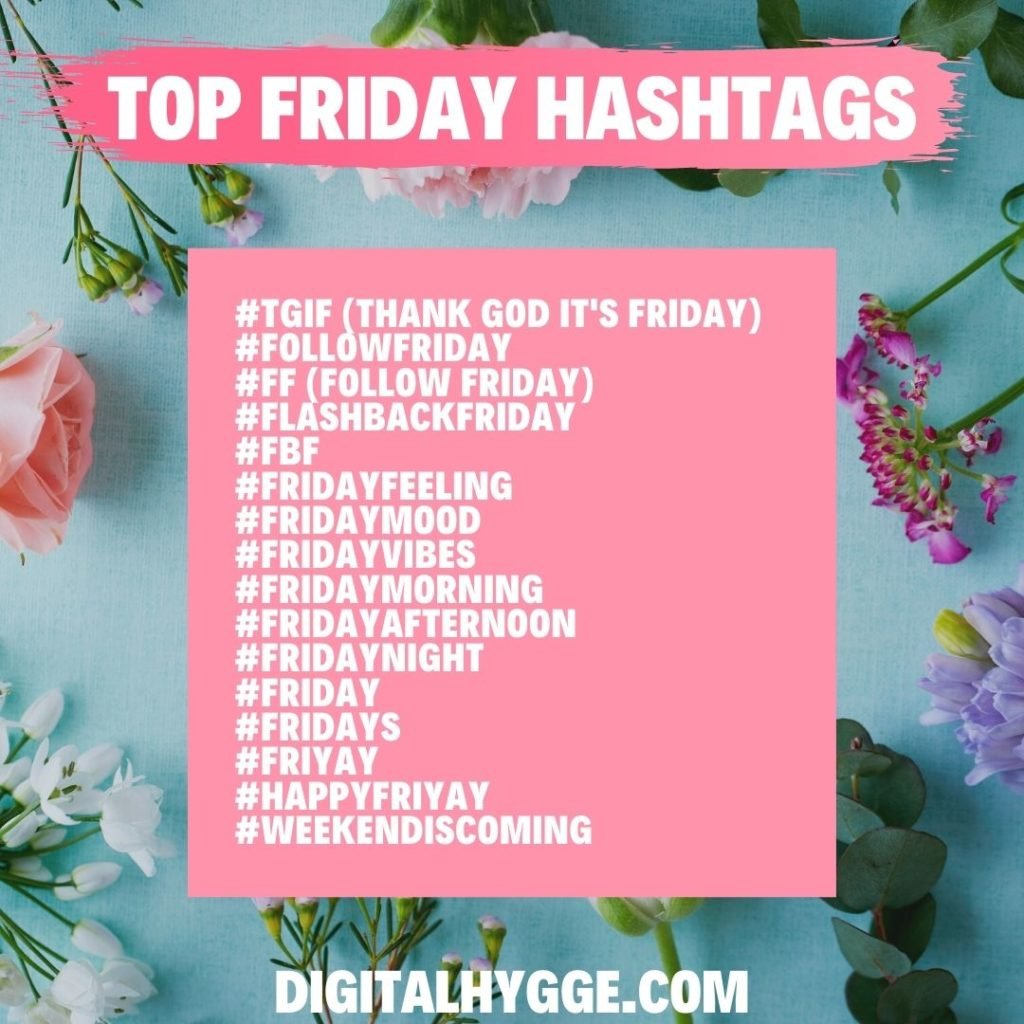 #tgif (Thank God It's Friday) #FollowFriday #ff (Follow Friday) #FlashbackFriday #fbf #FridayFeeling #FridayMood #FridayVibes #FridayQuotes # FridayMorning #FridayAfternoon # FridayNight #FridayNight #FridayNightLights #Friday #Fridays #Friyay #HappyFriyay #WeekendIsComing #FridayFeels #FridayThoughts #FlashbackFriday #NewMusicFriday #FridayNightOut #FashionFriday #FitnessFriday #HappyFriday #FailFriday #FlowerFriday #FaceToFaceFriday
Saturday Hashtags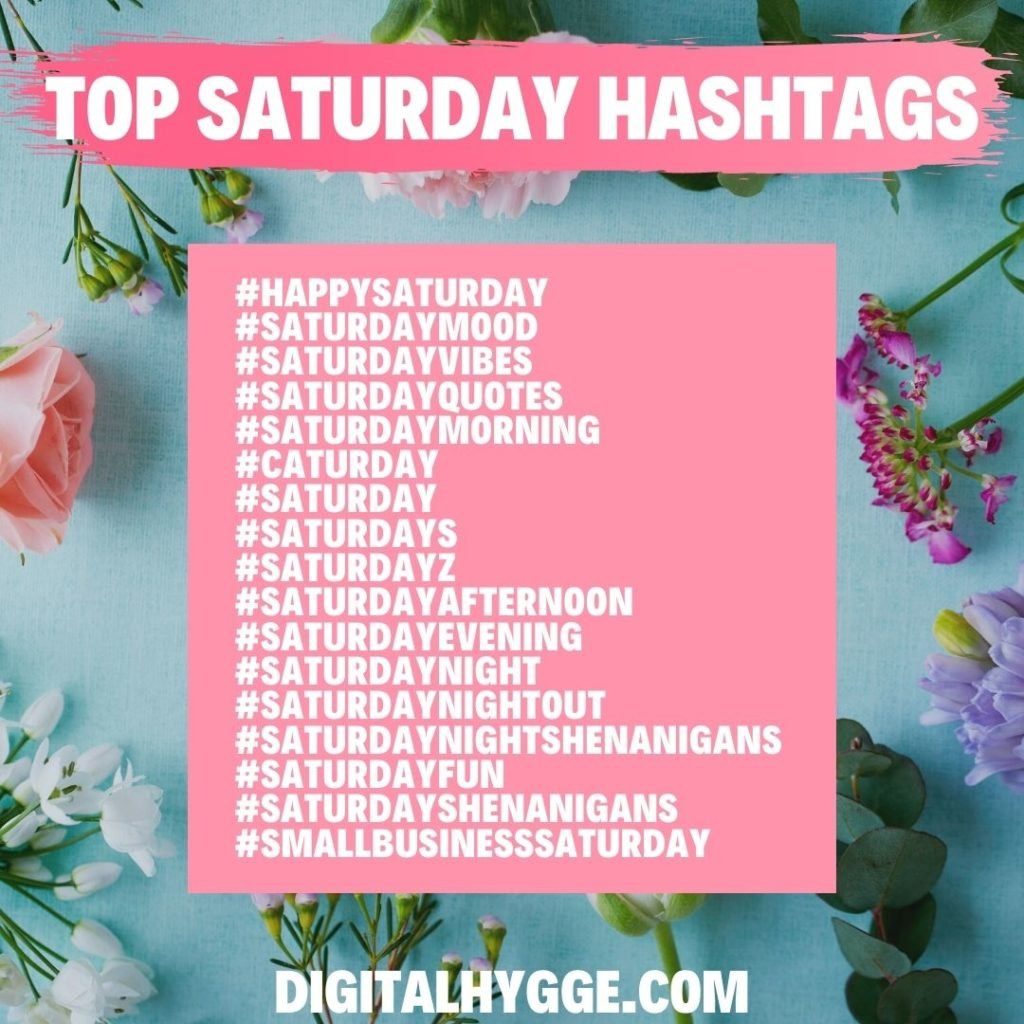 #HappySaturday #SaturdayMood #SaturdayVibes #SaturdayQuotes #SaturdayMorning #Caturday #Saturday #Saturdays #Saturdayz #SaturdayAfternoon #SaturdayEvening #SaturdayNight #SaturdayNights #SaturdayNightOut #SaturdayNightVibes #SaturdayNightShenanigans #SaturdayFun #SaturdayShenanigans #SmallBusinessSaturday #SaturdaySelfie #SaturdayMotivation #SaturdayFunDay #SaturdayNightFever #SaturdayNightIn #SaturdayWork #SaturdayStyle
Sunday Hashtags
#SundayFunday #SundayVibes #LazySunday #LazySundays #SundayMood #SundayQuotes #SelfieSunday #SundayMorning #SundayMornings #Sunday #Sundays #Sundayz #SundayAfternoon #SundayEvening #SundayNight #SundayNights #SundayDinner #SundayMotivation #SundayService #SundayFun #SundayFundays #SundayCoffee #SundayBreakfast #SundayBrunch #SundayLunch #SundayThoughts #SundaySelfie #SundayChill #SundayBest #SundayDrive #SelfcareSunday #SundayStroll
Weekend Hashtags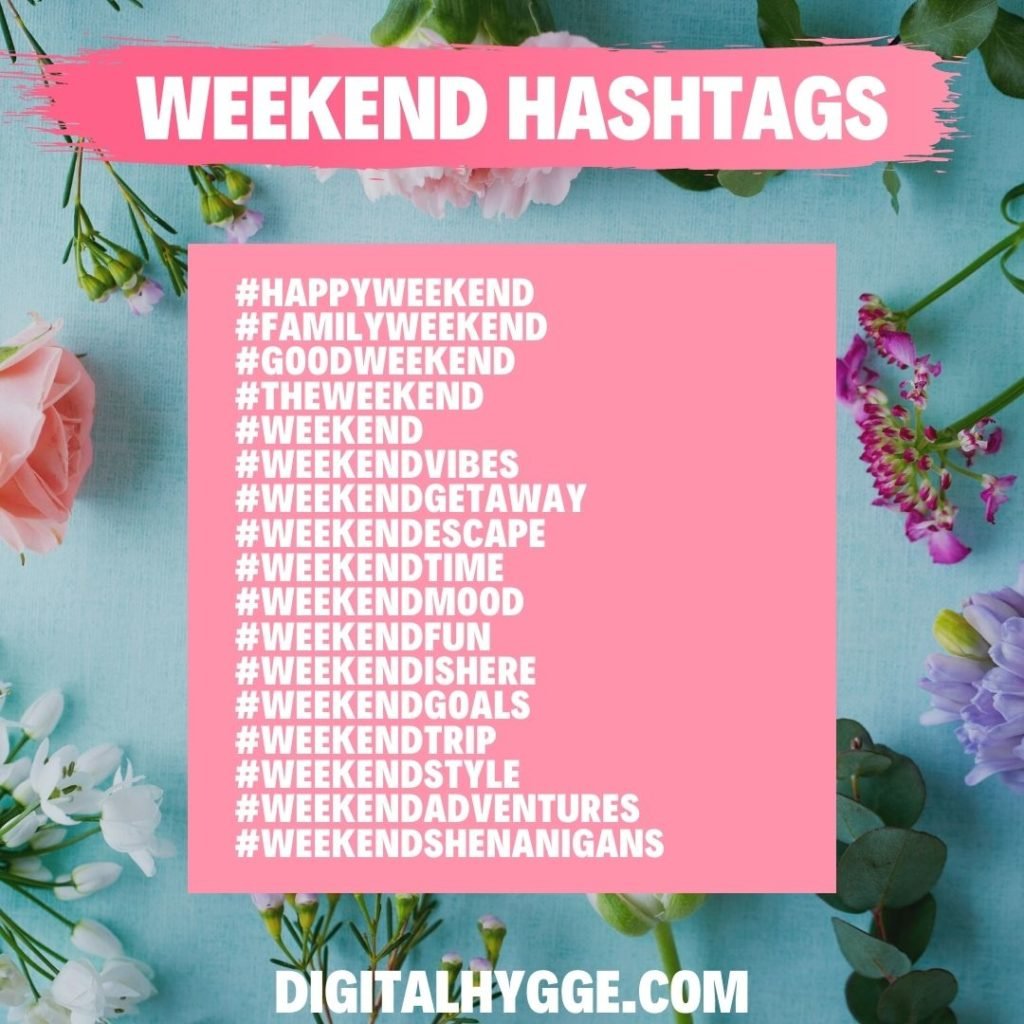 #HappyWeekend #FamilyWeekend #GoodWeekend #TheWeekend #Weekend #WeekendVibes #WeekendGetaway #WeekendEscape #WeekendTime #WeekendMood #WeekendFun #WeekendIsHere #WeekendGoals #WeekendMode #WeekendVibe #WeekendTrip #WeekendOff #WeekendAway #WeekendStyle #WeekendAdventures #WeekendShenanigans #Weekending #WeekendPlans #WeekendReady #WeekendOver #DarlingWeekend #CheersToTheWeekend #AlmostTheWeekend #ItsTheWeekend #BeachWeekend
---
Hope you found our list useful. Are there any hashtags that you think should be added to this list of daily hashtags? Leave us a comment 😉
Happy hashtagging!